Problems explained that hindered Ginetta-Manor team's start at Le Mans
Problems explained that hindered Ginetta-Manor team's start at Le Mans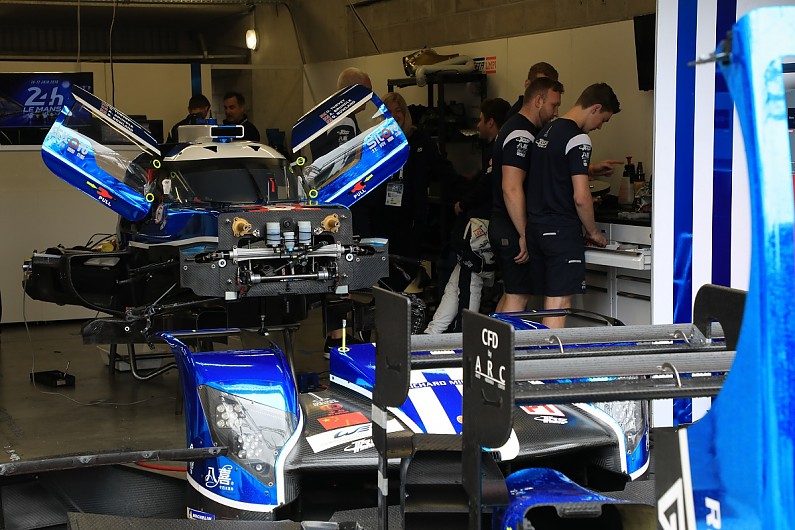 Ginetta and Manor have explained the problems that hit the team's pair of LMP1 privateer contenders during free practice and first qualifying for this weekend's Le Mans 24 Hours.
The two Ginetta-Mecachrome G60-LT-P1s entered under the TRSM CEFC Racing banner ran into a series of issues across the two sessions on Wednesday and ended up behind the fastest LMP2 cars at the conclusion of the first of three qualifying sessions.
A software configuration problem afflicted both cars at the start of free practice, car #6 failing to set a time after an engine problem was also diagnosed.
The engine issue forced a change of the Mecachrome powerplant in #6, which was completed in less than two hours and enabled the car to take part in the two-hour qualifying session, where the two Ginettas ended up 22nd and 24th.
Alex Brundle posted a 3m30.339s in the #6 car, while Mike Simpson set a best time of 3m30.481s in #5.
Those times were five seconds slower than the 3m25.203s Simpson managed in free practice.
The #5 Ginetta set a series of faster times in the hands of Leo Roussel, including a 3m26.246s, during qualifying.
The Frenchman's times were all deleted as the result of a pitlane speeding infringement.
The Ginettas tried elements of a low-downforce aerodynamic set-up which weren't available at the Le Mans test day earlier this month.
Ginetta boss Lawrence Tomlinson told Autosport: "We've qualified our drivers, which means they are eligible to race.
"It was important that we tick the boxes yesterday.
"We had to consolidate our position, but there is clearly work to do after we lost time in practice."
Racing News
via All news – Autosport https://ift.tt/2uOa9Ei
June 14, 2018 at 07:47AM