NBA Rumors: Latest on Kawhi Leonard, Cavaliers' Plans, Jonas Valanciunas Trade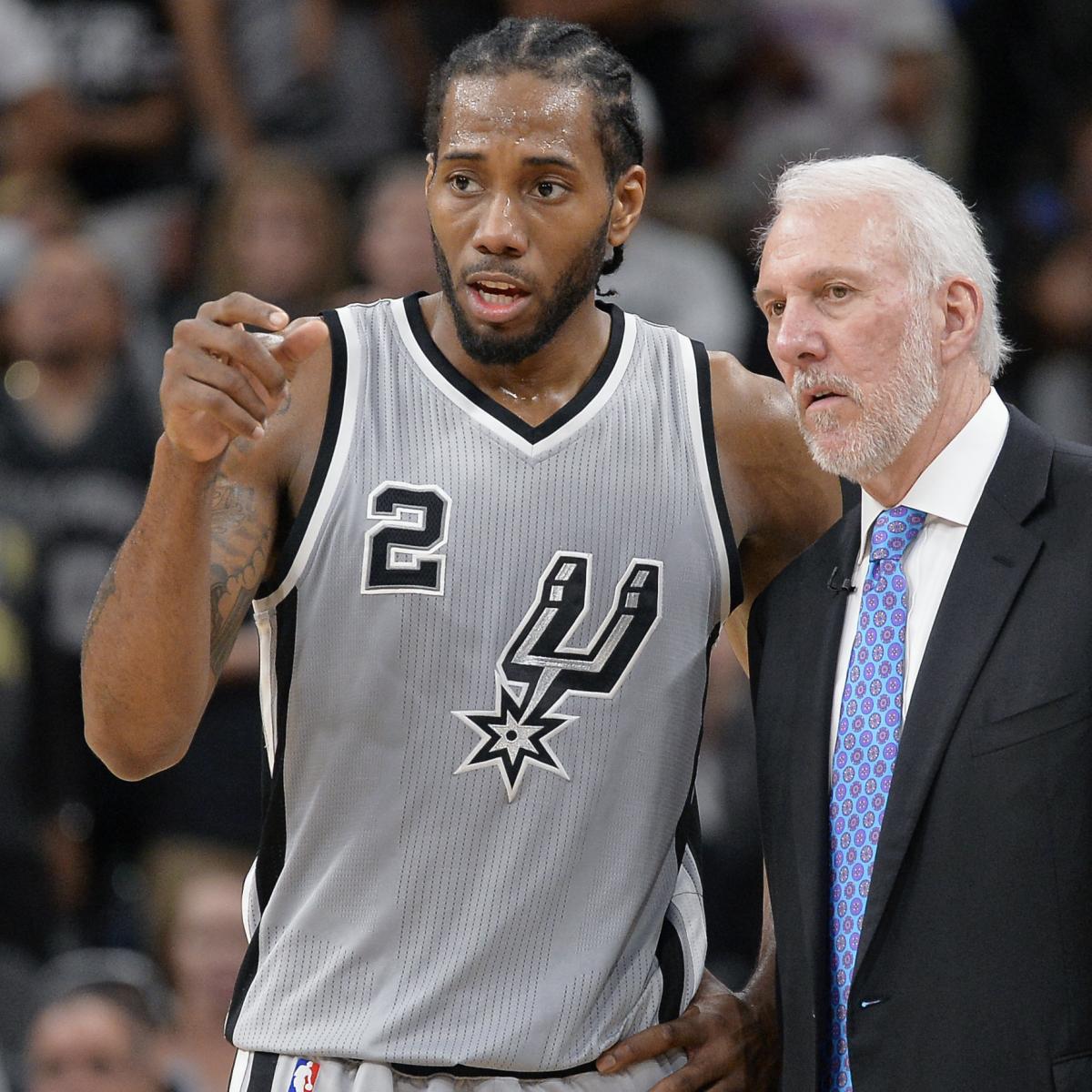 Darren Abate/Associated Press
The delectable scent of unbridled optimism must mean the NBA offseason is upon us.
Don't worry if you can't smell it. With one week remaining before the draft and the free-agency market opening next month, the calendar could point you to the same conclusion.
So, too, could the rapidly churning rumor mill, which is getting congested with as much free-agency and draft talk as it can handle. We've got the latest below.
Spurs, Kawhi Meeting on the Horizon
While we're far from the resolution to the San Antonio Spurs-Kawhi Leonard situation, it sounds like we're getting closer to sensing its direction.
After an injury-riddled, tension-filled season, there's plenty to talk about—including a possible $219 million supermax contract. That discussion—or perhaps those discussions—will take place "sooner than later," according to ESPN's Adrian Wojnarowski, who described the meeting(s) as being "still in the planning stages."
Wojnarowski detailed an extensive itinerary for whenever this happens:
"There will be a conversation—or, perhaps, a series of them—about whether a lasting trust and partnership can be rebuilt. They'll have to talk about medical care and treatment. They'll have to talk about Leonard's relationship with the coaching staff and his teammates, which is strained. They'll have to talk about the franchise's willingness to deliver the five-year, $219 million contract extension Leonard is eligible to receive, because the Spurs will need to be convinced that a historic contract is met with historic commitment."
Not that this should surprise anyone given the Powerball-level dollar amount, but Wojnarowski said indications are Leonard wants to receive the supermax offer.
However, the ESPN writer also explained how San Antonio's history suggests the franchise might want to wait until next year to make the offer, so it can "see him reinvested fully into the program."
Leonard, a former Finals MVP and two-time Defensive Player of the Year, played just nine games this past season due to a lingering quadriceps injury that dated back to his early exit from the 2017 playoffs. While the 26-year-old's pedigree suggests he'd have a massive trade value if the Spurs took that route, Wojnarowski reported they are so far "resistant to trades."
Cavs Interested in Keeping Nance, Hood's Future Less Certain
The Cleveland Cavaliers overhauled their roster this past trade deadline, shipping out six players and bringing back four in return. Two of those incoming pieces could soon find out how long they'll be lasting in Northeast Ohio.
Rodney Hood is entering restricted free agency. Larry Nance Jr. is approaching the final year of his rookie pact and therefore eligible for a contract extension.
Cleveland.com's Joe Vardon recently updated the situations for both.
Multiple league sources told Vardon there is "a ton" of mutual interest between Nance and the Cavs to discuss an extension. Nance, the 25-year-old son of former Cavs star Larry Nance Sr., appeared in 20 of the team's 22 postseason tilts and had the squad's second-highest playoff player efficiency rating (20.3).
Hood, on the other hand, struggled to replicate the success he'd had with the Utah Jazz before the deal.
He arrived as a 16.8-points-per-game scorer then saw his scoring average tumble to 10.8 over 21 regular-season contests with Cleveland. He later fell out of the rotation entirely during the playoffs before getting extended run in Games 3 and 4 of the NBA Finals, during which he totaled 25 points and 14 rebounds.
It could have been too little too late, at least as far as his bank account is concerned.
League insiders told Vardon that Hood's struggles may have cost him significant salary. While team sources said they're fans of Hood and his future with the Cavs, Vardon noted "no one's tipped a hand as to what's next for him."
Raptors Less Likely To Trade Valanciunas?
Nick Nurse was a longtime assistant on former Toronto Raptors' coach Dwane Casey's staff. Now, Nurse is Casey's replacement, as Wojnarowski first reported.
And that apparently could mean good things for Jonas Valanciunas' future with the franchise.
Sources told Sporting News' Sean Deveney that Nurse's hiring makes a potential Valanciunas trade unlikely, and that the two could fit well together.
On the surface, that wouldn't seem to be the case.
Nurse runs a small-ball, three-point-heavy offense. Valanciunas is a 7-foot bruiser who has attempted more than 80 percent of his career field goals within 10 feet of the basket.
But Deveney reported Valanciunas was already working to expand his offense with Nurse this past season, firing up 100 triples after every practice.
Even though Valanciunas finished the campaign with only 30 three-point makes, that was a bigger development than it sounds. He entered the year with just four career three-point attempts. He not only boosted that total, he also connected on 40.5 percent of those shots.
Multiple league sources told Ryan Wolstat in May that the Raptors would "explore all options" with their roster after being swept out of the Eastern Conference semifinals. But Deveney's report suggested one of those options could be off the table already.
Unless otherwise indicated, all stats are from Basketball Reference or NBA.com. Salary information obtained via Basketball Insiders. 
NBA News
via Bleacher Report – NBA https://ift.tt/2gMI6gF
June 14, 2018 at 06:09AM