NBA Mock Draft 2018: Round 1 Predictions and Projections for Fringe 1st-Rounders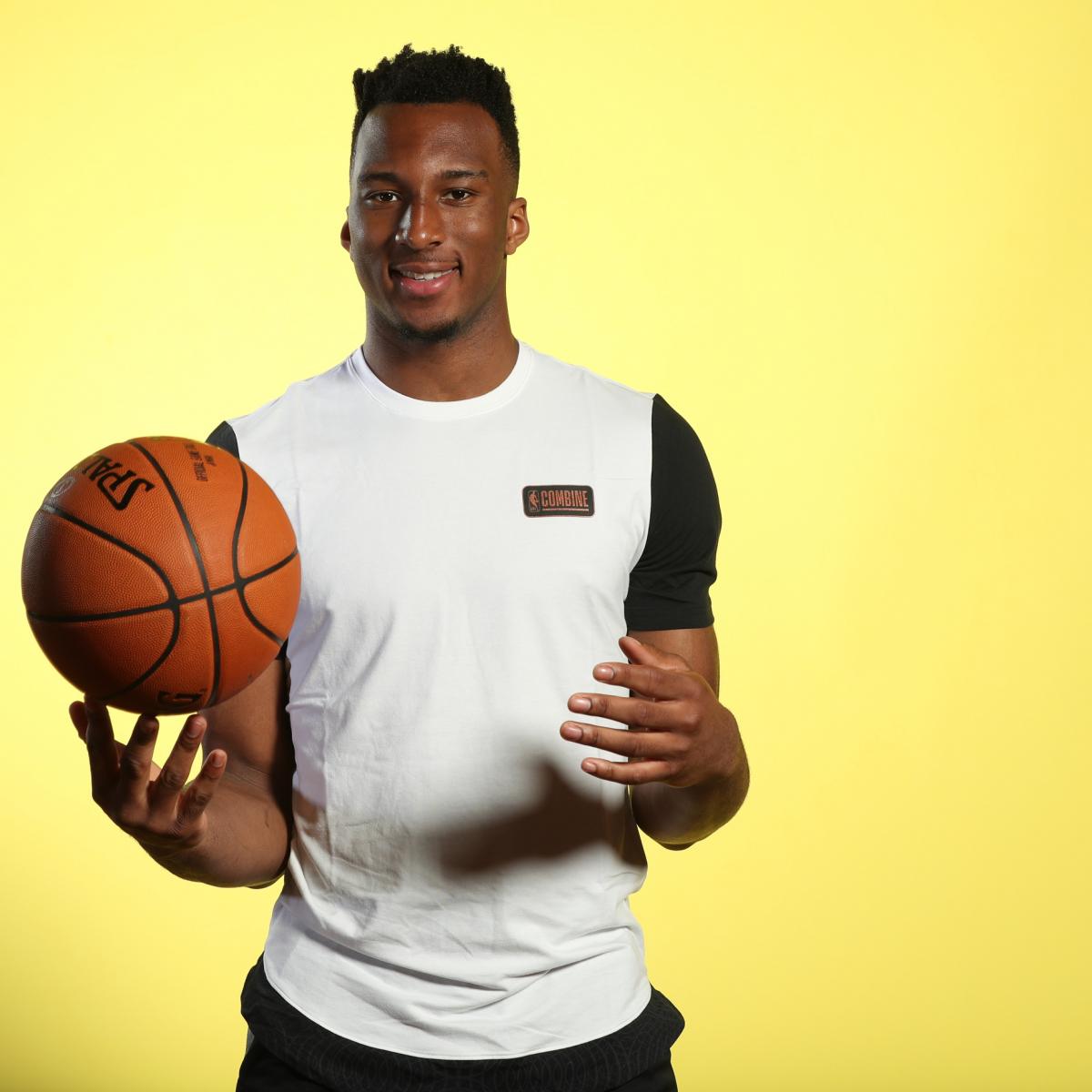 Joe Murphy/Getty Images
Perhaps nothing better epitomizes the optimistic nature of the NBA offseason than the annual draft.
That night—June 21 this time around—represents a fresh start for every party involved.
Prospects learn where they'll be starting their pro careers. Lottery clubs discover which up-and-comer will be their latest source of hope. Fans and media alike can all pretend to know how each of these 60 unique stories will play out.
After laying out our latest first-round mock, we'll turn our attention toward three prospects who could crack the first round but have no guarantees of being among the first 30 names announced.
2018 NBA Mock Draft
1. Phoenix Suns: Deandre Ayton, C, Arizona
2. Sacramento Kings: Marvin Bagley III, PF/C, Duke
3. Atlanta Hawks: Mohamed Bamba, C, Texas
4. Memphis Grizzlies: Luka Doncic, SG, Slovenia
5. Dallas Mavericks: Jaren Jackson Jr., C, Michigan State
6. Orlando Magic: Trae Young, PG, Oklahoma
7. Chicago Bulls: Wendell Carter, C, Duke
8. Cleveland Cavaliers (via Nets): Michael Porter Jr., SF/PF, Missouri
9. New York Knicks: Mikal Bridges, SF, Villanova
10. Philadelphia 76ers: Lonnie Walker IV, SG, Miami
11. Charlotte Hornets: Miles Bridges, SF/PF, Michigan State
12. Los Angeles Clippers (via Pistons): Robert Williams, C, Texas A&M
13. Los Angeles Clippers: Collin Sexton, PG, Alabama
14. Denver Nuggets: Kevin Knox, SF, Kentucky
15. Washington Wizards: Zhaire Smith, SF, Texas Tech
16. Phoenix Suns (via Heat): Shai Gilgeous-Alexander, PG, Kentucky
17. Milwaukee Bucks: Aaron Holiday, PG, UCLA
18. San Antonio Spurs: Donte DiVincenzo, SG, Villanova
19. Atlanta Hawks (via Timberwolves): Elie Okobo, PG, France
20. Minnesota Timberwolves (via Thunder): Khyri Thomas, SG, Creighton
21. Utah Jazz: Kevin Huerter, SG, Maryland
22. Chicago Bulls (via Pelicans): Troy Brown Jr., SF, Oregon
23. Indiana Pacers: Chandler Hutchison, SF, Boise State
24. Portland Trail Blazers: Jerome Robinson, PG/SG, Boston College
25. Los Angeles Lakers (via Cavs): Mitchell Robinson, C, Western Kentucky
26. Philadelphia 76ers: Keita Bates-Diop, SF/PF, Ohio State
27. Boston Celtics: De'Anthony Melton, PG/SG, USC

28. Golden State Warriors: Jacob Evans, SF, Cincinnati
29. Brooklyn Nets (via Raptors): Dzanan Musa, SG/SF, Bosnia and Herzegovina
30. Atlanta Hawks (via Rockets): Josh Okogie, SG, Georgia Tech
Fringe First-Rounders
Josh Okogie
It wasn't certain Okogie would stay in this draft, but a strong combine showing may have made the decision for him.
The 19-year-old first impressed without even moving, as his 7'0″ wingspan stretched out from his 6'4.5″ frame. The athletic testing continued boosting as his stock, as he tied for the combine lead with a 42″ max vertical, paced all players with a 3.04 second three-quarter sprint and tied for the seventh-fastest time in the shuttle run at 3.03 seconds.
When five-on-five play started, it was more of the eye-opening same.
"Okogie impressed as a three-and-D wing tailor-made for today's NBA," The Ringer's Kevin O'Connor wrote. "Okogie defended four positions, hit spot-up threes and attacked the rim in transition and in closeout situations."
Okogie's two-year average of 16.9 points per game highlights his knack for consistent, high-level scoring. But the 41.6 field-goal percentage he posted as a sophomore points to the need to improve his shot selection and plants him firmly on the first-round bubble.
Don't bother looking for Simons' collegiate film. It doesn't exist.
The 19-year-old spent this past season as a fifth-year prep player at IMG Academy then threw his name into the NBA draft pool.
"Honestly, I'm just confident in myself," Simon told SLAM Magazine's Ryan Jones. "Whatever team chooses me, I'm just going to try to get in there, learn and get better. I'm confident that I'll be able to compete."
That confidence is tied to one of the most encouraging—albeit still developing—scoring arsenals. The 6'3″ combo guard has the explosiveness to finish above the rim and the shooting range to splash from distance.
His body needs to mature—he was one of the combine's lightest players at 183.2 lbs—and his floor game requires even more seasoning. But a patient, forward-thinking club could land a huge prize if it helps him maximize his potential.
Gary Trent Jr.
The selling points for Trent are NBA size (6'6″) and an NBA-ready three-point stroke (2.6 threes per game, 40.2 percent conversion rate).
"Gary was the best three-point shooter in the ACC," Duke coach Mike Krzyzewski said in a press release. "At the NBA level, that's what they're looking for. He has the size of a 2 guard who will be able to fit in the NBA."
Trent broke Duke's freshman record for threes—previously held by sharpshooter J.J. Redick—with 97. He made multiple triples in 25 of his 37 outings and hit five or more on seven different occasions.
If this feels like a lot of focus on Trent's shooting, that's because it should. He's not the most reliable defender or playmaker, so the bulk of his impact is tied to his long ball.
But given the Association's increasing reliance on floor spacing, teams might view Trent as a specialist in a good kind of way.
Statistics used courtesy of Sports-Reference.com and NBA.com.
NBA News
via Bleacher Report – NBA https://ift.tt/2gMI6gF
June 14, 2018 at 07:06AM