NBA Draft Prospect Rawle Alkins Q&A: 'I'm a Jack-of-All-Trades'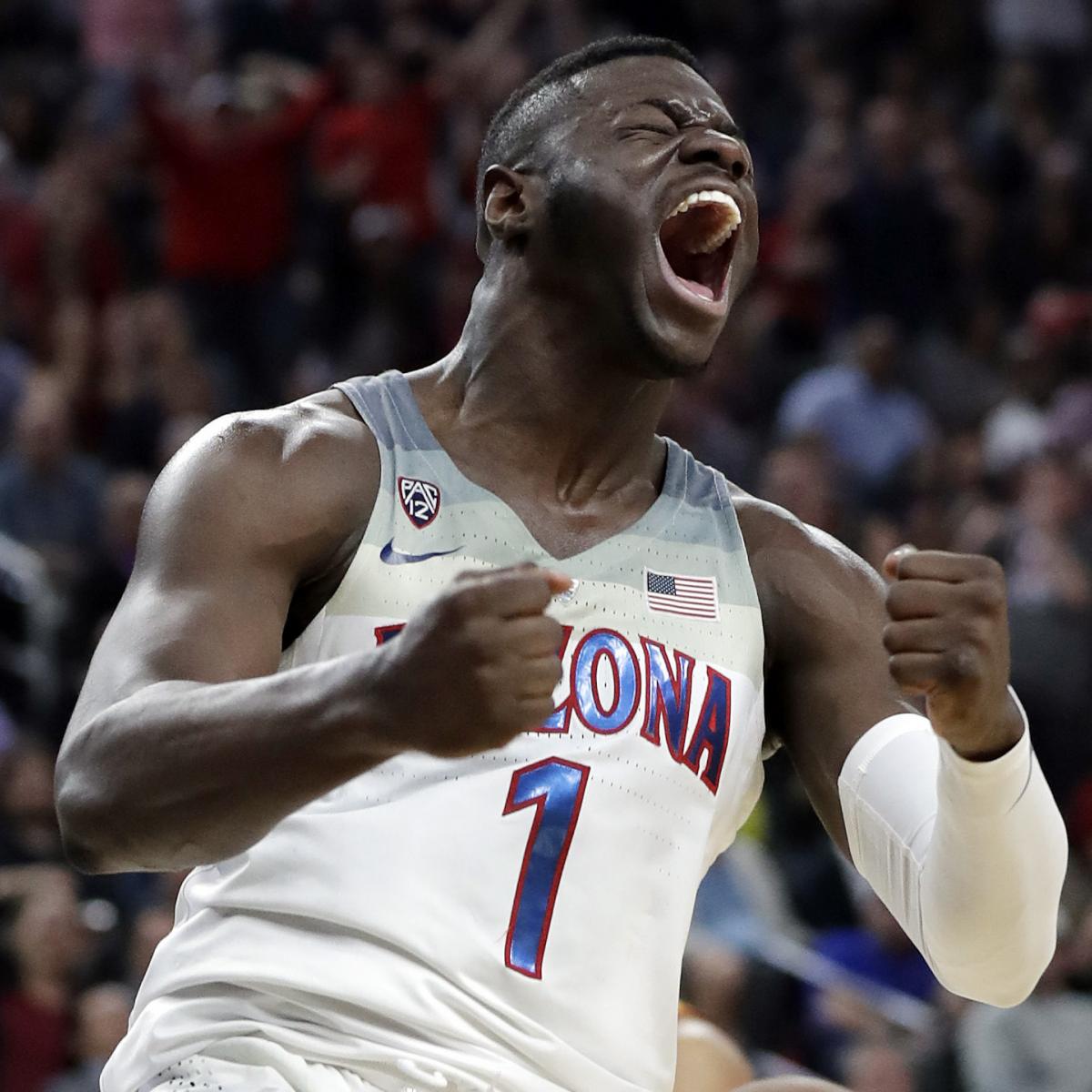 Isaac Brekken/Associated Press
Despite a foot injury that sidelined him at the start of the 2017-18 season, Rawle Alkins never second-guessed his decision to return to Arizona after testing the NBA draft waters a year ago.
It would have been easy for Alkins to sulk amid the missed games, the recovery process and the frustration associated with not being on the floor. Instead, the sophomore guard put that time to good use by devouring countless hours of game film, talking strategy and closely observing his teammates from the bench. 
After missing the first nine games of the season, Alkins helped guide the Wildcats to their second consecutive Pac-12 championship and another NCAA tournament bid.
Projected as a second-round pick by B/R's draft analyst Jonathan Wasserman, Alkins had a bit of an advantage over most of his peers at the NBA Draft Combine, as he had gotten a sense of the draft process the previous year. While he struggled to find his offense during the first day of scrimmages this year, all facets of his game and versatility were on full display during the second day, when he scored 17 points on 7-of-11 shooting and added six rebounds, five blocks and two assists. The 20-year-old Brooklyn native also tested well, registering a 40.5-inch vertical.
While he doesn't have a preference as to where he'd like to play next season, he does believe his NBA-ready frame and defensive toughness will allow him to make an immediate impact as a rookie.
Bleacher Report sat down with Alkins in Chicago last month to discuss his second go-round at the combine, how his injury helped the mental aspects of his game, what he's been working on to improve heading into the draft and his New York-bred competitiveness.
B/R: How prepared are you for this draft process after getting a taste of it last year?
Rawle Alkins: It's kind of like being a rookie and now a vet. I know what to expect more this time. Last year, I was going through jitters. I was nervous about what was going to happen, and now I know what the interviews consist of. I've learned a lot just from sitting down and talking with the teams—what to wear and little things like that. Most of everything is in your own control, if you think about it. All you have to do is perform well, and the rest is going to take care of itself.
B/R: When you broke your foot last year, did you have any doubts about your decision to return to Arizona?
RA: Not at all. In some ways, I think that the injury helped me out a lot. First, it humbled me, because it made me realize that at any second, you can get hurt and basketball can be put on the shelf for a while. Before that, I had never been injured to the point where I had to sit out. Off the court, I really dialed in more in watching our team play more closely and picking up on little details. There are things that you don't realize because you're physically on the court focused on playing. If coach is saying "be the help," for example. Sometimes you don't realize what he means, but when you're watching what he sees, you see that you are supposed to be the help. You can learn a lot by watching.
B/R: How did that time away from the game help you when you returned to playing and now as a draft prospect?
RA: It helped me improve my basketball IQ a lot. I was watching more film. I think it also helped me slow my pace down. At first, I would just be running free and jumping everywhere, playing. Now, I'm thinking a lot more out there on the court. It's like, should I waste my energy trying to power through someone when I can just pull up for a jump shot now, which sets up my drive up a couple of possessions later?
B/R: With the five-on-five scrimmages at the combine and everyone trying to get noticed, how do you find a way to stand out?
RA: Defense. My mindset was to just play hard, compete and try to match up with my opponent and defend and stop them from scoring. I think I did that effectively. I think on the defensive end is where I can make an immediate impact in the NBA right away.
B/R: What are the main areas that you have focused on improving while training for the draft?
RA: My three-point shooting and my ball-handling abilities are the biggest areas I am working on. I can be a combo guard at the next level, a two-way player. In some ways, I feel like I can play some point guard. I've been working on my IQ in reading ball screens, pick-and-rolls and working on using my body on the defender. If the defender goes over the screen, they can't recover. If they go under it, shoot it, and if they try to play for the screen, reject it. I've also been looking at all things related to reading game situations on the ball.
Rawle Alkins @Iam_RawleAlkins

No need to wonder where I'm at, you know where to find me! I am and will always be a gym rat. Late nights in the gym working on perfecting my craft. I will never be satisfied until I am better than the person I was yesterday. ✍🏿💯⏱#SAVAGELIFE https://t.co/TbVnzp9VoW
B/R: You've been compared to Lance Stephenson a lot. Do you see similarities?
RA: I think people compare me to him mostly because they feel I resemble him (laughs). That, and I think because we're both from New York. As far as his playing style, I love his mentality on the defensive end. Most guys would be scared to guard LeBron, but he embraces that challenge, and that's something that doesn't go unnoticed.
B/R: Lance definitely plays with an edge. How necessary is having that edge being from New York?
RA: I think being from New York, you just have to be tough. Even when you're walking on the street, if guys see a little fear in you, they'll try to mess with you a little bit. People in New York always have their guard up—within reason, because you never know what can happen.
I remember my freshman year when I got to college, it would be late and I would be walking, and there would be people staring at me at times. If you see people staring at you in New York and it's late, you may start to feel something is about to go down. I had that mentality when I first got to Arizona (laughs). I would be walking, have my guard up and fans would approach me and would ask, "Can I have your autograph?" I had to realize that everywhere is not like New York. When I go back to New York, though, I'm still going to have my guard up; it's different.
B/R: At what point during your basketball career did you feel you could be a pro?
RA: It was probably my sophomore year in high school. That's when I began to get rated as a top-20 player in the country. In the history of the top 20 in the country, most of those guys usually make it to the NBA. That's when I began to get a lot of confidence in my game. My junior year in high school was really my breakout; I was rated top 10 in the country.  
Rawle Alkins @Iam_RawleAlkins

A wise man once told me "your time will come just be humble and patient "💯boy was that the best advice ever #BLESSED http://t.co/yzlrMztRdc
B/R: Earning that high of a ranking in any city is a great accomplishment, but what's that like when you're in New York?
RA: You have to embrace that kind of stuff in New York…if you're a competitor. I'm a competitor, and I feel like I would go at someone harder if they have a higher ranking, or a big name. You just want to compete against them. I don't want to name guys, but guys like LeBron; everyone wants to compete with the great players.
B/R: You started using the hashtag #SavageLife on social media back in high school, and now it has expanded to a clothing line. What is the meaning behind it?
RA: It started as a way to explore my mind, and it became a mindset. A T-shirt can be forever if it makes sense. I think that it represents a part of me and how I play. It got big in Tucson, as a lot of fans there wanted the T-shirts and were asking me about them. Our second design, we created some hoodies. With that being said, I don't want anyone to think I'm trying to become the next Gucci or anything (laughs).  Basketball is my main focus.
Rawle Alkins @Iam_RawleAlkins

If you want different than you gotta move different 💯🤫 #SAVAGELIFE https://t.co/iKa3ZXLYjM
B/R: Your schedule is going to get a lot busier as it gets closer to the draft. In what ways are you relaxing to take your mind off of basketball?
RA: Training at Impact (a basketball training facility in Los Angeles), the schedule is 9 to 5. After that, you're tired and you really don't want to do much else. We only have one day off during the week, so if I'm not working out, I'm usually in bed, relaxing or playing video games. I don't play Fortnite, though. I tried to play it, but I couldn't. I mainly just play 2K, Grand Theft Auto and games like that. (Otherwise, Alkins has worked out for a handful of teams, including the Warriors, Celtics, Lakers, Suns, Hawks, Kings and Jazz.)
B/R: What is a NBA team getting when they draft you?
RA: Some guys in this draft might get drafted as a project, and it will take them a while to show their worth. I can show my worth from day one. I want to be known as a versatile player. One of the assistant GMs told me that I'm on their "All-Jack Team"…that I'm a jack-of-all-trades. That's something that made me feel honored, and I appreciated it. It's always a great feeling when people view you the same way that you want to be seen.
Christopher Cason is a Chicago-based writer. He's written for GQ, SLAM Magazine and The Athletic. Follow him on Twitter: @C4DUNK
NBA News
via Bleacher Report – NBA https://ift.tt/2gMI6gF
June 14, 2018 at 06:09AM