Hamilton won't allow 'weak' title defence fears over Mercedes form
Hamilton won't allow 'weak' title defence fears over Mercedes form
Lewis Hamilton says it would be "weak" of him to doubt Mercedes can win the 2018 Formula 1 title after losing the world championship lead to Sebastian Vettel in Canada.
Hamilton could manage only fifth in Montreal last weekend, as Vettel dominated from pole, and was outpaced by Red Bull and Ferrari in Monaco a fortnight earlier.
Asked whether he was starting to worry that the 2018 Mercedes was not good enough for him to successfully defend his title, Hamilton replied: "I don't let that get into my mind, no.
"That would be the first sign of weakness, and my mind is not weak.
"I'm still here to win, I still believe we can win. I have complete confidence in my guys and I'm putting that energy towards them.
"If you think of tennis, or golf, or whatever, in tennis if you look across the net and think 'I might lose this,' you've already lost.
"It doesn't matter where I start on the grid, I don't look at any driver and think, 'I might lose to that person.' I'm like, 'How can I beat them? How can I be better?' And I'm going to keep doing that until I die."
But Hamilton acknowledged that Mercedes can no longer claim to have the best car on the grid. "I think we've got potential in this car," he said.
"When you guys are writing stories, I think last year there was 'Mercedes had the best car' and all those different things – and ultimately we did the better job.
"You probably shouldn't be writing that right now, because we are not always outperforming the others, but also it's very close.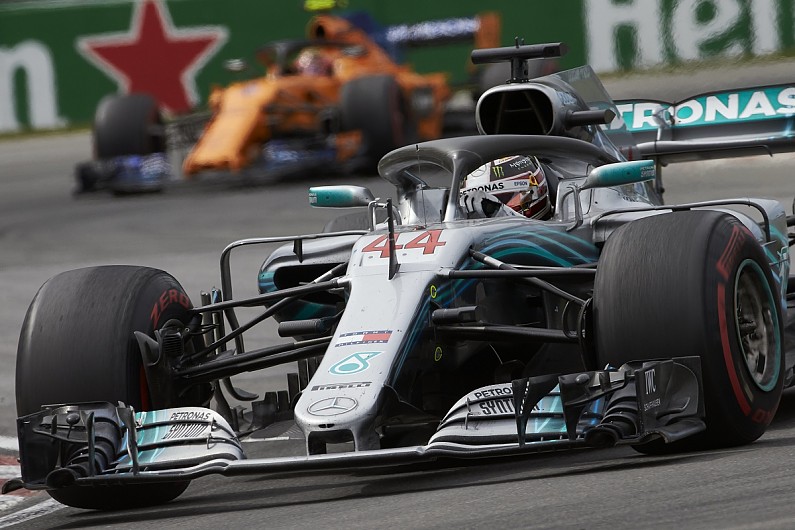 "The Red Bulls are in the mix every now and then, Ferrari have so far been the most consistent, but there's a lot of races to come."
Hamilton temporarily assumed the championship lead with his back-to-back wins in the Azerbaijan and Spanish GPs earlier this year, and is still only one point behind Vettel after Canada.
"It's definitely tough when you feel like you have done everything right and you don't get the result," Hamilton said.
"Every single person within the team feels the pain, but we win and we lose together, so it's just about lifting each other up, pulling together.
"There's still a long, long way to go. There are good days and bad days ahead.
"We can't guess when they are going to be, but all we can do is try to prepare the best we can, try to minimise the bad days, the losses, and capitalise on the big days."
Racing News
via All news – Autosport https://ift.tt/2uOa9Ei
June 14, 2018 at 05:46AM