Dani Pedrosa has 'several options' after losing Honda MotoGP seat
Dani Pedrosa has 'several options' after losing Honda MotoGP seat
Dani Pedrosa says he is considering "several options" as his future destination following his long-time relationship with Honda's MotoGP outfit.
Pedrosa will leave Honda after 13 years with the Japanese manufacturer in MotoGP, as he will be replaced by Jorge Lorenzo.
"It was my wish that I can say something clear for this GP after the last race but unfortunately things still are not as clear as I would like," said Pedrosa ahead of this weekend's race at Barcelona.
"Only [thing] I can say today is I have several options that are good options.
"I need the time to think about them and I would not rush to make the wrong decision.
"At the same time I would like to have it clear because this would allow me to race with more free mind and more focus on the GP."
Pedrosa didn't confirm whether all his options are within MotoGP and, when asked if retirement is among them, he said: "I cannot speak about the options and I cannot say if [retiring] is correct or no.
"I only say that there are options and still considering."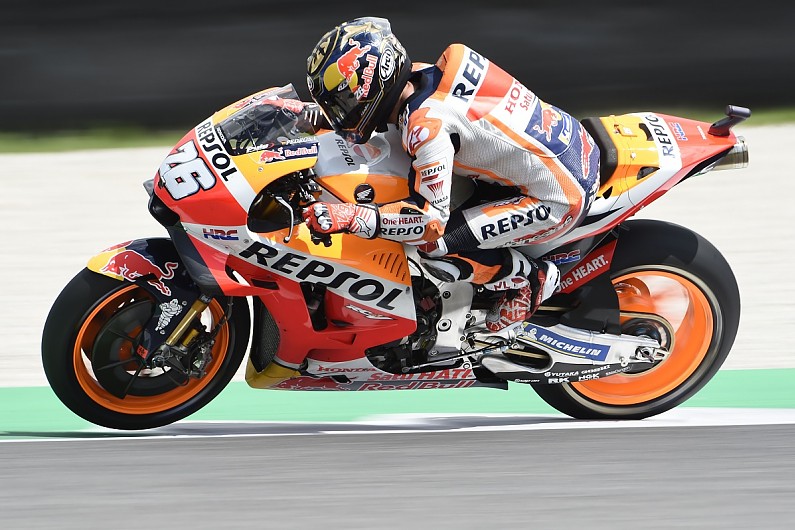 Pedrosa said an announcement is unlikely to happen during the Catalan GP, as he wants to focus on his riding, after admitting the situation affected him last time out at Mugello.
"I would not like to be thinking about this when I'm competing because that would not be good for concentration, so my aim this weekend is to do a good weekend," he said.
"Last time in Mugello was very hard so I hope that this weekend can be the opposite."
Pedrosa endured one of his weakest MotoGP weekends at Mugello, as he qualified 20th and crashed out of the race.
"I had something wrong on the bike all weekend and we couldn't see what was wrong," he said.
"Then finally Saturday we find something and then I suddenly was in warm-up again back to inside the top 10.
"Something was wrong on the bike but at the same time something was also going in the head.
"With the let's say bad set-up or whatever was wrong on the bike, I could do a little better if you are not overthinking but I hope this weekend I can handle in a better way."
Racing News
via All news – Autosport https://ift.tt/2uOa9Ei
June 14, 2018 at 08:58AM