NBA Draft 2018: Official Selection Order After Cavaliers vs. Warriors NBA Finals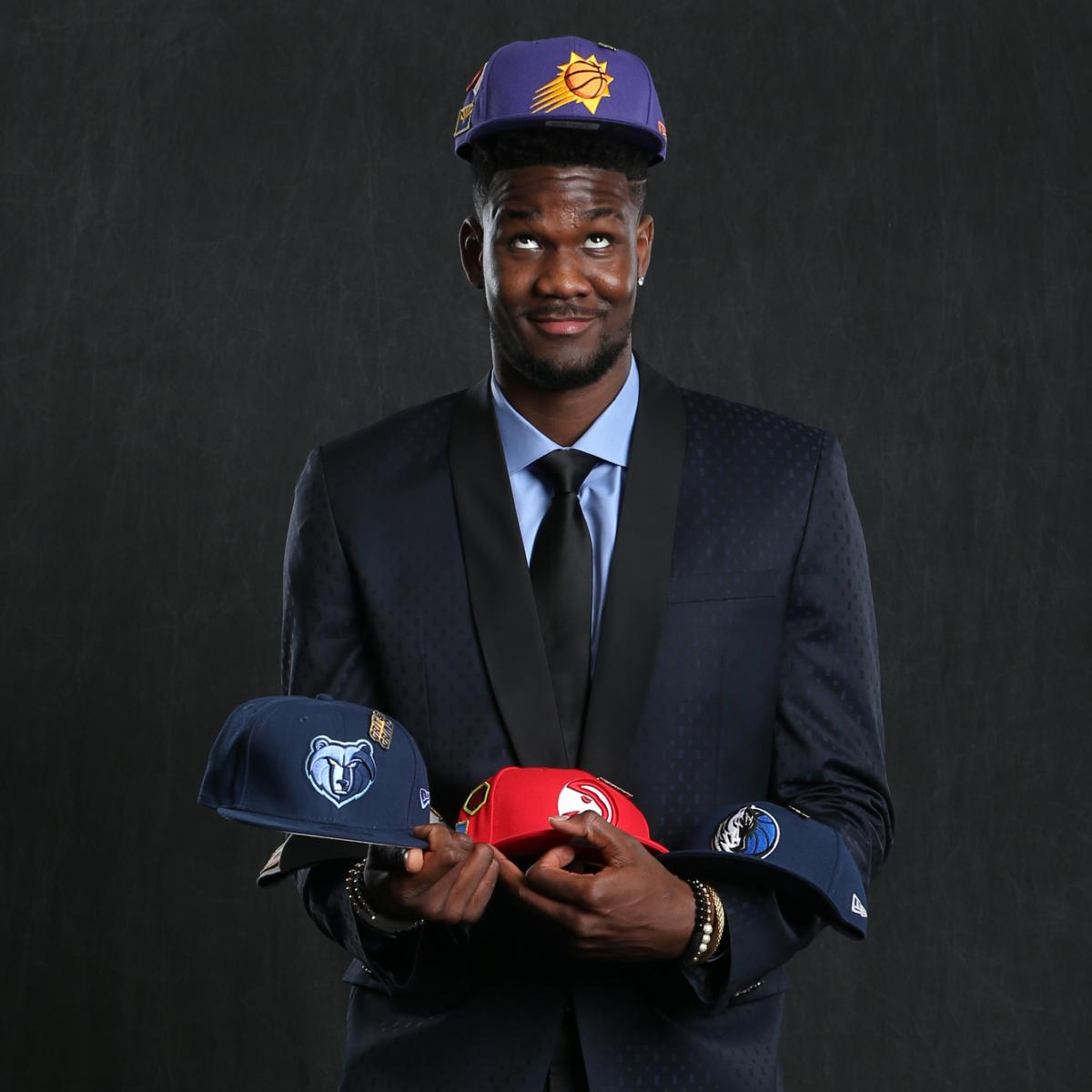 David Sherman/Getty Images
The Golden State Warriors' four-game sweep of LeBron James and the Cleveland Cavaliers in the NBA Finals cleared the hoops landscape for the upcoming draft to take center stage.
In just over a week, the Association will welcome a new batch of 60 budding ballers into its ranks.
One scan over the myriad mock drafts seems to suggest this summer could see a seismic shift back toward the big man. But these aren't the traditional towers of years past. All of the 4s and 5s occupying prime spots on the draft board boast contemporary qualities like floor-spacing and defensive versatility.
While the demise of the center spot has been overstated—Karl-Anthony Towns, Joel Embiid and a healthy DeMarcus Cousins are All-Star talents—the literal size of top prospects will make this class unique.
With the championship round in the rearview, let's run through an updated first-round mock and examine the most recent buzz around this new batch of hoopers.
2018 NBA Mock Draft
1. Phoenix Suns: Deandre Ayton, C, Arizona
2. Sacramento Kings: Marvin Bagley III, PF/C, Duke
3. Atlanta Hawks: Mohamed Bamba, C, Texas
4. Memphis Grizzlies: Luka Doncic, SG, Slovenia
5. Dallas Mavericks: Jaren Jackson Jr., C, Michigan State
6. Orlando Magic: Trae Young, PG, Oklahoma
7. Chicago Bulls: Michael Porter Jr., SF/PF, Missouri
8. Cleveland Cavaliers (via Nets): Wendell Carter, C, Duke
9. New York Knicks: Collin Sexton, PG, Alabama
10. Philadelphia 76ers: Mikal Bridges, SF, Villanova
11. Charlotte Hornets: Miles Bridges, SF/PF, Michigan State
12. Los Angeles Clippers (via Pistons): Robert Williams, C, Texas A&M
13. Los Angeles Clippers: Shai Gilgeous-Alexander, PG, Kentucky
14. Denver Nuggets: Kevin Knox, SF, Kentucky
15. Washington Wizards: Lonnie Walker, SG, Miami
16. Phoenix Suns (via Heat): Zhaire Smith, SF, Texas Tech
17. Milwaukee Bucks: Aaron Holiday, PG, UCLA
18. San Antonio Spurs: Kevin Huerter, SG, Maryland
19. Atlanta Hawks (via Timberwolves): Elie Okobo, PG, France
20. Minnesota Timberwolves (via Thunder): Donte DiVincenzo, SG, Villanova
21. Utah Jazz: Keita Bates-Diop, SF/PF, Ohio State
22. Chicago Bulls (via Pelicans): Mitchell Robinson, C, Western Kentucky
23. Indiana Pacers: Troy Brown Jr., SF, Oregon
24. Portland Trail Blazers: Jerome Robinson, PG/SG, Boston College
25. Los Angeles Lakers (via Cavs): Chandler Hutchison, SF, Boise State
26. Philadelphia 76ers: Khyri Thomas, SG, Creighton
27. Boston Celtics: De'Anthony Melton, PG/SG, USC

28. Golden State Warriors: Grayson Allen, SG, Duke
29. Brooklyn Nets (via Raptors): Dzanan Musa, SG/SF, Bosnia and Herzegovina
30. Atlanta Hawks (via Rockets): Anfernee Simons, PG/SG, IMG Academy
Latest Draft Buzz
Potential Movement Near the Top
Trade talks are beginning to heat up as the talent grab grows nearer. Michael Scotto of The Athletic identified several potential movers in his most recent mock.
Both the Nets and Clippers are hoping to climb the draft board, sources told Scotto.
While Brooklyn only holds one first-rounder, it does have an interesting trade chip in Spencer Dinwiddie. The 25-year-old has spent the past two seasons reviving his value. He has supplied nightly contributions of 10.4 points and 5.1 assists over 26.2 minutes, numbers that grow more attractive when coupled with his expiring and clearance-priced $1.6 million salary.
L.A. is the only club in possession of two lottery picks, its own and the one collected during the late January deal with Detroit involving Blake Griffin. The Clippers have made multiple calls about possibly climbing into the top 10, per Scotto, which would potentially net them a centerpiece for their next chapter.
Scotto also identified the Nuggets, Wizards and Bucks as clubs that might consider moving their picks for more immediate help. And the Sixers, who hold six selections in this draft, have the trade chips to move in either direction.
Porter Jr. Has Big Fans in Big Apple
Michael Porter Jr. is one of the most intriguing players in this group.
The 6'10" three-level scorer was second on ESPN's Top 100 list just last summer, but a back injury effectively erased his one-and-done college campaign and cast a cloud of uncertainty over his draft stock.
It apparently didn't scare off the Knicks, though. ESPN's Ian Begley reported some members of the organization "are big fans of Porter Jr." The interest is known enough that sources say clubs selecting ahead of New York have reached out to gauge interest about a possible trade up.
The Knicks would seemingly welcome the scoring help. They finished this past season tied for 23rd in offensive efficiency, and that was with 48 games of All-Star-level contributions from Kristaps Porzingis, who is shelved indefinitely after tearing his ACL in February.
New York is also in need of an upgrade at wing, although it should probably go the best-player-available route given its lack of top talent around Porzingis.
Busy Workout Schedule for Robert Williams
A productive two-year stint at Texas A&M has put Williams in an interesting place.
Despite this being a center-heavy draft, he might have a tier on his own. Most mocks see a drop-off between the top five centers and Williams, then a second gap between him and the next bigs off the board.
As Sporting News' Sean Deveney wrote, Williams has filled his workout schedule with almost every club drafting in his projected range:
Sean Deveney @SeanDeveney

Texas A&M center Robert Williams worked out for @chicagobulls , @hornets and @nyknicks. Also coming: @WashWizards . In the next week, too, he works out for the Clippers and @nuggets

He will have, essentially, worked out for every team in No. 7-15 range, except Philadelphia.
Williams combines length and athleticism to form a powerful finishing package from close range. After hitting 55.8 percent of his field goals as a freshman, he upped his conversion rate to 63.2 percent this past season.
Bleacher Report's Jonathan Wasserman has Williams going 13th to the Los Angeles Clippers as a potential replacement for DeAndre Jordan, who could decline his $24.1 million player option to enter the open market.
"Similarly athletic and long, Williams is in the same mold of finisher, rebounder and shot-blocker," Wasserman wrote.
Statistics used courtesy of NBA.com and Sports-Reference.com. Salary information obtained via Basketball Insiders.
NBA News
via Bleacher Report – NBA https://ift.tt/2gMI6gF
June 13, 2018 at 10:06AM