Manor LMP1 team expects 'painful' Le Mans 24 Hours qualifying
Manor LMP1 team expects 'painful' Le Mans 24 Hours qualifying
Manor LMP1 sporting director Graeme Lowdon admits Le Mans 24 Hours qualifying is likely to be "painful" for his Ginetta team given its lack of competitive running.
The two Mecachrome-powered Ginetta G60-LT-P1s were pulled from last month's Spa World Endurance Championship opener amid cashflow problems stemming from financial trouble for Chinese sponsors CEFC and TRS.
While the Manor cars ran as normal during the Le Mans test day, they were well off the pace, with Oliver Rowland ending up 8.682 seconds down on the lead Toyota in the #6 Ginetta.
Both Ginettas were also slower than the two lead runners in the LMP2 class, as well as being the slowest of all the prototypes in the speed traps.
Lowdon played down the LMP2 factor but conceded Manor's focus would be on ensuring reliability at the expense of overall speed.
"There's an EoT [Equivalence of Technology rule] pulling us back from the Toyota, but nothing to push us forward from the LMP2s," Lowdon told Autosport.
"The car could go quicker if the rules allowed it.
"With the amount of running we've done, it would be wrong to focus on performance.
"We need to focus on the programme to be able to do a 24-hour race, even if it means qualifying is painful.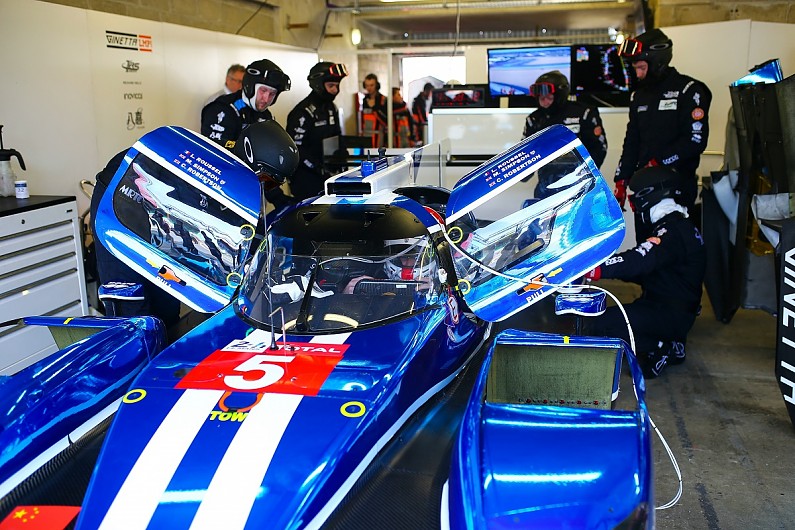 "There are huge differences in pitstop times and everything else which are regulated to a certain extent, so I don't think we can look at it as racing the LMP2s.
"They have a different set of regulations altogether. We know how to make one of those go quick around here, and I'm sure a few of the teams here will have a pretty rapid pace."
Lowdon was adamant that the problems that prevented the Manor Ginettas racing at Spa are now resolved, with the CEFC branding that had been present in Belgium now absent.
"Teams are also businesses in their own right, and sometimes we have to make tough business decisions," he said.
"But we're happy that we did the right thing.
"It's not ideal, that's for sure, but it's not something we had any control over in terms of the overall situation.
"Our focus is on purely on what we can control, making sure the cars are prepared and ready.
"We learned a lot at the test day and we'll learn a lot more [in practice and qualifying].
"It's a long season, we've just got to play catch-up a little bit and see where we get to."
Racing News
via All news – Autosport https://ift.tt/2uOa9Ei
June 13, 2018 at 03:16AM