Draymond Green Told Tristan Thompson 'We Ain't Cut the Same' After NBA Finals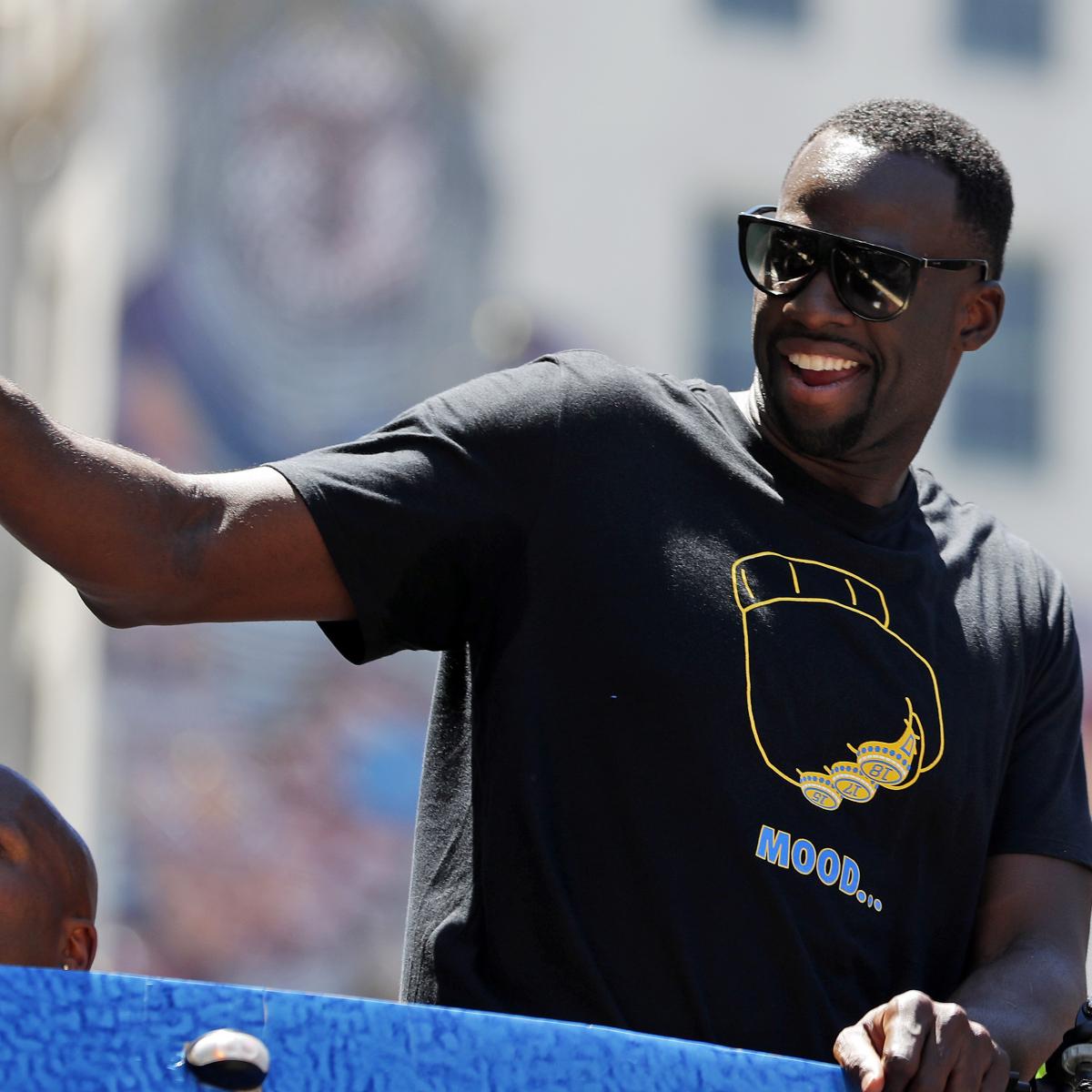 Tony Avelar/Associated Press
Sweeping the Cleveland Cavaliers in the 2018 NBA Finals wasn't enough for Golden State Warriors star Draymond Green, who carried his trolling over to the Warriors' championship parade Tuesday.
In addition to wearing a shirt that referenced LeBron James' famous "Mood" Instagram post, Green had some parting words for Tristan Thompson. During the parade, he told NBC Sports Bay Area he didn't shake Thompson's hand at the end of the Finals and added he and Thompson "ain't cut the same" (h/t SportsCenter):
SportsCenter @SportsCenter

"He tried to shake my hand, I said 'Tristan, we ain't cut the same."

–Draymond on not shaking hands with Tristan Thompson after Game 4. https://t.co/VJn82lYUsz
Thompson was ejected in the final seconds of Cleveland's 124-114 overtime defeat in Game 1, which led to he and Green exchanging words. Thompson then shoved the ball into Green's face before the two were separated by teammates.
Embiid Is Having Himself a Summer

New Dubs Celebrating 1st Title in Style

Why LeBron Needs to Leave Cleveland

'The Wheelchair Game' Was 10 Years Ago Today

Embiid Set Twitter on Fire Again

Four Years Ago, Lance Went Viral

Ayton Has Boogie-Like Potential 👀

15 Yrs Ago, LBJ Inked the Biggest Rookie Shoe Deal Ever

Chinese Fans Keep It 100 with LBJ Nicknames

Sixers Welcomed Meek Home in Style 👀

Mitchell Breaks MJ's Rookie Playoff Record

Collin Sexton Could Be Next Eric Bledsoe

Andre Ingram Put on a Show in His NBA Debut

Turner's Showcase Giving Overlooked Ballers a Chance

Raptors Have Dominated Since 'God's Plan'

Jimmy Was Clowning While He Was Hurt

Simmons Averaging a Triple Double Over Win Streak

Mo Bamba Could Be the Next Rudy Gobert

Jason Kidd, Steve Nash Headline Basketball HoF Class

Mikal Bridges Could Be NBA's Next Otto Porter Jr.
Right Arrow Icon
Unless James returns to Cleveland for the 2018-19 season, it would appear Green will have the last laugh in his and Golden State's ongoing rivalry with the Cavs.
NBA News
via Bleacher Report – NBA https://ift.tt/2gMI6gF
June 12, 2018 at 09:18PM