Lakers Rumors: Latest Rumblings on LeBron James, Paul George and More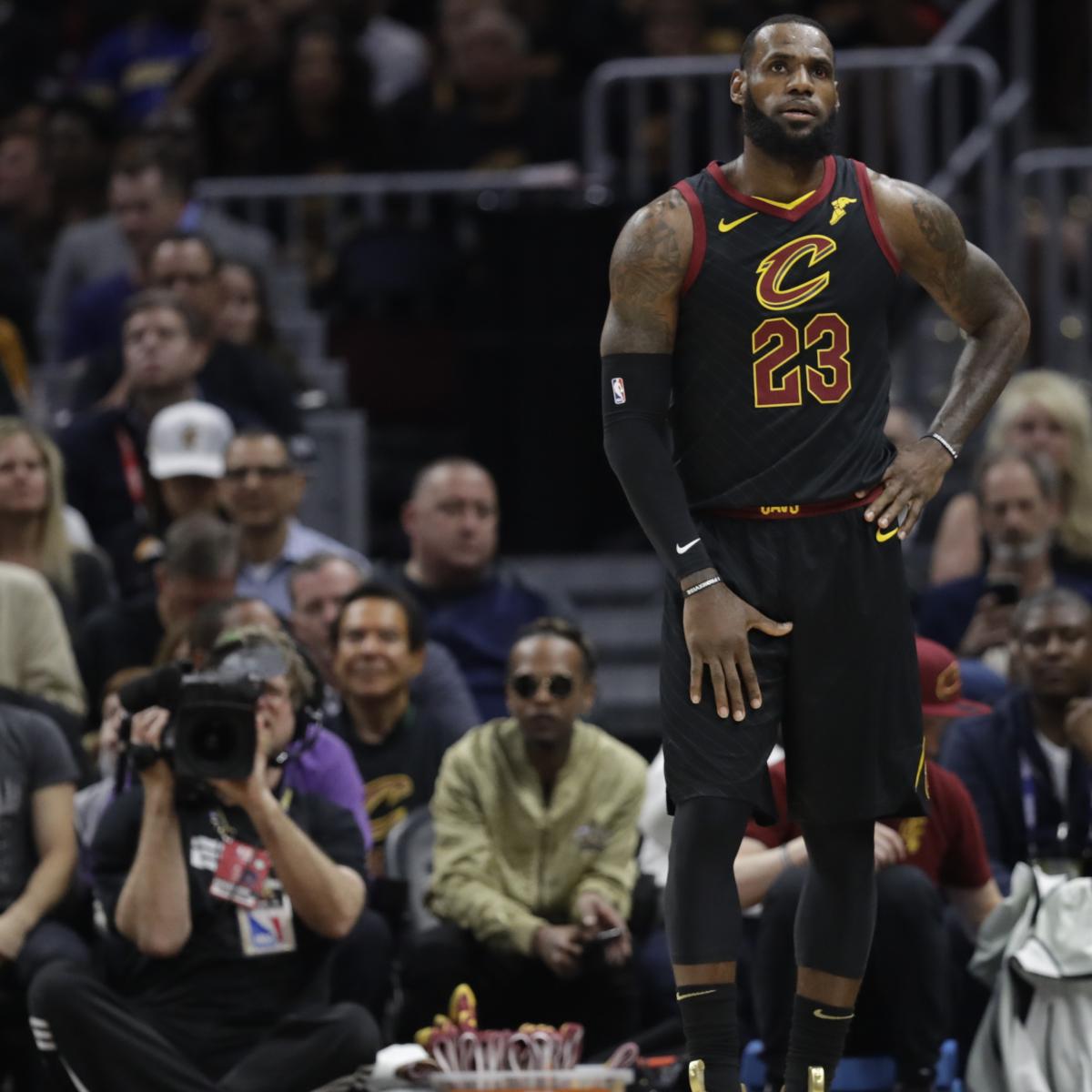 Tony Dejak/Associated Press
The best possible scenario for the Los Angeles Lakers unfolded in the 2018 NBA Finals. 
There, LeBon James and his Cleveland Cavaliers got swept off the stage by the Golden State Warriors, sending the entire Association into what should be a dramatic free-agency stage headlined by the king himself. 
Granted, James is far from the only high-profile free agent. But the Lakers are the Lakers, and aiming lower than the top has never really been their thing. There's almost a sense of being due as well after years of patiently sticking to a rebuild and now having a young core James might find interesting on top of the typical sales pitches. 
Here's the latest from the rumor mill concerning the team likeliest to command all the attention this offseason. 
Lakers Mentioned Alongside LeBron 
Why LeBron Needs to Leave Cleveland

'The Wheelchair Game' Was 10 Years Ago Today

Embiid Set Twitter on Fire Again

Four Years Ago, Lance Went Viral

Ayton Has Boogie-Like Potential 👀

15 Yrs Ago, LBJ Inked the Biggest Rookie Shoe Deal Ever

Chinese Fans Keep It 100 with LBJ Nicknames

Sixers Welcomed Meek Home in Style 👀

Mitchell Breaks MJ's Rookie Playoff Record

Collin Sexton Could Be Next Eric Bledsoe

Andre Ingram Put on a Show in His NBA Debut

Turner's Showcase Giving Overlooked Ballers a Chance

Raptors Have Dominated Since 'God's Plan'

Jimmy Was Clowning While He Was Hurt

Simmons Averaging a Triple Double Over Win Streak

Mo Bamba Could Be the Next Rudy Gobert

Jason Kidd, Steve Nash Headline Basketball HoF Class

Mikal Bridges Could Be NBA's Next Otto Porter Jr.

Today in History: MJ Scores Career-High 69 Pts

Could LiAngelo Join Lonzo on the Lakers?
Right Arrow Icon
Skepticism about the Lakers' chances at James makes plenty of sense. 
The Lakers have popped up next to free agency's biggest names for years now, only to serve as leverage at best as those names ended up going elsewhere. The team's prestige and the market surrounding it only hold so much weight in a time where superstars want to go join other superstars. 
But now the Lakers might have the ability to build a superteam, and it shows, with Bleacher Report's Howard Beck reporting the following: "League sources view the Los Angeles Lakers, Houston Rockets and Philadelphia 76ers as leading contenders, with the San Antonio Spurs and Miami Heat also likely to get a look."
Call it a step in the right direction for the Lakers, as being mentioned alongside the team with the James Harden–Chris Paul tandem and The Process itself is a good development. 
Reasons the Lakers pop up here vary, though it doesn't hurt they have a quality young core of cheap talent headlined by Lonzo Ball and Brandon Ingram. The upside there only takes second place to the idea James could lure another major free agent to town as he assembles a squad in the hopes of downing the Warriors. 
This is of course what the Lakers have angled for over the years, and reeling in James would certainly be a better-late-than-never development. But it's tricky, as this isn't about getting the market's top name to come to town and calling it a day—it's convincing the top two or three to do so. 
LeBron and CP3 to the Lakers? 

Carlos Osorio/Associated Press
James isn't going to go join a team with a bevy of nice young talent and wait for them to develop. 
Not only is James 33 years old and playing more minutes than anybody else, he can find a handful of teams offering the same thing and perhaps some of those sitting in the easier Eastern Conference. 
Meaning, the Lakers have to lure quite a bit more than just James to town. 
According to the New York Times' Marc Stein, the idea James tries to take Paul with him wherever he goes has some serious traction: "But don't discount the idea that James could try to bring Paul with him to a team that can afford two superstars, such as the Lakers, because he and Paul really are that close."
It would seem like if James wanted to team up with CP3, he'd simply pick the Rockets and get James Harden as a package deal, should the front office there be able to finesse the financial side of things. 
But it's never so simple, and there is only one ball to go around for three superstars if that unfolded. The Lakers might seem like a better option to James because it would be hard for the team to botch building around him because so much of the core remains on affordable deals. 
Not that the Rockets are the only possible option: 
But this is where the Lakers being the Lakers comes into play. And unlike some free agents, James doesn't need leverage, so their inclusion here seems genuine. 
Baby steps, Lakers fans. 
What about Paul George? 

Sue Ogrocki/Associated Press
Don't forget about Paul George. 
From comments made by sources in the know, George is certainly somebody to keep an eye on when it comes to the James sweepstakes. 
"That's gonna be a conversation or conversations (George and James) are gonna have once we get toward July," ESPN's Adrian Wojnarowski said on the NBA Draft: On the Clock special, according to Brett Dawson of the Oklahoman.
It's easy to forget George is still all of 28 years old coming off a season in which he averaged 21.9 points and 5.7 rebounds while shooting 43 percent from the floor and 40.1 percent from deep. 
It's also easy to presume George will want to stay with the Oklahoma City Thunder or head back toward his hometown by inking a deal with the Lakers. But as always, the Rockets have to enter the conversation as well: 
But what seems more appealing? Playing third-fiddle on the Rockets or playing with James near home? 
Lakers fans have to hope it's the latter, which is clearly something the two friends will talk about. Given George's ability on defense and his shooting from deep last year, which will provide plenty of spacing, the two would seem like a great fit together. 
Any scenario landing James on the Lakers is one fans should want to hear at this point. It's not a silly daydream like it has been in past recent years, so there's a green light here to daydream away without worry. 
NBA News
via Bleacher Report – NBA https://ift.tt/2gMI6gF
June 11, 2018 at 08:08AM