MotoGP Grand Prix of France 2018: Race Schedule, Live Stream and Top Riders
MotoGP Grand Prix of France 2018: Race Schedule, Live Stream and Top Riders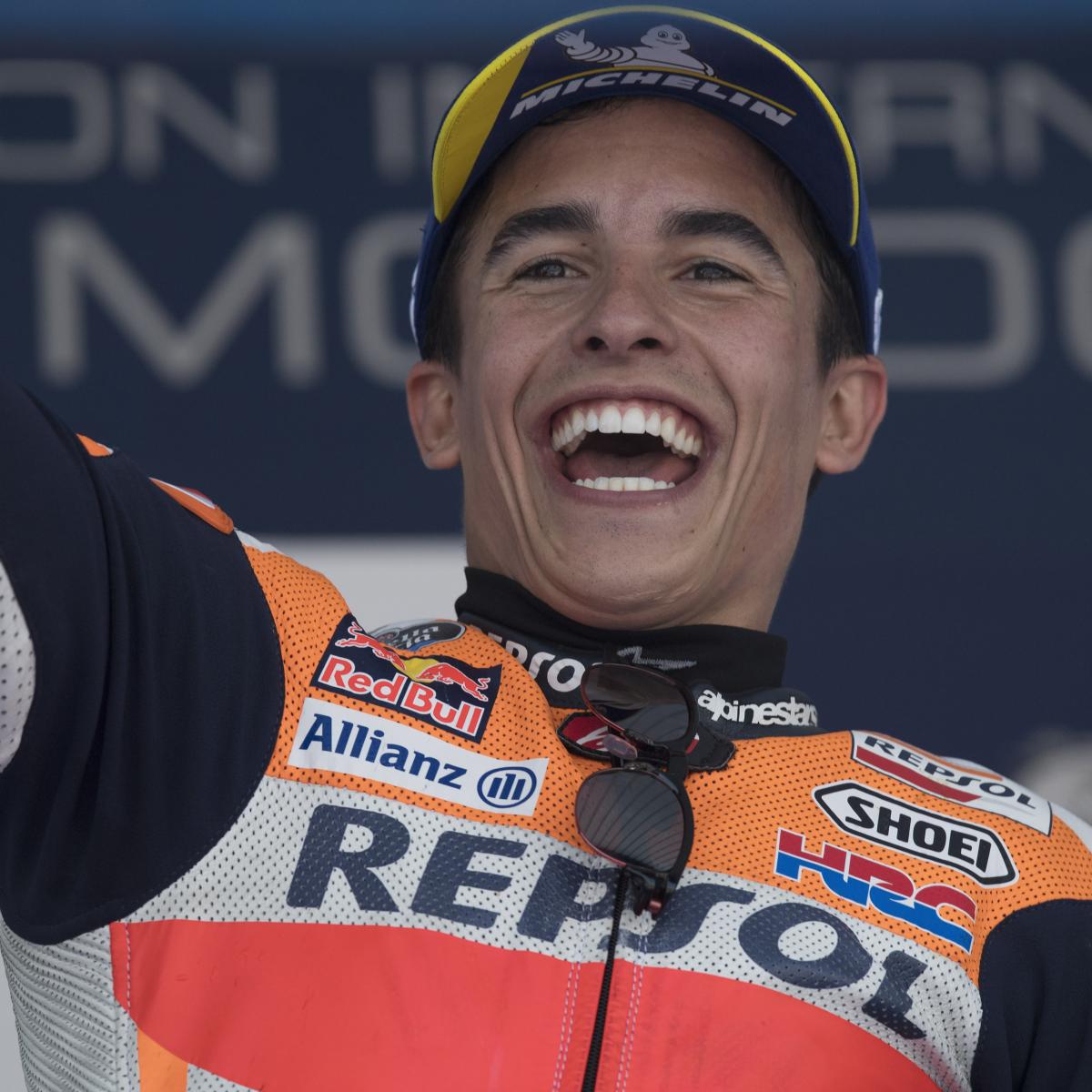 Mirco Lazzari gp/Getty Images
Marc Marquez will look to extend his lead at the top of the MotoGP world standing on Sunday in the 2018 Grand Prix of France at Le Mans.
The Spaniard holds a 12-point lead in this year's championship and he's bidding to win his third world title in succession and fifth overall.
Read on for a look at the key riders to watch out for on Sunday, but first here are the details you need to catch the action:
Date: Sunday, May 20
Time: 1 p.m. BST/8 a.m. ET
Live Stream: BT Sport App, beIN Sports CONNECT
The complete practice and qualifying schedule can be found at MotoGP's official website.
Marc Marquez, Honda
With his victory on home soil last time out in the Spanish Grand Prix, Marquez has now won the last two races and set the fastest lap in each of last three.
MotoGP's official Twitter account looked back on his victory in Jerez:
MotoGP™🇫🇷🏁 @MotoGP

We have a new Championship leader, his name is @marcmarquez93 💪

#MotoGP #LifeAtFullThrottle https://t.co/EBWEfADjcS
The 25-year-old won the race by more than five seconds, and was so dominant he was able to showboat over the finish line:
Marc Márquez @marcmarquez93

Celebrando la victoria a lo @katyperry bailando el #SwishSwish encima de la moto! 😅
Celebrating the victory with the #SwishSwish of @katyperry on the bike!
#SpanishGP @MotoGP https://t.co/1QCysGmyv3
He impressed MotoGP reporter Simon Patterson with his masterful display:
Le Mans has not been a happy hunting ground for Marquez in recent years—he slid out of the race last year and finished 13th in 2016—but he'll be determined to put that right this time around.
Johann Zarco, Yamaha
Yamaha's Johann Zarco is second to Marquez in the standings and finished behind him in Spain, the latter of two second-place finishes he has achieved this season.
The Frenchman also finished second at Le Mans last year—which was his first podium in MotoGP—and he'll be eager to go one step further on this occasion.

JAVIER SORIANO/Getty Images
Zarco said he was fortunate to finish as runner-up in Spain after Andrea Dovizioso, Jorge Lorenzo and Dani Pedrosa all crashed, but he is relishing the prospect of taking them on in France.
"I'm pretty happy to come to my home Grand Prix being second in the Championship. I got a nice, but also lucky podium in Jerez, but this gave me a very high motivation and a big smile to start the French GP," he said, per Crash.net.
The 27-year-old added: "Last year was one of the best races of the season, because in Le Mans I got my first ever MotoGP podium. I would like to fight for the victory, therefore I have to stay cool, work well with the team and we will see what will happen."
Getting his first win won't be easy given Marquez's momentum, but should the Spaniard struggle once again in France, Zarco could be the one to capitalise.
Breaking Sports News
via Bleacher Report – Front Page https://ift.tt/yO6Sgr
May 17, 2018 at 11:15PM