From Ronnie's rocket to Guardiola's Man City – Motson on 50 years in the commentary box
From Ronnie's rocket to Guardiola's Man City – Motson on 50 years in the commentary box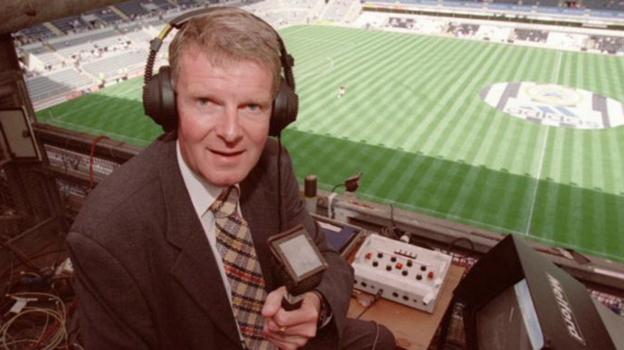 Watch a special night of BBC shows dedicated to John Motson on BBC Two on 19 May from 20:30 BST
My last season as a commentator has come to an end, but I feel like I am going out on a high.
It has been an incredibly exciting season with how Manchester City have played and the records they have broken. Pep Guardiola's side have really lit up my final year in the commentary box. They have really brought about a significant change in English football with the style they have developed and the ability they have shown throughout their championship-winning campaign.
Since my retirement was announced, I've had a wonderful reception from all the clubs I have been to this season and have been given some fantastic gifts. I got a sky-blue sheepskin coat at Manchester City, while Arsenal presented me with a lovely silver cannon in a beautiful case.
I have almost been embarrassed by the reception I have had. Every club has been so hospitable and I've even been told I'm welcome to come back when I'm retired, which is very nice because I don't want to lose my contact with football.
The fans have also shown me a great deal of warmth and affection which I will always be grateful for.
'Ronnie's rocket helped shaped my career'
My very first TV commentary was a scoreless draw between Liverpool and Chelsea in October 1971. It was not a very distinguished game or a distinguished commentary either I might add.
The one that put me on the map was my first FA Cup tie when Hereford beat Newcastle in a third-round replay in 1972 with Ronnie Radford's goal – everyone will remember that.
I was still on trial that year on television so it was a big day for me. I went down there thinking that Newcastle were going to have a comfortable win.
The guy who drove me down to Hereford for the game was called Billy Meadows, he was their centre-forward. He took me down with Rickie George, who was to come and score the winning goal in extra time after Radford hit a 40-yarder.
Billy then drove us home, because they both lived near me in Barnet, and we sat in Billy's front room and had fish and chips and listened to American Pie before Match of the Day came on and there, wonder of wonders, was my match propelled to the top of the show.
I didn't look back after that because the BBC realised then I was capable of commentating on important matches.
Going with the flow
I have always tried to be spontaneous. I have never planned before the game things I was going to say if so and so happens.
I suppose the comment people mostly associate with me is when Wimbledon beat Liverpool in the 1988 FA Cup final and I said "the Crazy Gang have beaten the Culture Club". That was definitely spur of the moment because people did not really expect Wimbledon to win.
I had gone down to Plough Lane a couple of weeks before to watch Wimbledon. Dennis Wise took a corner and Lawrie Sanchez ran across and flicked it in with his head. I made a mental note of that and then the same thing happened in the final.
What I'll also never forget from that game was being able to get into the Wimbledon dressing room with Des Lynam. I had never been in a team's dressing room straight after a cup final but Wimbledon were that kind of club. They were down to earth and we built up a good relationship with them.
Things like that and cup finals, internationals, World Cups and European Championships have all been my highlights. These are the memories I treasure the most.
My memorable games
I've commentated on thousands of football matches but I would have to say there are two that I will always remember.
The first would be the Italy-Brazil game at the 1982 World Cup in Spain when Paolo Rossi scored a hat-trick. Brazil only needed a draw to go through to the semi-finals but they went on attacking and the Italians beat them thanks to Rossi's goals.
It was a fantastic game. Sir Bobby Charlton, co-commentating next to me, was in tears because it was so emotional at the end. Brazil thought they had a team to win the World Cup and to rival their 1970 side.
Rossi, who was returning from a ban for match-fixing, made himself a hero at that tournament and Italy went on to win the final, beating West Germany which, by the way, was my first World Cup final as a commentator.
The other game I will always remember was when England beat Germany 5-1 in Munich in a World Cup qualifier in 2001 under Sven-Goran Eriksson.
I'd experienced so many disappointments with England as a commentator so this was a match that really will live long in the memory. I never expected such a performance on German soil.
Michael Owen's hat-trick will always come back to me. I said: "It is getting better and better and better." And, of course, it did.
Funnily enough, a few weeks later I was at West Ham and someone tapped me on the should and said: "It is getting better and better and better." I turned round and it was Eriksson!
England still had to work hard to qualify and another game that is still fresh in my memory was when David Beckham equalised against Greece at Old Trafford with a last-minute free-kick, which made sure we were going to the World Cup finals.
'Gazza was the best English player I have ever seen'
I've been lucky to have seen some great teams at international and club level during my career.
The Liverpool team of the late 1970s and early 1980s is a team that was absolutely outstanding and then of course Manchester United came along with Sir Alex Ferguson's different teams. I have seen the whole of Arsene Wenger's Arsenal career and now we have this Manchester City team.
I have seen some of the finest teams and managers of the game, and I've experienced the influx of overseas players which has been one of the biggest developments in my time at the microphone – the Eric Cantonas and the Thierry Henrys.
However, I think the outstanding English player I have seen was probably Paul Gascoigne. He would be right up there with all those fine overseas players we have seen come in and have still got in the Premier League.
Shirt numbers and substitutions
Commentating these days is more difficult in some ways – and easier in others.
What has made it more difficult now is the shirt numbers. It used to be a simple 1-11 and you knew where everybody was going to play – and now, of course, the numbers vary, so you get 24, 38, 56, etc. That is more difficult because you can't remember numbers as easily as when they are consecutive.
The other thing that has changed is the substitutes. When I started there was only one substitute, so you only had 12 players to worry about, but now there are seven so that's 18 players – and that is just on one side.
When they change them quickly in the last 10 minutes – each team being allowed to put three on and take three off – the names do get a little jumbled up in your mind and you have to try and change the line-up in your head and hope you have the right player on and off.
Where it might be easier is that when I started in 1971, with Barry Davies as the other main commentator, we didn't get a replay of any goals because the only replay machine was used for horse racing. That meant when a goal was scored, Barry and I had to pack it with words as the players went back to the centre circle and hope that we got the build-up right.
Match of the Day editors didn't put the replays in until that evening, so there was a bit of a nervous wait to see if you had actually described the build-up to the goal correctly.
The moments I'll miss
I will miss the moment of excitement and adrenaline when they kick off, particularly at 3pm on a Saturday which I have been doing for 50 years.
Perhaps I won't miss so much the hassle of preparing for the games – checking and re-checking facts – and the travelling. All the preparation is quite demanding on the commentator, particularly on the Thursday and Friday of every week.
I'll miss the friendship and connection and contact with lots of people both in broadcasting and the football world.
And a piece of advice for budding commentators…
You just need hard work and perseverance.
Get to know the game and the people in it. Identify the players, never mind all the facts and figures you can bring in, that has to be the number one requirement. I don't think that has changed in 50 years.
Soccer News
via BBC Sport – Football https://ift.tt/OHg7x6
May 18, 2018 at 12:48AM