Chelsea & Manchester United Seek to Salvage Their Seasons with FA Cup Final Win
Chelsea & Manchester United Seek to Salvage Their Seasons with FA Cup Final Win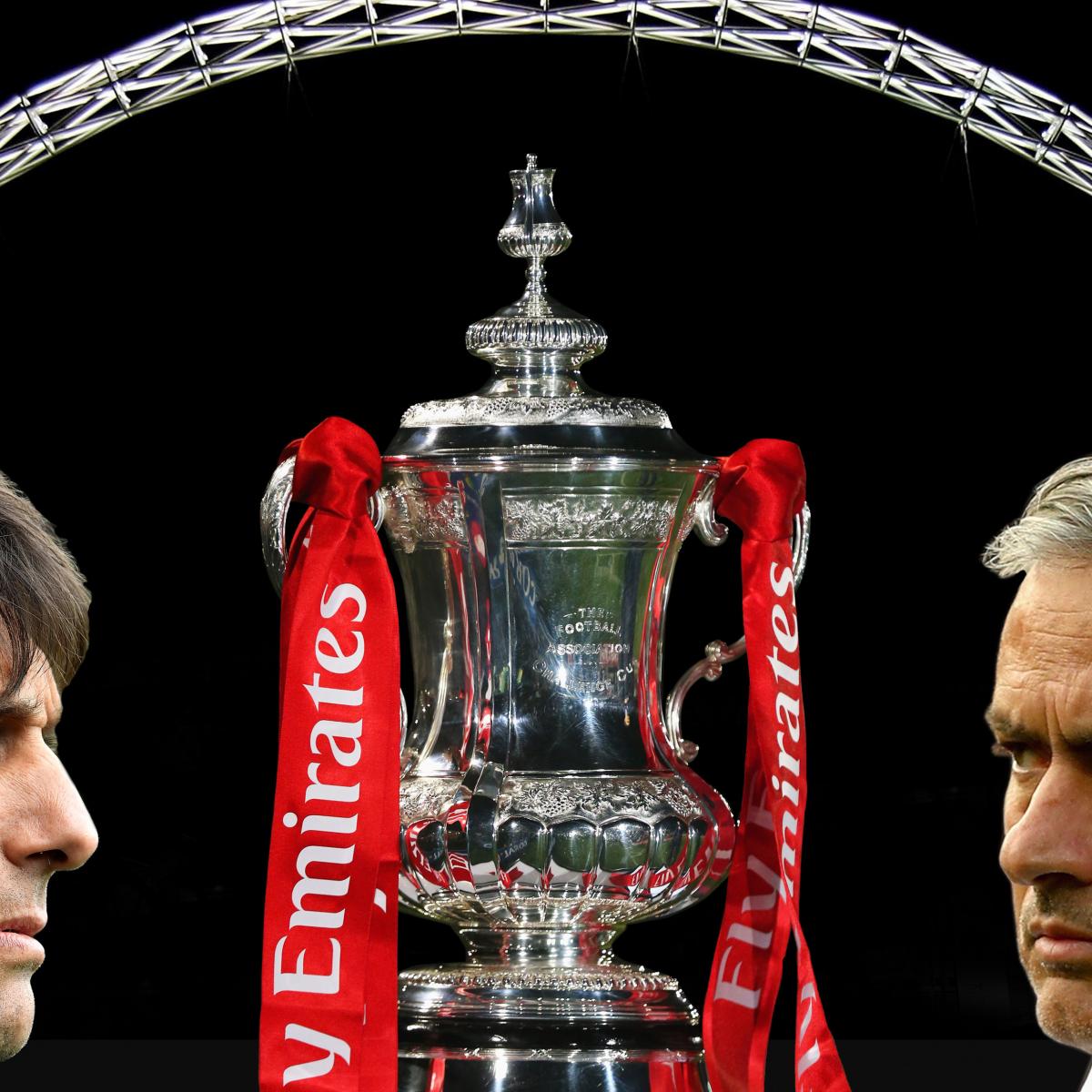 Getty Images/Getty Images
For many, Saturday represents the closing curtain of the 2017-18 English football season. 
It's the FA Cup final, set to be contested at Wembley between Chelsea and Manchester United, and although there are play-off matters from the lower leagues still to be decided, this game represents a key juncture in the summer.
Once this trophy is lofted high, either by Gary Cahill in blue or Antonio Valencia in red, attention can almost wholly shift to the FIFA World Cup. There's just one last top-level box to check, one final piece of silverware to be awarded.
Neither Chelsea or United eased their way here. The Blues may have waltzed the semi-final against Southampton, but were forced to extra time by Leicester City and even penalties by Norwich City in the earlier rounds. United experienced their own difficulties in overcoming Tottenham in April, too.

Ian MacNicol/Getty Images
They're two sides who feel purpose-built for playing—and winning—finals. United have a stubborn streak to them under Jose Mourinho, while Chelsea are incredibly well-drilled by Antonio Conte. They're also both in desperate need of a victory and will see this final as a way of salvaging their season.
If you're labelling one favourite, it's surely only by a hair; they're well-matched in terms, of style, approach and difference-makers. The finer details may well decide this one, and we've plucked out three of those here.
1. The Fight To Be Reactive, Not Pro-Active 
Both managers would likely vehemently disagree should the statement be presented to them, but the fact is Conte and Mourinho feel so comfortable without the ball that they seem to forego it on purpose at times.
It feels unlikely that either side will look to put their foot on the ball and control proceedings from a possession-based standpoint; instead, this might develop into a consistent fight for the right to be reactive, from a defensive position, rather than pro-active from an attacking one.
If that sounds like a criticism, it isn't. Both managers have reams of experience in high-pressure games, with Jose Mourinho in particular famous for his masterful managing of these situations. Said managing often allies itself with a more cautious approach, resulting in spurts of attacks, but rarely of consistent periods of them.
United will likely set out in a 4-3-3 formation featuring Nemanja Matic, Ander Herrera and Paul Pogba in midfield—just like against Spurs in the semi-final. It's a trio that balances out magnificently and is tailor-made for soaking up pressure and then driving forward from deep.
Chelsea seem likely to match up three vs. three in midfield with N'Golo Kante, Cesc Fabregas and Tiemoue Bakayoko, then utilise Eden Hazard off Olivier Giroud in a 3-5-2. The latter two are dangerous when they combine and link, but especially so when it's on the counter, surging into space.
Both sides' (and managers') preference is clear, but who will win the first duel?
2. Right Halfspace Danger
During Chelsea's spells of possession and final-third occupancy, a clear trend will emerge—just as it has done all season long. They look to manipulate the right-halfspace and tease in angled crosses for Giroud to make use of.
Early in the season this was done almost exclusively by Cesar Azpilicueta, whose outside centre-back role allows him to push forward and cross from a narrower, withdrawn position. His link-up with Alvaro Morata early in the season directly yielded six goals—all very similar—and there's something about the trajectory of balls in from that spot that prove incredibly effective.
In Morata's absence, Giroud has assumed the mantle and feels even more comfortable receiving these deliveries. Also, Conte's use of a three-man midfield has placed one player in that same halfspace at all times, giving the Blues two options to swing balls from that area. That second player is Fabregas.
Hazard's obvious individual brilliance aside, this is Chelsea's most dangerous attacking offering. Pressure must be applied to either Fabregas or Azpilicueta when they drift into that area with the ball at their feet. Mourinho's midfield setup will match Chelsea's, but Herrera or Pogba must be snappy and aggressive in fulfilling the role.
3. Jesse Lingard's Runs
Alexis Sanchez naturally stands out as United's star creative piece, but while his jinking dribbles and long-range shooting are known by all, some of what Lingard does is a little more subtle.
The academy product is generally turned to on occasions such as this, Wembley representing his own personal stomping ground of sorts, and it's his movement and darting runs off the ball that really give United an extra dimension in attack.
Particularly, he likes to drift inside from the right when Valencia creeps forward on the right, then arrow in between the centre-back and the full-back to receive the ball by the byline. Countless opportunities have been created using this method this season, and to be frank, United can be a little static outside of Lingard's relentless search for space.
How this translates to a game in which United will face three centre-backs is interesting. The channels between the defenders aren't in the same place as they are with a back four, and those slightly wider areas will be busier, with the formation naturally adding a body to each side.
Lingard won't find the space he normally does when playing against a four, but he must adapt quickly and find another area to manipulate in order to begin stressing Chelsea's defence.
All statistics via WhoScored.com
Breaking Sports News
via Bleacher Report – Front Page https://ift.tt/yO6Sgr
May 18, 2018 at 01:51AM