The Eternal Greatness of Iniesta: From 'Pale Featherweight' to All-Time Great
The Eternal Greatness of Iniesta: From 'Pale Featherweight' to All-Time Great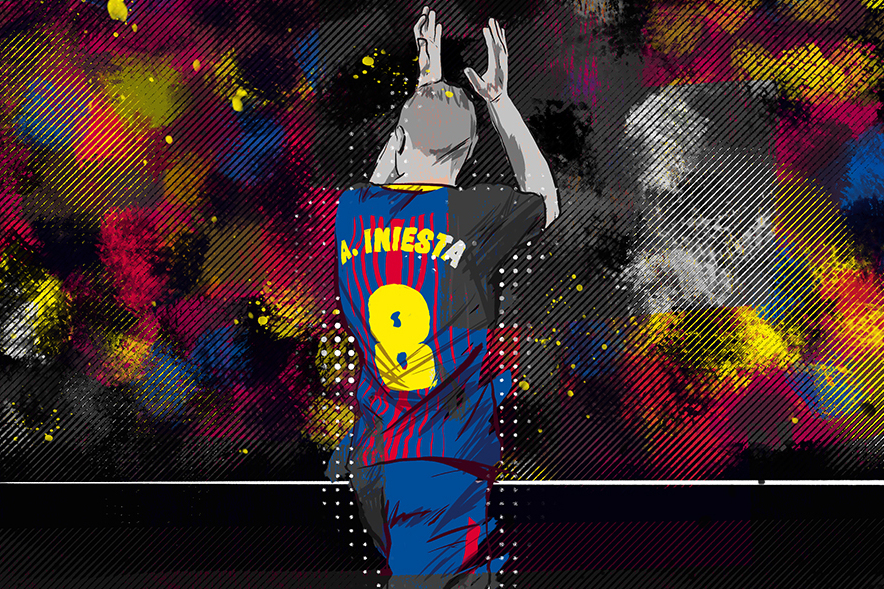 John Sheehan for B/R
There was a moment after the Barcelona vs. Real Madrid match earlier in May that said it all. It had been one of the nastiest Clasicos in recent memory. Almost half the players who started the game, including Leo Messi, were booked; Barcelona's Sergi Roberto was sent off. It finished 2-2.
In the tunnel afterwards, Barca's captain, Andres Iniesta, did a television interview. To his side, and off camera, stood the rival team's manager, Zinedine Zidane, the greatest football icon of his generation. Zidane waited patiently for five minutes, per Marca, like a supplicant at court. He wanted to pay his respects, to give Iniesta a hug and to wish him the best of luck before he departs the stage.
Few men have left a mark on Spanish football like Iniesta. Few are as universally admired as he is in a country known for its morbo—its heated rivalries. To everyone, he is simply Don Andres, a term of reverence befitting his status. His trophy haul is remarkable—nine La Liga titles and a glorious five-season run with club and country in which he won UEFA Euro 2008, UEFA Champions League (2009), FIFA World Cup (2010), UEFA Champions League (2011) and UEFA Euro 2012.
What is forgotten, perhaps, is that he wasn't always trusted. It took him a while to get started. Louis van Gaal gave him his debut for Barca in 2002, per his autobiography, The Artist: Being Iniesta, but it took several years before he established himself as a nailed-on starter for the club. Successive head coaches at Barca weren't convinced about him.

Etsuo Hara/Getty Images
As Iniesta came up through the ranks at La Masia, Barcelona's youth academy, misgivings always trailed him. It was doubted whether Iniesta—with his wan looks—could cut it in a sport as brutal and competitive as professional football. Josep Maria Minguella, who was responsible for bringing Diego Maradona and Messi, among other players, to Barcelona, remembers seeing Iniesta play for the first time when he was about 16. He was still playing with the club's youth teams.
"As a player, he was very distinguished technically, very able with the ball," says Minguella. "He was very intelligent, but there were doubts about his physical power. His body wasn't fully developed. He had this pale, white face. Nobody knew whether he would have the potential to reach the highest level. Messi was also small, but he had a stronger body than Iniesta's once Messi started growing out. Also Messi's face was the face of a man who is strong, a fighter, but Iniesta's visage was like a player who is a nice, sweet boy."
The game that helped changed opinions about Iniesta was the 2006 UEFA Champions League final. On a rainy night in Paris, Iniesta came on for the second half and turned the game on its head. He gave Barcelona the thrust to come from behind with two late goals to beat Arsenal 2-1.
"When he came on, he changed the game and the significance of the final," says Ramon Besa, a friend of Iniesta's and co-author of his autobiography. "That day, he claimed his position as a starter for Barca."
Iniesta's performance in Paris set the tone for what was to come. He laid down a marker, giving us a foretaste of the tiki-taka revolution that Pep Guardiola, as Barca's manager, was about to unleash a couple of years later. Iniesta—along with Xavi Hernandez—typified Guardiola's vision of how to play the game, which differs, for example, to the rough-and-tumble of the Premier League.
"Andres isn't a box-to-box midfielder that the English like so much," Besa says. "Maybe after Guardiola's [title win] at Manchester City, they realise that there is another way of playing their game besides theirs, which I find very interesting.
"Andres is the embodiment of a Spanish style of midfielder par excellence, who feeds well off a lone striker because he dominates the time-space continuum. Sometimes in English football, it seems hard to stop and think. The key to Iniesta is his ability to accelerate and to put the brakes on, to stop-start and then suddenly vanish between markers.

Iniesta celebrates his famous goal at Stamford Bridge.Jamie McDonald/Getty Images
"This guy—a pale featherweight who has none of the conditions that some trainers demand. He doesn't shoot the ball hard; he doesn't score goals; he doesn't win ball in broken play; he doesn't head the ball. But he unbalances the opposition. He can dribble. He can create numerical advantages. And around this [chaos] emerges a fluid kind of football, something beautiful to behold. It's like the singing of a goldfinch."
There are hundreds of moments of his sorcery, of his ability to outfox defenders captured on YouTube. There is a moment, for example, early in a UEFA Champions League quarter-final match against Paris Saint-Germain at the Camp Nou in 2015 when he gets the ball in his own half. He launches a counter-attack, gliding past Edinson Cavani, Marco Verratti and several PSG players to create the space for Neymar to score. The goal killed the tie and set Barca on their way to the club's second treble.
Iniesta, who has played more than 650 official games for Barca, hasn't scored many goals for the club, but one he did has made him immortal—his late goal against Chelsea at Stamford Bridge in 2009 in the second leg of the teams' UEFA Champions League semi-final. According to a report in the British Medical Journal, it contributed to a spike in the birth rate in the city of Barcelona, spawning the so-called "Iniesta generation."
"The goal was special because it came as a surprise," Besa says. "It was unexpected. He wasn't considered a goalscorer. We didn't know he could hit the ball so hard."
The goal that has endeared Iniesta to people in every corner of Spain was his match-winner against the Netherlands in extra time in the 2010 World Cup final. After Iniesta scored, he raced to the corner flag and pulled up his Spain jersey to reveal a message on a white T-shirt underneath: "Dani Jarque, always with us." Jarque—who was only 26 when he died less than a year earlier—had been Espanyol's captain and a team-mate of Iniesta's with Spain's youth teams.

Iniesta celebrates his World Cup-winning goal.GABRIEL BOUYS/Getty Images
Antonio Feijoo, who works as a football agent in La Liga, has known Iniesta since the star was a 13-year-old at La Masia. Iniesta sourced a couple of tickets for Feijoo for Spain's triumphant UEFA Euro 2008 final in Vienna. He was working with Espanyol at the time of the 2010 World Cup in South Africa.
"It's a goal that marked me because I've worked as a masseur and physiotherapist for Espanyol," Feijoo says. "I was a very good friend of Dani as well. God bless him. It was a very, very special moment, not only for me but also for all Espanyol fans."
Feijoo, who grew up in Galicia on the other side of the country to Barcelona, is a Real Madrid supporter. He explains that because Espanyol's city rival, Barcelona, dwarfs Espanyol, it is difficult for Espanyol fans to stomach Barcelona's successes. Iniesta's gesture, which transcended club rivalries, was typical of the man.  
"For Espanyol fans, the rivalry with Barcelona is harder to take, even harder than it is for Real Madrid fans," Feijoo says. "That moment was probably the happiest moment of Andres' life—when he gets to score the winning goal in the World Cup final. It was the first time that Spain had won it. To mark it with a memory for a companion from the rival team in the city was unforgettable."
Iniesta, who grew up in Castilla-La Mancha in Spain's heartland before moving to La Masia in Catalonia as a 12-year-old, didn't win the Ballon d'Or award that World Cup-winning year, as some suggested he merited. He shared the podium with Barcelona team-mates Messi, who won the award, and Xavi.

Manu Fernandez/Associated Press
"That image encapsulates the happiness of the club," Besa says. "Messi represents Barca and the global Barcelona. Xavi represents Barca and Catalan Barcelona. And Iniesta represents Barca and the Barcelona that is dear to the Catalan-Spanish constituency, to the hybrid, to people who have come from other communities who have integrated and triumphed at Barcelona."
On Sunday, Iniesta will play his last game for Barcelona, against Real Sociedad in La Liga. He will, as they say in Spain, leave through la puerta grande—the big door. Barca's fans behind the goal at the south end of the Camp Nou will unveil a tifo in honour of his eternal greatness.
"When Barca's team had excellent players like Xavi, Dani Alves, Messi, Neymar Jr., players of high technical quality, sculptors, Iniesta showed them the rhythm," Minguella says. "Others had to follow: now we play faster; now we go left, right. This song and dance that didn't seem to have any order or rhyme or reason.
"The way he does things, and his gestures, has made him an object of love for all Spain's football fans and, of course, for Barca fans. That's why they love him. For 10 years, Barca had a great orchestra, and Iniesta was its conductor."
All quotes and information obtained firsthand unless otherwise indicated.
Follow Richard on Twitter: @Richard_Fitz.
Breaking Sports News
via Bleacher Report – Front Page https://ift.tt/yO6Sgr
May 17, 2018 at 06:49AM