Preakness 2018 Post Time: Race Schedule, Post Positions Info and Prediction
Preakness 2018 Post Time: Race Schedule, Post Positions Info and Prediction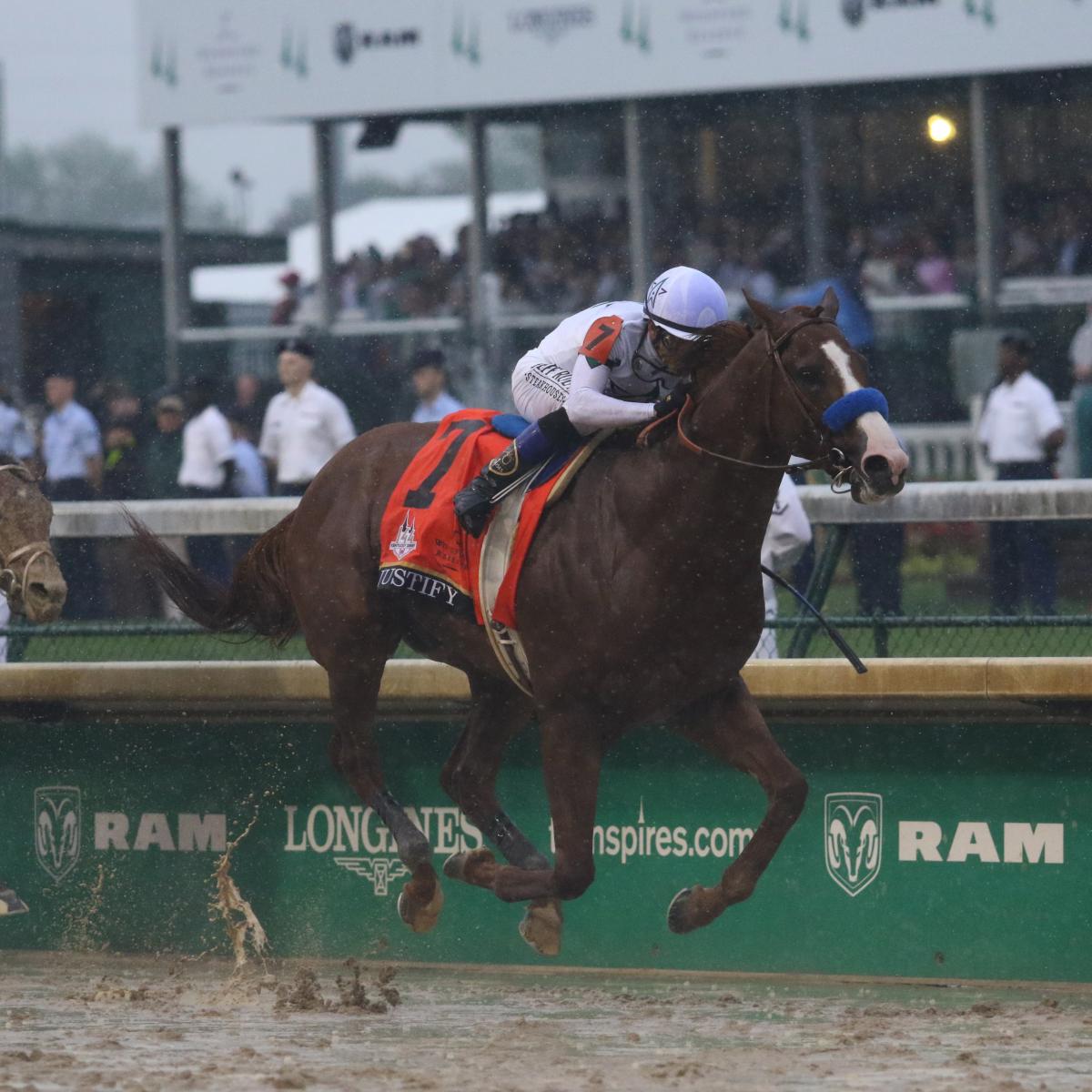 Horsephotos/Getty Images
The Preakness Stakes not only draws in some of the best three-year-old horses in thoroughbred racing, but it's an event that captures the attention of so many sports fans around the world.
This year the showdown at Pimlico Race Course will be no different. All eyes will be on Bob Baffert's Justfy, who produced a tremendous run at Churchill Downs to win the Kentucky Derby.
The measure the display has got plenty talking about the prospect of another Triple Crown winner and Justify is the favourite for the second jewel in the series of races. Baffert trained American Pharoah three years ago too, as he became the first horse for 37 years to win all three.
Here's a look at the lineup for Saturday, the schedule for the race and a preview of what's to come, as Justify seeks to head to the Belmont Stakes with iconic status up for grabs.
Venue: Pimlico Race Course in Baltimore, Maryland
Date: Saturday, May 19
Start Time: 6:20 p.m. ET. 11:20 p.m. BST
Post Positions and Odds
1. Quip (+1600)
2. Lone Sailor (+2500)
3. Sporting Chance (+2200)
4. Diamond King (+1600)
5. Good Magic (+300)
6. Tenfold  (+2500)
7. Justify (-250)
8. Bravazo (+1800)
Figures are courtesy of OddsShark
Justify Fancied to Win Again

Sean M. Haffey/Getty Images
Prior to American Pharoah winning the Triple Crown in 2015, the prospect of horses winning all three of the major races felt extremely slim and often impossible in the modern era.
For contenders, something would often go wrong at a crucial point or they would be besieged by bad luck. But Baffert's triumph three years ago has reignited expectations when it comes to the treble and Justify has got a lot of people wondering about what he is capable of.
His performances so far have certainly indicated that this is a horse able to adapt to different situations. Having won the Santa Anita Derby impressively, the torrid conditions at Chuchill Downs appeared to have little effect on the eventual winner.
Adam Beasley of the Miami Herald can see why there's buzz simmering about Justify winning the box set of titles:
Doug Salvatore provided statistics that illustrate just how much natural speed Justify has out on track:
Doug Salvatore @DougieSal

Justify ran his opening quarter mile in 22.33 seconds. Which is the fastest first-quarter ever run in the Derby by any horse who went on to win the Race. Bold Forbes (22 2/5th) in 1976 previously had that mark.
While tiredness can often play a big role in the chase for all three of these title, according to Baffert the Kentucky Derby winner was in good shape despite the harsh conditions.
"He came out of it really well," Baffert said, per John Cherwa of the Los Angeles Times. "I mean he's full of himself. … Today he's been a handful. He knows that he's a stud. He's so beautiful. He's got the body. When he came out of the stall, he was pulling me around. Usually they are a little bit tired."

Michael Reaves/Getty Images
However, there's no doubt the rigours of a busy year will come in to play at some point. As relayed by TVG's Joaquin Jaime, Justify has been in action a lot in 2018:
Joaquin Jaime @TVGJoaquin

At some point, I do wonder when it will become too much for Justify.

The Preakness will be his 5th race in 3 months. If the Belmont happens, his 6th race in roughly 4 months. 🤔 No doubt he's special but they aren't machines.
The stiffest competition for Justify will most likely come from those who were in closest contention to him at Kentucky.
Good Magic was able to stay in second despite a lot of kickback from the leader; in a smaller field, favourable conditions and around a tighter course he may have a better chance of getting close to Justify.
Audible was in third position at Kentucky and has plenty of pedigree, having already won the Florida Derby this year. However, at this point all appears to be geared towards another win for Justify and another chance for Baffert to cement his legendary status.
Prediction: 1. Justify, 2. Good Magic, 3. Quip
Breaking Sports News
via Bleacher Report – Front Page https://ift.tt/yO6Sgr
May 17, 2018 at 08:07AM