Preakness 2018 Post Positions: Predictions for Each Horse in the Lineup
Preakness 2018 Post Positions: Predictions for Each Horse in the Lineup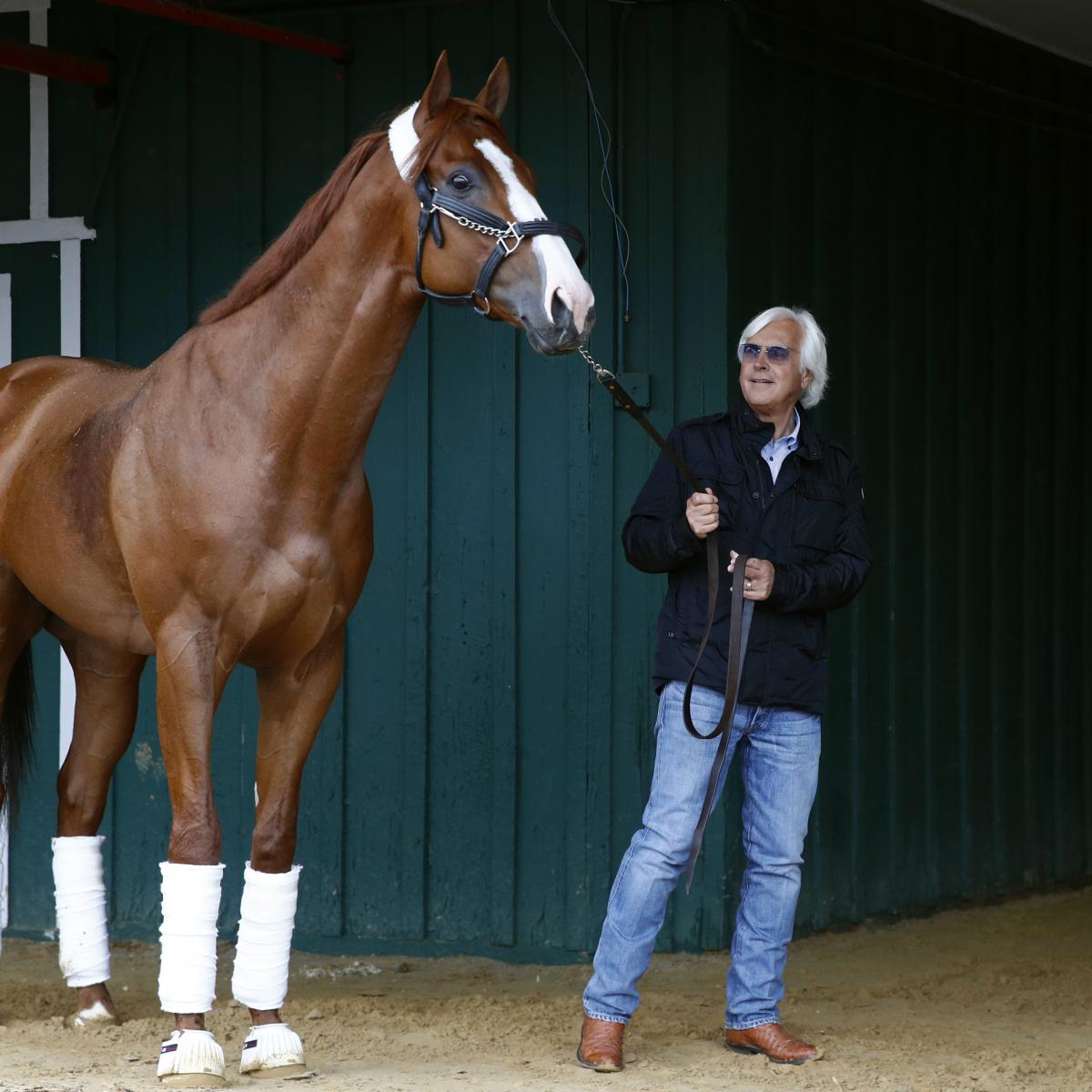 Justify comes into the Preakness as an unbeaten runner in his four previous races.Patrick Semansky/Associated Press
The No. 7 post position was quite fortunate for Justify in the Kentucky Derby, and the big red thoroughbred trained by Hall of Famer Bob Baffert has that post again for Saturday's Preakness Stakes.
Justify was a 2½-length winner in the Kentucky Derby as he withstood the challenge of 19 other runners before putting the field away.
He won't have to defeat that many horses this time, as Preakness field consists of just eight horses. One of those horses is Good Magic, who challenged him in the Kentucky Derby and came away second.
Good Magic will start from the No. 5 post, and trainer Chad Brown has liked the way his horse has looked since the Derby. His initial thought right after he fell short of the winner's circle on the first Saturday in May was that he did not want to challenge Justify again, but the trainer changed his mind.
Here's a look at the post positions for the upcoming race.
Justify is a minus-250 favorite, according to OddsShark in the race at Baltimore's Pimlico Race Course. Here are the rest of the odds for the horses in the field. The minus-250 figure converts to 1-2 in standard North American race track odds.
 Here's a look at the morning-line odds (standard race-track odds in parentheses):
Justify, -250 (1-2)
Good Magic, +300 (3-1)
Diamond King, +1600 (16-1)
Quip, +1600 (16-1)
Bravazo, +1800 (18-1)
Sporting Chance, +2200 (22-1)
Tenfold, +2500 (25-1)
Lone Sailor, +2500 (25-1)

Quip is hoping to make a serious run at the Preakness.Eclipse Sportswire/Getty Images
Quip did not run in the Kentucky Derby, largely because he was slow to return to form after finishing second in the Arkansas Derby. Trainer Rodolphe Brisset says Quip is back in form and should be able to run a solid race. Quip likes to run at or near the front, and that's a similar style to Justify. If he gets in an early battle with the Derby winner, he is likely to come out on the wrong end. Additionally, the rail has been quite slow at Pimlico, and that could work against him. Predicted finish: Fourth place.
Lone Sailor competed in the Kentucky Derby and finished in eighth place in the 20-horse field. He should have a somewhat easier time of it in the Preakness, but he has just one victory in nine races. He is not likely to be a major factor. Predicted finish: Fifth place.
Sporting Chance is a talented horse who is running out of the three hole and trained by D. Wayne Lukas. While he can be an excellent competitor when he sets his mind to it, he doesn't always do what his trainer and jockey ask. Sporting Chance has won two of seven races he has entered, but when Lukas asked the horse to breeze last Sunday, he was unwilling to come through for the trainer, per Matt Shifman of horseracingnation.com. Predicted finish: Sixth place.
Diamond King is trained by John Servis and he has won four races in six attempts. He gained his entry into the Preakness as a result of his victory in the Federico Tesio, and this horse should be prepared to run a strong race. However, he is not as fast as the horses that ran in the Derby, and he will have to come up with a sensational effort here. Predicted finish: Third place.
Good Magic is a very strong horse that came through with an impressive second place effort in the Kentucky Derby. He likely would have been the winner of that race in most years but Justify was too impressive in finding a second gear. Brown should have Good Magic prepared to run another excellent race, and he could come closer to Justify this time around: Predicted finish: Second place.
Tenfold has won two of the three races he has entered and Steve Asmussen is one of the better trainers in the business. While he wouldn't enter a horse in the race if he didn't think he had a legitimate chance to contend, Tenfold just does not have enough experience to beat the better horses in this field. Predicted finish: Seventh place.
Justify appears to be the best horse among the three-year-old class and he certainly proved it in the Derby. He got out of the gate quickly to avoid the traffic and when he made his move to get to the lead, he was not about to give it up. When Good Magic challenged him, he responded the way a champion is supposed to by finding another gear. Big, strong and powerful, Justify should be able find his way to the front again and then turn it on when he approaches the wire. Predicted finish: First place.
Bravazo is another Lukas entry, and he could benefit from a fast, early pace that involves at least three competitors. Bravazo wants to come from behind, so he is hoping for a speed duel. However, if this is a tactical race with a slower pace, he is not likely to make up much ground. Predicted finish: Eighth place.
Breaking Sports News
via Bleacher Report – Front Page https://ift.tt/yO6Sgr
May 17, 2018 at 07:10AM