No Risk, No Reward: Rockets Taking Necessary Gamble Matching Dubs' Blueprint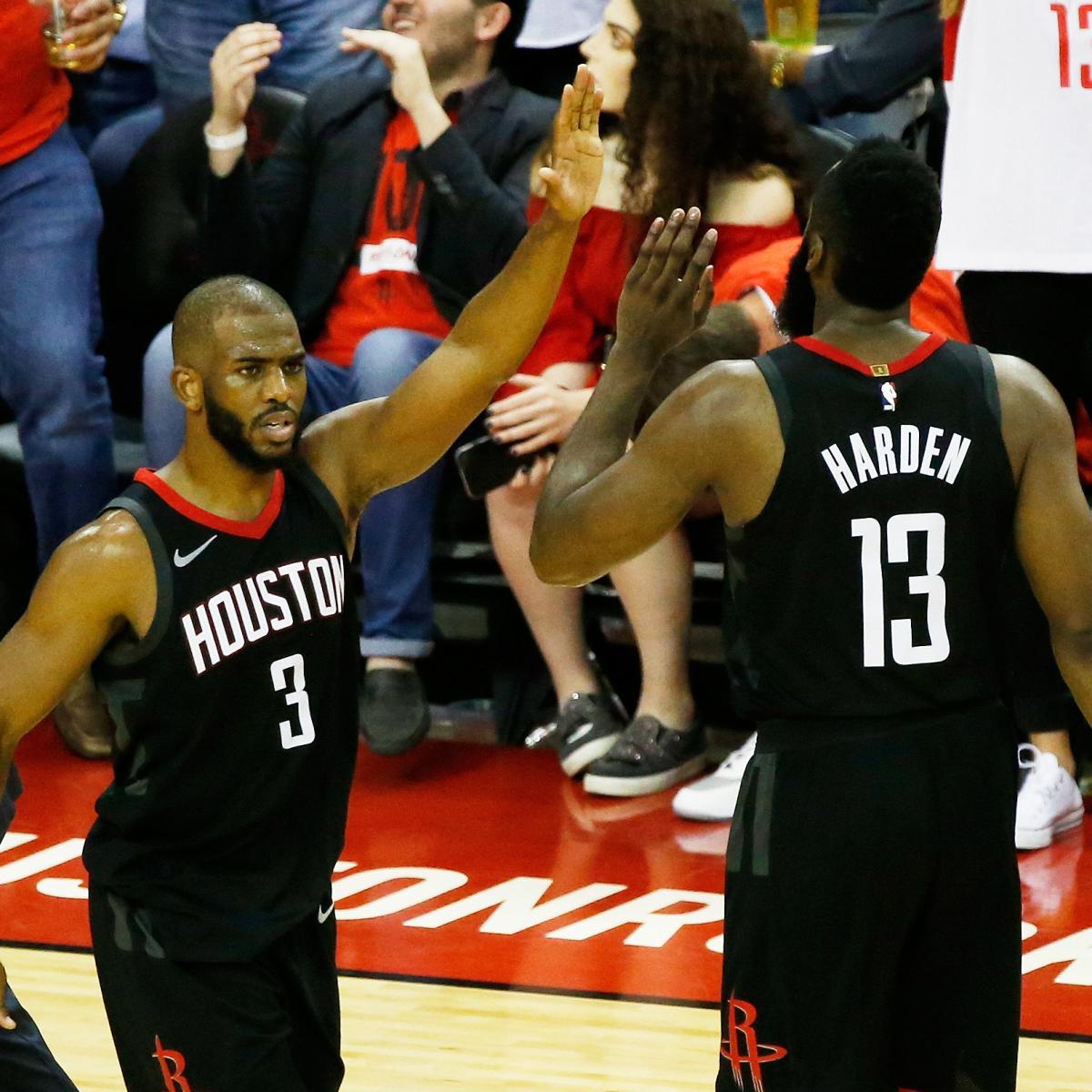 Tim Warner/Getty Images
You could say the Houston Rockets did a good impression of the Golden State Warriors in Wednesday's 127-105 win. Or, more charitably, that the form Houston found in its series-evening victory was in there all along, like a secondary set of programming instructions waiting for the "execute" command.
Either way, now that we've seen the Rockets adopt an uptempo, viciously aggressive style to square the series, we can see a path to the Finals that wasn't visible after Game 1…if any of this is sustainable.
Houston, which ranked 24th in pace after the All-Star break, put on its track shoes in Game 2. It had four fast-break points in the first two minutes on Wednesday, which was a big deal because it had just three in all of Game 1.
As Haralabos Voulgaris noted, the Rockets were especially aggressive after Warriors misses:
Haralabos Voulgaris @haralabob

Rockets are playing much faster off of misses. Getting shots off at 10.5 tonight after a GSW miss vs 11.9 in 1h of G1.

Still not pushing after GSW Makes (17.8 tonight vs 18.1 1h of G1).
The focus on early offense got Houston loads of looks that weren't available in a stagnant Game 1 effort, like this one from P.J. Tucker:
NBA @NBA

Chris Paul dazzles with the handle & finds PJ Tucker for 👌

#Rockets 46 | #DubNation 35

📺: @NBAonTNT https://t.co/TuUVrmscgW
Whether a separate point of emphasis in Houston's game plan or another result of pushing the tempo, ball movement also improved. The Rockets registered 23 assists, their third-highest total of the playoffs and five more than they posted in Game 1.
The tic-tac-toe passing against a scrambled Warriors defense was a breath of fresh air after the one-on-one monotony we saw on Monday.
All of it—the pace, passing and aggression—got role-players engaged and morphed Houston's offense into a multidimensional weapon. 
Tucker scored 22 points and hit five threes; Trevor Ariza finished with 19; Eric Gordon had lethal levels of confidence on a 27-point night, best exemplified by the deep dagger that cut the cord on Golden State's last attempt at a comeback.
NBA @NBA

Eric Gordon from long range to beat the shot clock!

8-0 @HoustonRockets surge in the 4th on @NBAonTNT

#Rockets 108 | #DubNation 89 https://t.co/qlZm8rm1W3
James Harden scored 27 points but did less dancing on the perimeter, and Chris Paul hit some timely buckets. Both relentlessly attacked Stephen Curry, who clearly lacked burst and looked a step slower than he did in the last playoff series Golden State lost, the 2016 Finals. It is not a coincidence that Curry was coming off MCL sprains in both instances, but don't expect Paul, who was limping around for most of the second half on Wednesday himself, to care:
Defensively, Houston upped the pressure on ball-handlers, which made it tougher for the Warriors to see passing lanes. The off-ball cuts and slips that generated clean looks in Game 1 were still there, but the Rockets' aggression prevented deliveries that could have led to buckets.
Head coach Mike D'Antoni projected stay-the-course commitment after Game 1, telling reporters Houston's isolation approach was too integral to its identity to change after a single loss: "That's what we do. We are who we are, and we're pretty good at it. And we can't get off who we are. Embrace it. Just be better at who we are and don't worry about if somebody else solves the puzzle a different way."
That was a justifiable sentiment. If you won 65 games playing slower, hunting mismatches and firing off contested threes, one loss shouldn't force a total reevaluation. But the Rockets did change. Oddly, they resembled the team many casual observers thought they were all along. Quietly, Houston was a slow, deliberate offense this year; the perception that they were a run-and-gun outfit was never really accurate.
But it applied on Wednesday. And more importantly, it worked (in tandem with much better defense) to produce a badly needed win.
Yes, the Warriors were complicit in their own undoing. They always are.
Seven first-quarter turnovers nearly equaled the nine they committed in all of Game 1, as Golden State got off to the kind of listless, complacent start that scuttled it so many times during the year. Everyone but Kevin Durant, who torched the Rockets for 38 points on 22 shots, fell short in the effort and attention departments.
Still, if we view playoff series as a war of adjustments, the first battle goes to the Rockets. They should enjoy the results of their knockout counterpunch.
But ahead of Game 3, there's something Houston should cautiously consider.
So much of what the Rockets did to win Game 2 doubles as a blueprint for how the Warriors prefer to play. Chaos-inducing speed, relentless transition pushes, suffocating five-position defense that unravels possessions before the first action even triggers—that's what the Warriors like to do. It's how they've blitzed opponents for almost four years.
And they really like to do it when they're at home, which is where Games 3 and 4 will take place.
Can the Rockets go into Warriors territory using Warriors tactics and expect to succeed? It sure feels like that's their best play, at least based on the contrasting styles and results in the first two games of the series. But how many teams have we seen fail when Golden State inevitably forces the game to be played on its terms?
And now the Rockets are going to engage the Dubs this way on purpose, effectively steering the ship toward the maelstrom?
It's a bold strategy, Cotton. Let's see if pays off for 'em.
Stats courtesy of Basketball Reference, Cleaning the Glass or NBA.com unless otherwise specified.
NBA News
via Bleacher Report – NBA https://ift.tt/yO6Sgr
May 16, 2018 at 09:42PM