NHL Playoff Bracket 2018: Dates, TV Schedule, Game Times, Odds and Picks
NHL Playoff Bracket 2018: Dates, TV Schedule, Game Times, Odds and Picks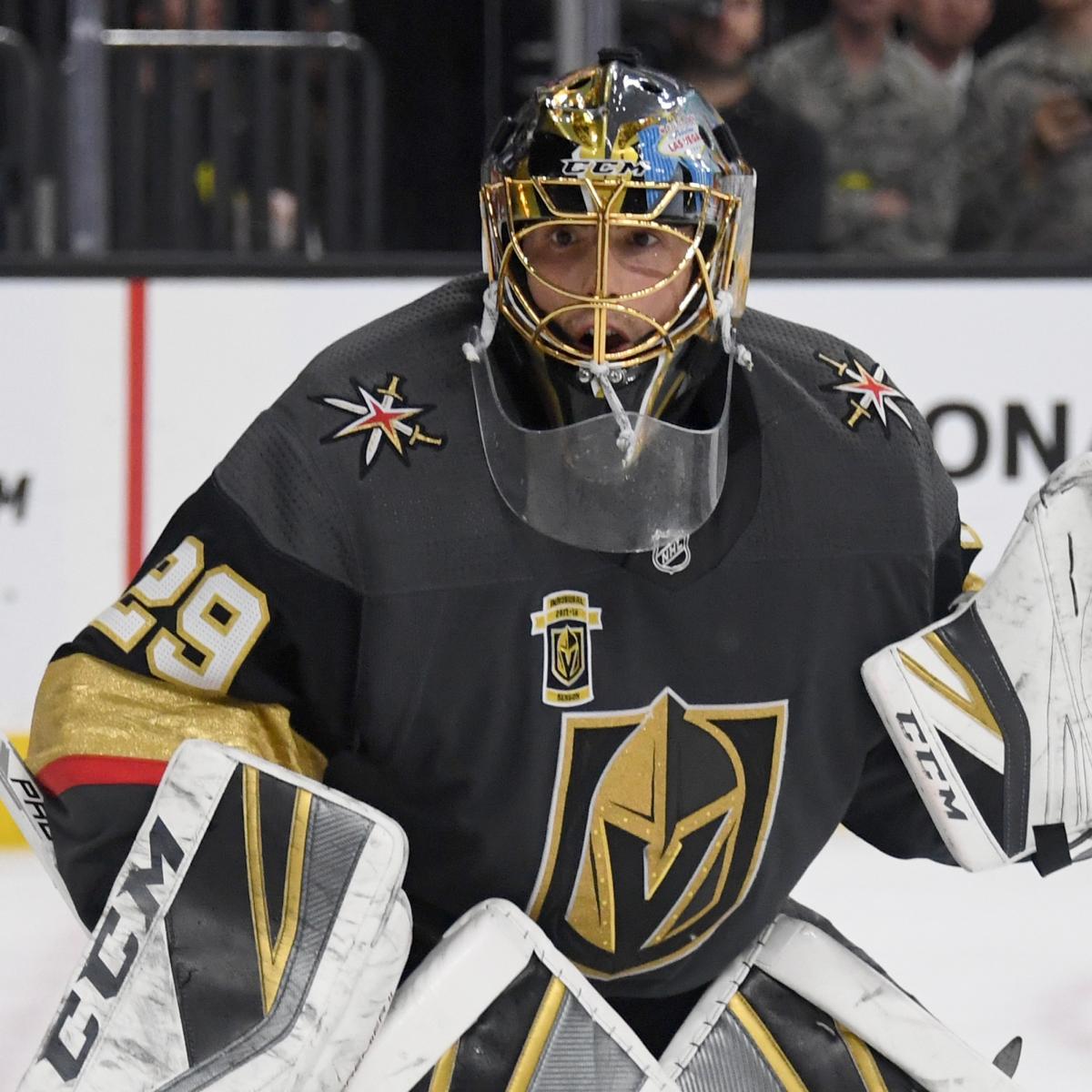 Ethan Miller/Getty Images
The fourth game of each NHL conference final could be a turning point in both series. 
Washington holds a 2-1 advantage over Tampa Bay in the Eastern Conference, but its grasp on the series is looser after the Lightning stormed back to win Game 3 at Capital One Arena. 
Over in the Western Conference, the Golden Knights are on the verge of busting open the series after thriving at home in Game 3. 
If Washington recovers in Game 4 and Vegas extends its advantage before going back to Winnipeg, the Capitals and Golden Knights could be on a collision course for the Stanley Cup final. 
However, if the Lightning and Jets crawl back into each series, we could be in for an exciting final six games of the conference final stage. 
TV Schedule and Game Times
Thursday, May 17
Game 4: Tampa Bay at Washington (8 p.m., NBCSN) 
Friday, May 18
Game 4: Winnipeg at Vegas (8 p.m., NBCSN) 
Saturday, May 19
Game 5: Washington at Tampa Bay (7:15 p.m, NBC)
Sunday, May 20
Game 5: Vegas at Winnipeg (3 p.m., NBC)
Monday, May 21
Game 6: Tampa Bay at Washington (8 p.m., NBCSN)*
Tuesday, May 22
Game 6: Winnipeg at Vegas (9 p.m., NBCSN)*
Wednesday, May 23
Game 7: Washington at Tampa Bay (8 p.m., NBCSN)*
Thursday, May 24
Game 7: Vegas at Winnipeg (8 p.m., NBCSN) 
*If necessary
Odds (via OddsShark)
Eastern Conference Final Game 4
Tampa Bay (+103; Bet $100 to win $103) at Washington (-114; Bet $114 to win $100) 
Western Conference Final Game 4
Winnipeg (+112) at Vegas (-124) 
Picks
Tampa Bay 
If you asked anyone about their Eastern Conference final pick before Game 3, the majority sided with the Capitals. 
However the tables turned in the series after Game 3, as the Lightning picked up their fourth road victory of the postseason. 
In Game 3, the Lightning played like the team that dominated in the first two rounds against New Jersey and Boston. 
Although they're still down a game in the series, the Lightning now have confidence they can string together solid performances, as center Steven Stamkos noted, per the team's official Twitter account: 
The Lightning jumped out to an early advantage in Game 3 thanks to an effective power play, and they'll need the same type of efficiency on special teams to gain an upper hand in Game 4. 
From the Washington perspective, Barry Trotz's team needs to erase Game 3 from its memory right away and focus solely on Game 4. 
The player who needs to put an emphasis on that is goalie Braden Holtby, who gave up four goals for the first time in the postseason Tuesday. 
Holtby's play hasn't been concerning by any stretch of the imagination, but he's shown that he is a little susceptible to losing at home, as he is 3-3 at Capital One Arena against Columbus, Pittsburgh and Tampa Bay. 
If the Lightning are able to slip a goal past Holtby in the first period, it would build up their confidence even more and it could lead to the Capitals facing the most pressure they have all postseason. 
Vegas 
Sometimes in the postseason it's easiest to pick a team with an in-form goalie. 
That's the case with Marc-Andre Fleury and the Golden Knights, as the three-time Stanley Cup champion marveled in between the pipes in Game 3 against the Jets. 
After conceding four goals in Game 1, Fleury held the Jets to three goals over 120 minutes while Vegas achieved a 2-1 series lead. 
Fleury has a .924 save percentage over three games, as he's stopped 92 shots, including 30 in Wednesday's momentum-changing Game 3. 
The 33-year-old, who has 128 playoff appearances, is currently in the middle of the best postseason of his career, as he possesses a .945 save percentage and 1.70 goals against average. 

Ethan Miller/Getty Images
During Pittsburgh's runs to the Stanley Cup in 2009 and 2017, Fleury's goals against average hovered between 2.5 and three, while his save percentage was 0.21 points less than his current number two years ago. 
If Fleury uses Game 3 as a catalyst for the rest of the postseason, the Golden Knights could be seen as the favorite to win the Stanley Cup. 
Follow Joe on Twitter, @JTansey90.
Statistics obtained from Hockey Reference. 
Breaking Sports News
via Bleacher Report – Front Page https://ift.tt/yO6Sgr
May 17, 2018 at 08:07AM