James Harden, Balanced Rockets Even Series vs. Kevin Durant, Warriors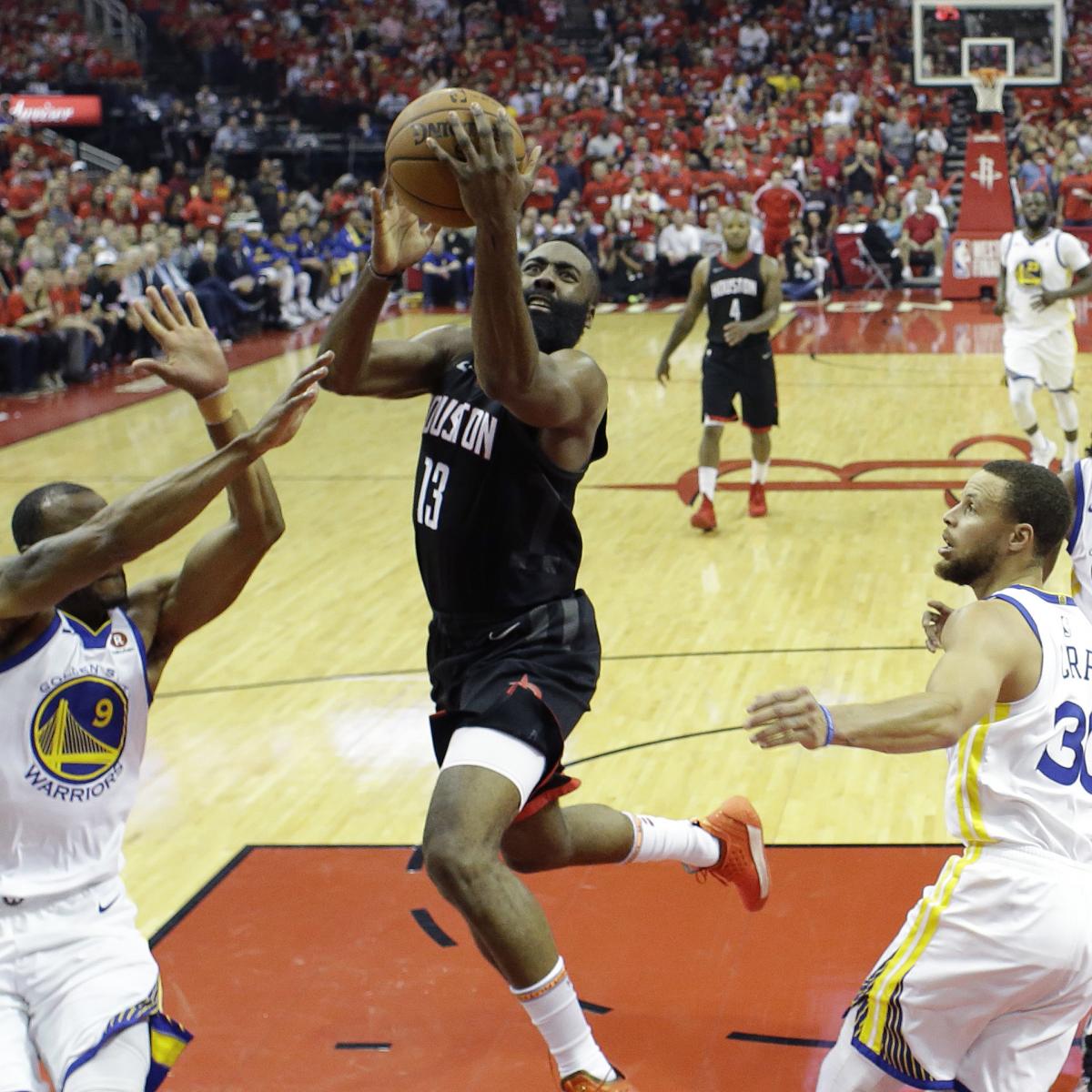 David J. Phillip/Associated Press
There will be no sweep in the 2018 Western Conference Finals, as the Houston Rockets bounced back from a Game 1 loss with a 127-105 victory over the Golden State Warriors in Wednesday's Game 2 at the Toyota Center.
Golden State will now need to win a best-of-five series to reach the NBA Finals for a fourth straight season, as James Harden (27 points and 10 rebounds) was part of a balanced Houston attack that evened the series. Five Rockets scored at least 16 points, including Eric Gordon (27 points), Trevor Ariza (19 points and six assists) and PJ Tucker (22 points and seven rebounds).
Kevin Durant did what he could with 38 points, but Stephen Curry (16) was the only other Warrior to finish with more than eight.
Warriors' Biggest Opponent Is Still the Warriors
Houston deserves plenty of credit for its victory, but the Warriors that showed up Wednesday aren't going to show up four times over the course of the series.
It's easy to go through the motions when you are as talented as Golden State, and the 15 turnovers and 9-of-30 shooting clip from deep (30 percent) are testaments to the defending champions taking their foot off the pedal after stealing home-court advantage in Game 1. The visitors had seven turnovers in the first quarter alone, and they never settled into their typically overwhelming rhythm.
Following the first quarter, Warriors head coach Steve Kerr even said on the TNT broadcast, "As soon as we win a game, we like to turn the ball over more."
Golden State has stood in its own way in the past, as it committed 17 turnovers in Game 5 and 14 turnovers in Game 6 of its 2016 NBA Finals loss to the Cleveland Cavaliers. Curry and Klay Thompson combined for seven of the Warriors' 10 turnovers in Game 7 of that series.
While the Rockets don't have LeBron James, the Warriors are playing with fire against a team featuring Harden and Paul if they continue to be this sloppy with the ball.
However, this iteration of Golden State has something the team that lost to Cleveland didn't—Durant. The Warriors have three sweeps and three five-game wins in six playoff series since Durant joined them, and their lackluster play Wednesday may have only delayed the inevitable in this series.
A Warriors team with four All-Stars that already stole home-court advantage from the Rockets is still in control of this series. As long as it doesn't stand in its own way three more times, that is.
What's Next?
The series now shifts back to Oracle Arena for Sunday's Game 3. Despite the lackluster performance Wednesday, the Warriors can still take a commanding 3-1 series lead over Houston if they defend their home court for the next two games.
NBA News
via Bleacher Report – NBA https://ift.tt/yO6Sgr
May 16, 2018 at 08:39PM