IndyCar adds new I-PAS system to driver concussion tests
IndyCar adds new I-PAS system to driver concussion tests
IndyCar says it has made a "major advancement" in its concussion evaluation system thanks to a "goggles test" device known as the I-PAS.
The new clinical eye-tracking computer test, which resembles a virtual reality headset, was recently cleared by America's Food and Drug Administration and has now been implemented by IndyCar as part of its concussion tests.
The system utilises eye tracking with a digital display, allowing medical professionals to monitor eye motion, the vestibular system (relating to parts of the ear and brain that help control balance) and reaction times.
I-PAS will be used in tandem with IndyCar's concussion protocol and the system can run a test in just eight minutes, helping to inform decisions about when drivers can return to competition.
IndyCar was introduced to the system after Will Power's 2016 crash during first practice at the St Petersburg street circuit, in which concussion-like symptoms the following day led to him sitting out the race.
Power was observed by Dr Steve Olvey, a former Indycar medical director, at the University of Miami, with its concussion programme – including I-PAS – determining it was an inner ear infection that caused Power's ailment rather than concussion.
IndyCar's safety consultant Dr Terry Trammell described the system as a "game changer".
"What the testing person sees are the person's eyeballs, the whites of their eyes, the pupils, the iris and so on," he said. "So you can see the eye muscles contract, get bigger and smaller.
"Think of going to the doctor, [if] he said: 'follow my finger back and forth, follow it into your nose, back out of your nose'.
"This does that, but it does it optically. It's very, very sensitive.
"It measures the changes in your eye very accurately, to infinitesimal small degrees.
"With utilising that data, coupled with the clinical exam, we can come up with a diagnosis.
"The doctor still makes the diagnosis, the machine doesn't make the diagnosis.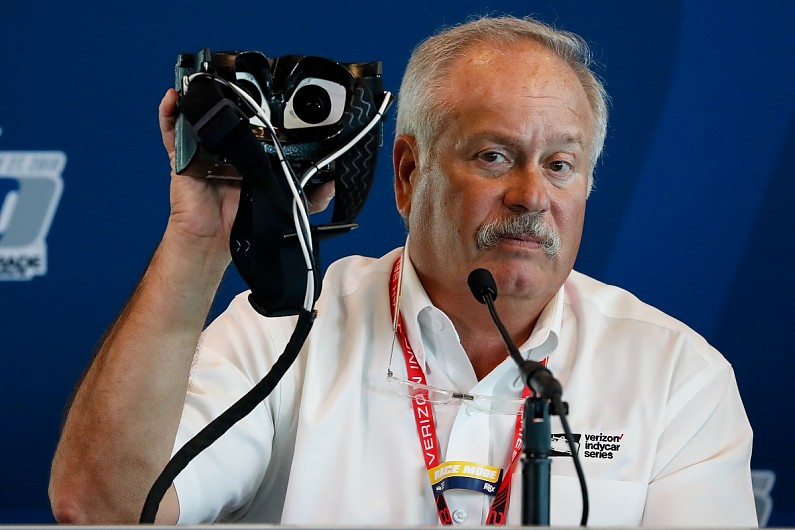 "Where this becomes the real game changer is we have somebody that has a fall on Sunday, Monday they call up and say, 'I don't feel quite right, something's not the way it was on Saturday'.
"They may not have signs of a clinical concussion based on what we've used in the past to make that diagnosis because the changes are subtle.
"This [I-PAS] just gives us a battery of more specific tests to use in our clinical evaluation."
Howison Schroeder, president and CEO of I-PAS creator Neuro Kinetics, added: "It's impressive that IndyCar has chosen to take this lead and promote what I believe, I could be wrong, is the first significant addition to a concussion protocol in a pro sport in the last 10, 15 plus years."
All IndyCar drivers have been tested by the I-PAS ahead of the Indianapolis 500, as well as those on the Road to Indy ladder.
IndyCar says it has tested four drivers in 2018 for concussions, with all producing a negative result, and added that I-PAS prevents drivers from "gaming" the system.
Racing News
via All news – Autosport https://ift.tt/2uOa9Ei
May 17, 2018 at 10:27AM