Eagles Receive White House Invitation for Super Bowl LII Win vs. Patriots
Eagles Receive White House Invitation for Super Bowl LII Win vs. Patriots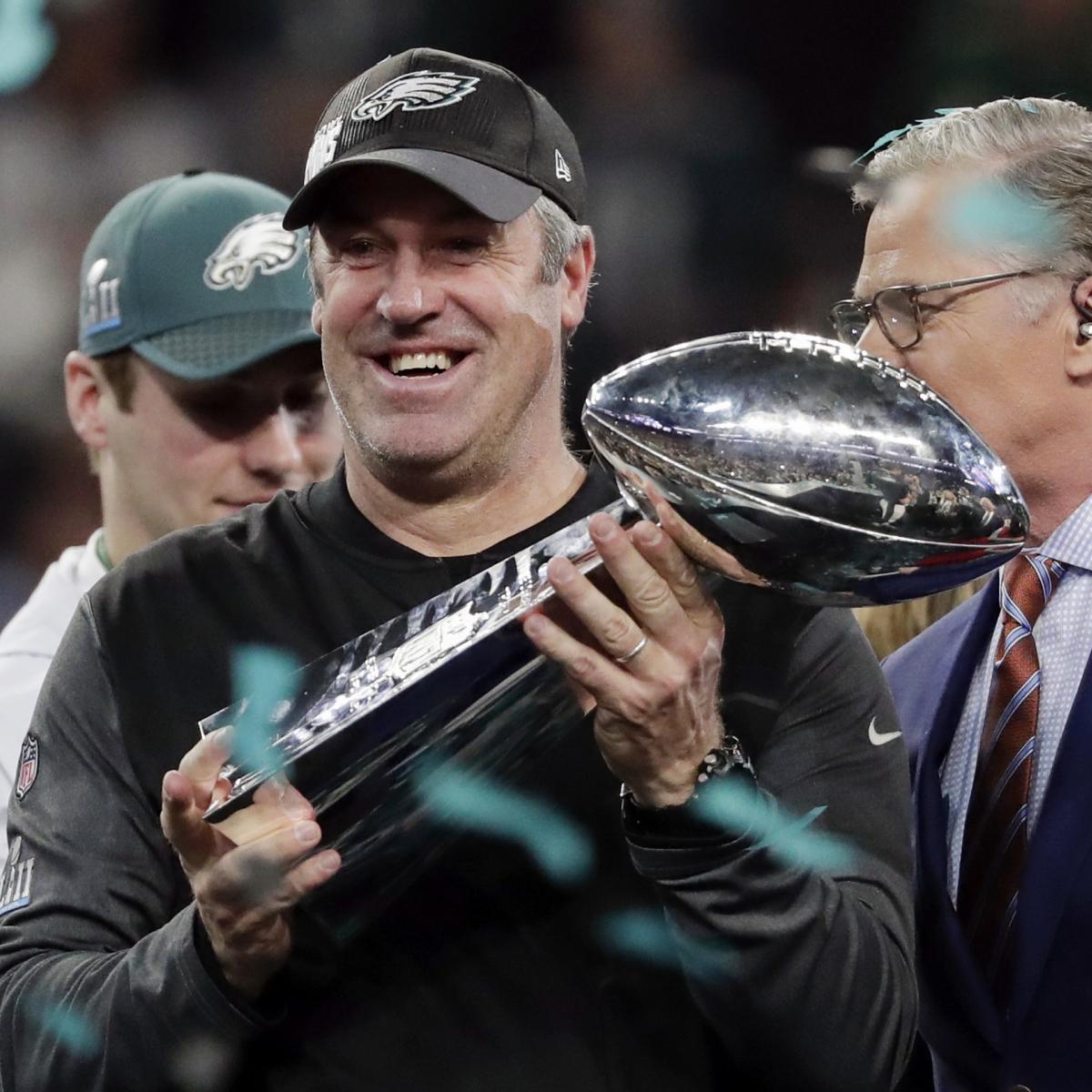 Tony Gutierrez/Associated Press
The Philadelphia Eagles already celebrated their first Super Bowl championship with a parade down Broad Street in February.
They'll now have a chance to be honored in the city of one of their NFC East rivals.
According to Philadelphia's 6ABC, the Eagles have been invited to the White House on June 5 to celebrate their Super Bowl LII victory over the New England Patriots. Jonathan Tamari of the Philadelphia Inquirer passed along a statement from the White House:
Jonathan Tamari @JonathanTamari

"President Trump looks forward to welcoming the Philadelphia Eagles to the White House on June 5th to celebrate their Super Bowl LII win." – White House Deputy Press Secretary Lindsay Walters
While the team has not made an announcement about whether it will attend, several players have already said they do not intend to take part in the ceremony because of who is in office.
Malcolm Jenkins, who has been a leading activist for social change, explained back in February that he only wants to meet with President Donald Trump if it can lead to change, per ESPN.com's Tim McManus:
"I don't want to take away from anybody's experience or make it a big distraction. It's a celebratory event, and I want the guys who choose to go or whatever to enjoy that. Me personally, because it's not a meeting or a sit-down or anything like that, I'm just not interested in the photo op."
He was not the only Eagles player to let it be known that he's not interested in making the trip to the nation's capital.
Receiver Torrey Smith—who the Eagles traded to the Carolina Panthers earlier this offseason—told McManus he has no interest in going to the White House as long as Trump remains president.
"Going to the White House should be seen as an honor, and I believe it is an honor, but to me it has to be an honor with the right type of respect in office. I just don't see it.
"It's not about politics; I just don't think the president is a good person. I don't want to go out of my way to go see someone who isn't even welcoming the men in this locker room and our different cultures."
Defensive end Chris Long also said he would not be present if the White House extended an invitation. He did not attend the festivities last year with the Patriots when they made the trip to the White House.
The Patriots, the Houston Astros and the Pittsburgh Penguins have all visited the White House during President Trump's administration. The Golden State Warriors, on the other hand, had no interest in going and were subsequently uninvited. They instead visited with local D.C. children and included them in a private tour.
Breaking Sports News
via Bleacher Report – Front Page https://ift.tt/yO6Sgr
May 17, 2018 at 01:42PM