Antoine Griezmann Dodges Questions on Future Amid Barcelona Rumours
Antoine Griezmann Dodges Questions on Future Amid Barcelona Rumours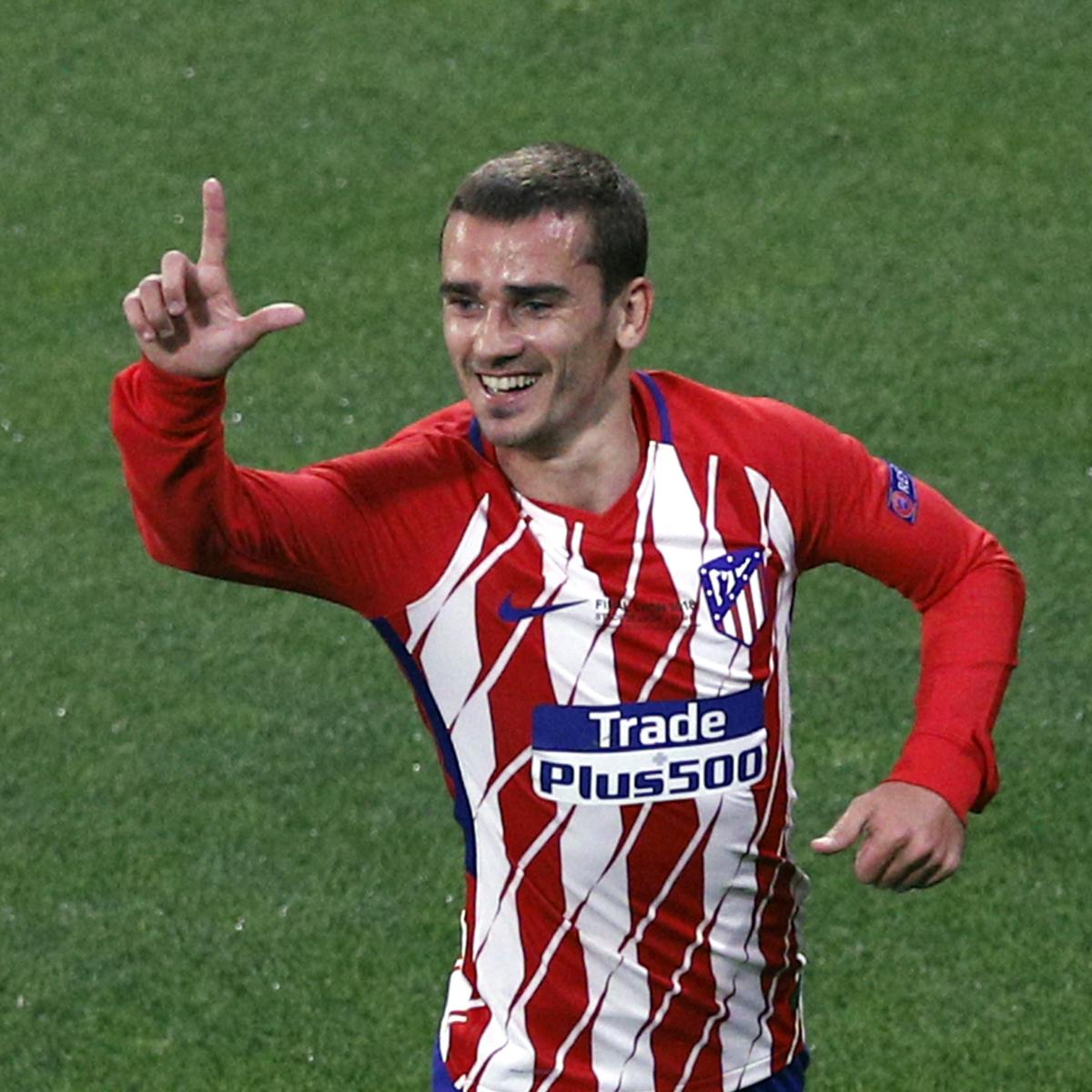 Christophe Ena/Associated Press
Atletico Madrid forward Antoine Griezmann dodged questions about his future on Wednesday night after he inspired his side to UEFA Europa League glory.
The France international netted twice in Lyon, as Atletico brushed Marseille aside 3-0 to win the prize. Afterwards, Griezmann was asked about the continued speculation linking him with a move to Barcelona but opted against providing any further details on what club he'll be playing for next season.
"I don't think now is the time to talk about my future," he said, per Lawrence Ostlere of The Independent. "I want to enjoy the present. … I left home when I was 14 years old because I wanted to win trophies, this is my second and I hope I can win more. This is a reward for all the work I have put in, the suffering."
As we can see courtesy of Goal UK, Griezmann picked up the Man of the Match award for his performance, as he grabbed a goal either side of half-time:
Goal UK @GoalUK

Man of the Match Antoine Griezmann was proud to win a title with Diego Simeone https://t.co/vZgwGfDl8u
His manager Diego Simeone was coy when asked about his star man too and appears to be taking a more laid-back approach to the transfer saga.
"Antoine—if he stays we'll continue to grow and develop," said the Atletico boss, per Press Association Sport (h/t Daniel Matthews and Mark Mann-Bryans of the MailOnline). "If he goes then great, he's given a lot to us over the years. Even without him we'll continue to grow."

TF-Images/Getty Images
Simeone brought Griezmann to Atletico in the summer of 2014, and he's made massive strides as a player. Formerly a winger who would flicker in and out of games, the former Real Sociedad man is now a centre-forward and someone with the potential to influence the biggest games.
As noted by BT Sport Football, he's been so important to Atletico's success in the Europa League in the knockout stages:
Football on BT Sport @btsportfootball

Round of 32 ⚽️
Round of 16 ⚽️
Quarter finals ⚽️
Semi finals ⚽️
Final ⚽️

Antoine Griezmann has scored in every knockout round in this year's Europa League 🙌 https://t.co/otHXdg5NTF
There appears to be momentum behind links to Barcelona, though, with the speculation intensifying in recent weeks. Even Griezmann's team-mate Filipe Luis admitted the €100 million (£87 million) release clause n his contract represents a "cheap" price for the forward, per Dermot Corrigan of ESPN FC.
At 27, Griezmann may also feel as though this summer is the right time to take another step in his career. Barcelona, given their style of football and consistent success, would be such a tempting prospect.
While they've done so well under Simeone in recent years, as noted by Bleacher Report's Sam Tighe, Atletico are not serial trophy winners:
Sam Tighe @stighefootball

Amazingly, that's the first major trophy of Griezmann's career. Just a Segunda with Real Sociedad and a Supercopa with Atleti before this. No wonder he can't stop jumping up and down!
Barcelona have an allure and would be getting a world-class footballer in Griezmann. Still, it's not immediately clear where he would fit into the team at the Camp Nou with Lionel Messi, Luis Suarez, Ousmane Dembele and Philippe Coutinho all already there.
Atletico will be desperate to keep Griezmann around, as he's been a game-changer in his four years in the capital. However, at this point, all the indications are he will move to Catalonia to sprinkle his stardust elsewhere in Spain's top flight.
Breaking Sports News
via Bleacher Report – Front Page https://ift.tt/yO6Sgr
May 17, 2018 at 12:11AM