Alex Rins signs contract extension with Suzuki in MotoGP
Alex Rins signs contract extension with Suzuki in MotoGP
Alex Rins has signed a contract extension with Suzuki to remain in its MotoGP line-up until at least the end of the 2020 season.
A new two-year-deal for the 22-year-old rider, who currently sits 12th in the MotoGP riders' standings, was confirmed ahead of the French Grand Prix at Le Mans.
"I'm very happy about this contract renewal," Rins said. "Even when I was in Moto2 and I was planning to move to MotoGP, it was always the Suzuki project which looked brightest and most interesting in my eyes.
"The project that the team have set up for me is fantastic, I can fully trust the capabilities of the company and the team when it comes to development and improvement and I'm sure we can continue to aim for big results."
A perennial frontrunner in his five years across Moto3 and Moto2, Rins was picked up by Suzuki on an initial two-year deal ahead of 2017.
The Spaniard's rookie season was ravaged by injuries, however, while Suzuki struggled to be competitive, leaving Rins to finish the campaign 16th overall after missing five races.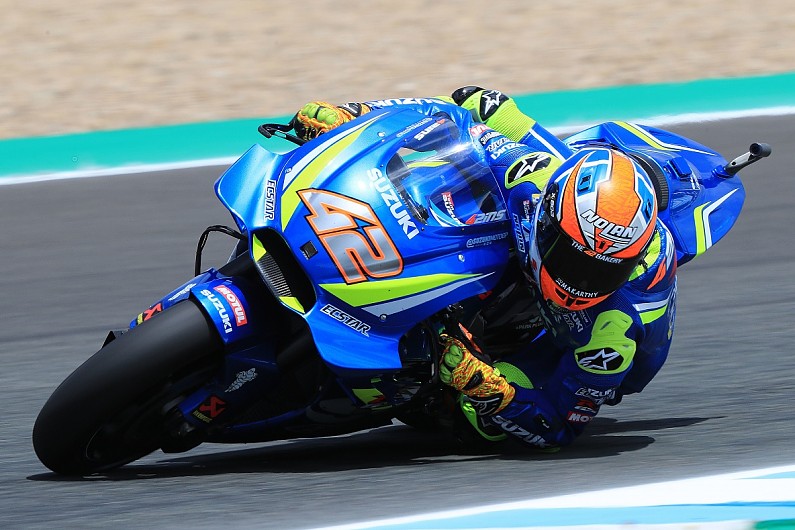 Equipped with a much-improved version of the GSX-RR in 2018, Rins notched up his first premier-class podium in Argentina – although he has crashed out in the other three grands prix that have taken place this year.
"My debut last year was complicated but I always felt the affection and support of Suzuki and the whole team," Rins continued.
"We were able to turn the situation around through being patient, working hard, and being consistent, and finally this year we got the first podium together with my third place in Argentina.
"But no matter the results, whether good or bad, the mood in the box has always been positive."
Rins' renewal has been long-anticipated – and it's the identity of his future team-mate that has been the main intrigue regarding Suzuki's 2019 line-up.
Although incumbent Andrea Iannone has been on a strong run of form in 2018, Suzuki is known to be keen on signing three-time world champion Jorge Lorenzo from Ducati.
"The renewal of Alex's contract is a source of great pride for us, especially as we always hoped it to be a project which would last for a long period of time," said Suzuki's MotoGP project leader Shinichi Sahara.
Racing News
via All news – Autosport https://ift.tt/2uOa9Ei
May 17, 2018 at 01:47AM