Preakness 2018: Post Positions, Latest Vegas Odds and Picks After Post Draw
Preakness 2018: Post Positions, Latest Vegas Odds and Picks After Post Draw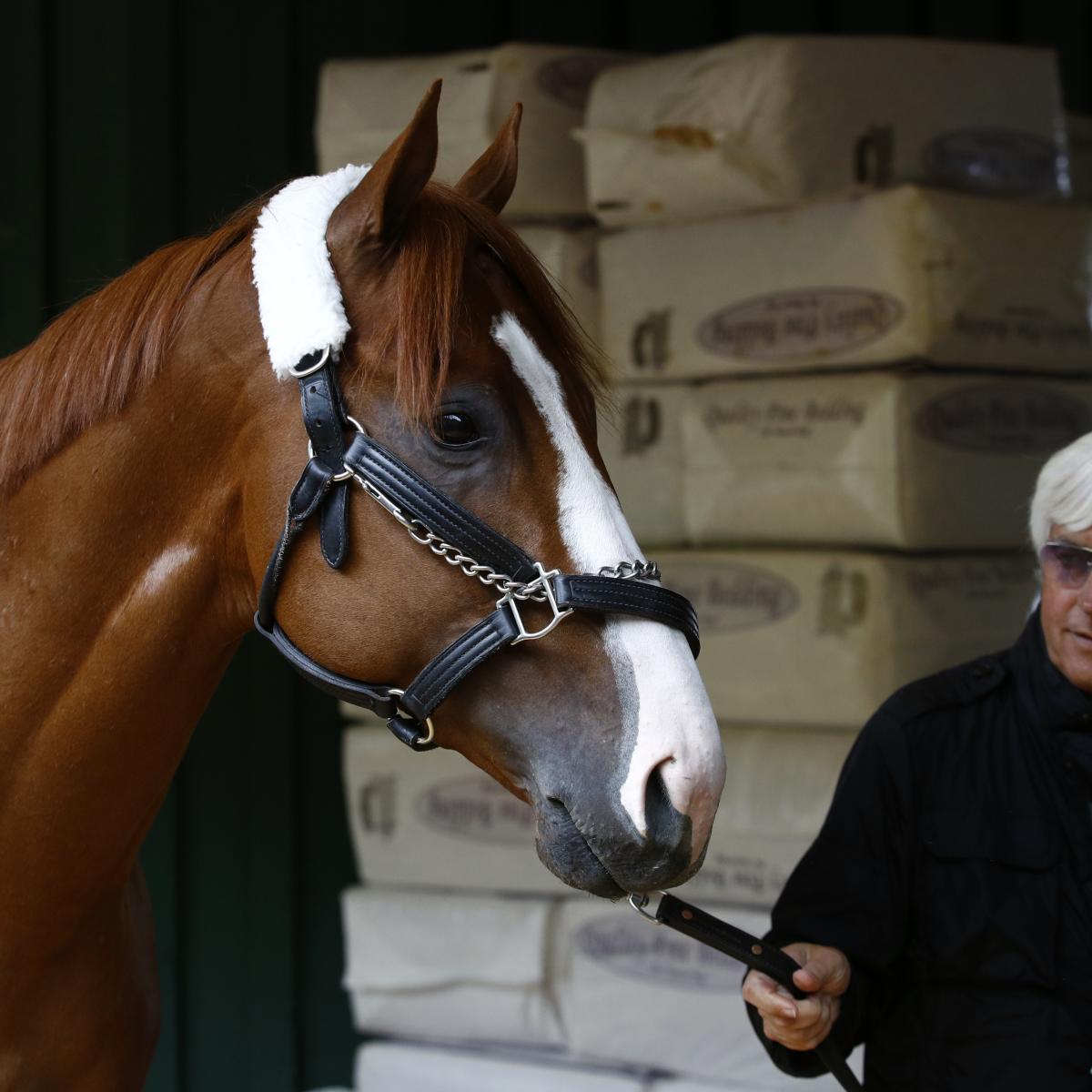 Kentucky Derby winner Justify will run out of the No. 7 hole at the Preakness.Patrick Semansky/Associated Press
Justify won the Kentucky Derby in impressive fashion against 19 other competitors.
If he is going to take the second jewel of the Triple Crown in the Preakness Stakes Saturday, he will have to beat just seven other horses.
This is traditionally the case as the race at Pimlico Race Course in Baltimore draws much smaller fields than its counterpart at Churchill Downs in Louisville, Kentucky.
That does not mean Justify will have an easy time of it as he runs the 1 3/16-mile race. The race track at Pimlico features tighter turns and a shorter stretch run, and it usually means that come-from-behind horses will have less of an opportunity to get to the winner's circle.
That does not necessarily apply to Justify, who is capable of winning in many ways, including with the lead or while stalking the pace.
Justify will start from the No. 7 post in the Preakness, and he is favored at odds of 1-2.
BloodHorse @BloodHorse

Good Magic commits to the #Preakness and will meet #KYDerby winner Justify on the field May 19 at @PimlicoPRC – read more about who else you can expect to see in Baltimore in today's BloodHorse Daily!
(Photo: Ryan Thompson)
https://t.co/4Q6F33rq6g https://t.co/NVCOY42atY
Good Magic, who finished second to Justify, is going to try his rival again in the Preakness, and he is the second choice in the race at 3-1. 
Trainer Chad Brown likes the way his horse has responded since the Derby, and that's why he is going to test Justify once again. Good Magic looked good at the top of the stretch in that race, but Justify was not about to let anyone run by him. Good Magic will start from the No. 5 hole
Here's a look at the Preakness field, along with the post positions and morning-line odds, according to Pimlico track announcer Dave Rodman:
Post Position, Horse, Odds
7. Justify (1-2)
5. Good Magic (3-1)
1. Quip (12-1)
4. Diamond King (30-1)
8. Bravazo (20-1)
3. Sporting Chance (30-1)
6. Tenfold (20-1)
2. Lone Sailor (15-1)
Here are the odds presented by OddsShark two days after the Kentucky Derby (May 7):
Justify (-250)
Good Magic (+300) 
Quip (+1600) 
Diamond King (+1600) 
Bravazo (+1800) 
Sporting Chance (+2000) 
Tenfold (+2500) 
Lone Sailor (+2500)
Britney Eurton @BritneyEurton

Preakness entrant, Quip, led out by his trainer Rodolphe Brisset https://t.co/xuxwsLChiP
The horse to look out for may be Quip, who did not run in the Derby. Quip is rated at 12-1 in the morning line, however his connections have been pointing to this race and he may be able to give Justify a decent challenge.
Like Justify, Quip likes to run with the lead or from just off the pace. If nobody else goes to the front with decent speed, it would not be a surprise to see Quip jump to the lead early on in the race. If he can maintain his advantage without having to go to fast in the first half of the race, he may have a chance to pull off an upset.
Quip will have to run out of the No. 1 hole, and while that is not as big a disadvantage in the Preakness as it is in the Derby because the field is so much smaller, the rail at Pimlico has been a very difficult assignment in recent weeks.
However, since Justify likes to run the same kind of race, it may be too much for Quip to pull off. If Bob Baffert's Derby champion is fairly close or presses the pace, he is just too big, too strong and too fast for most horses to beat.
If Justify is successful at the Preakness, he will have a chance to complete the Triple Crown in the Belmont Stakes three weeks later.
He would likely face a field of fresh challengers in the 1 1/2-mile race, and that's often what makes winning the Triple Crown such a huge challenge.
Predictions
Good Magic is an excellent horse who ran a fine race at the Kentucky Derby but was not good enough to beat Justify.
Credit Brown for wanting another shot at Justify, and he is one of the best trainers around. However, he still will have a hard time improving on his second-place status.
Justify is once again in the No. 7 hole as he was in the Kentucky Derby, and that should work out well for him. He should be in a position near the front, and by the time the horses have run one mile, he should have the lead and nobody will get in front of him.
Quip is a good horse who should be ready for the Preakness, but having to run from the dead rail at Pimlico will hurt him. Look for Diamond King to pick up a share and finish in third place.
Breaking Sports News
via Bleacher Report – Front Page https://ift.tt/yO6Sgr
May 16, 2018 at 03:12PM