NBA Rumors: Post-2018 Lottery Draft Buzz on Suns, Trae Young and More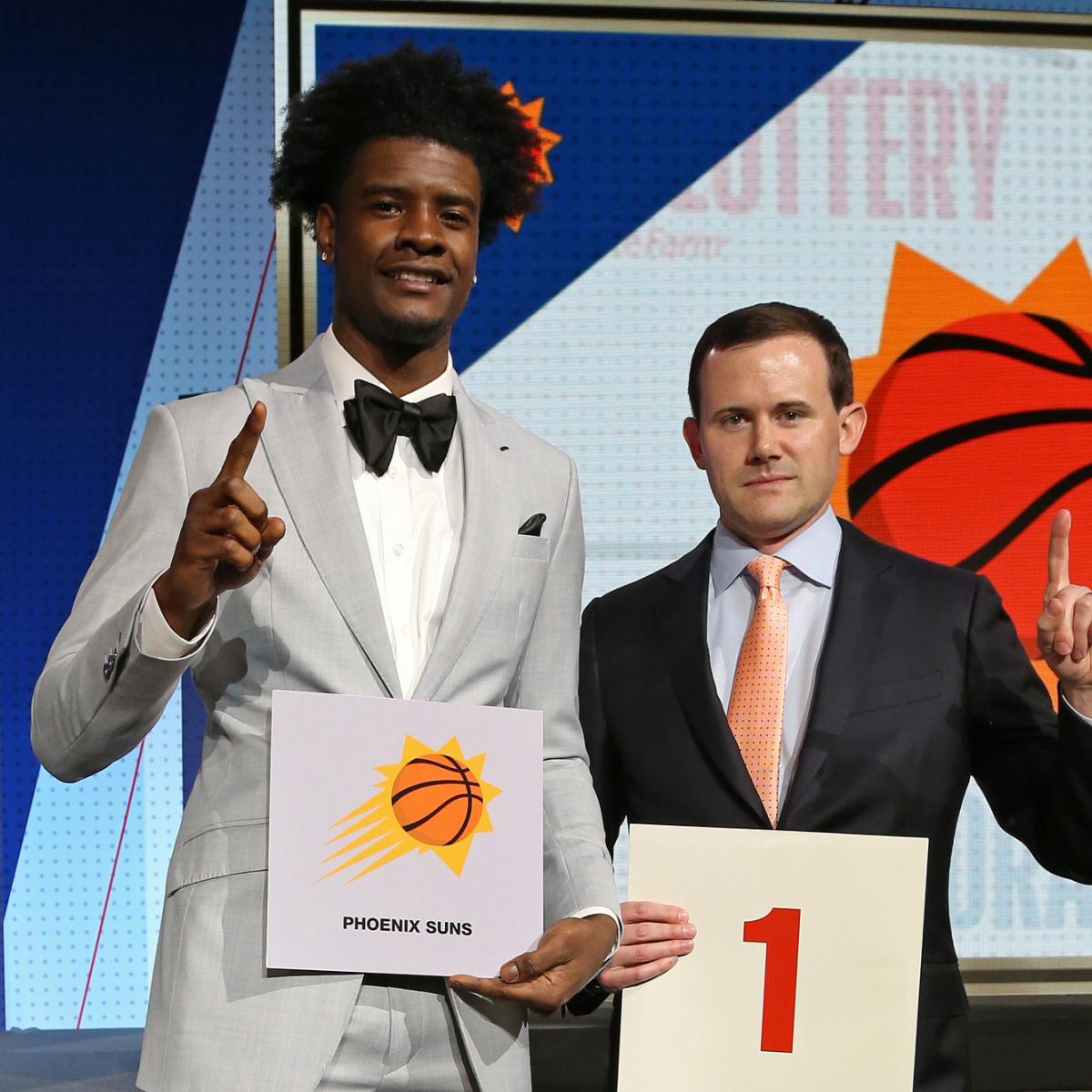 Gary Dineen/Getty Images
The Phoenix Suns are on the clock.
Their NBA-worst 21-61 record paid off in a big way Tuesday night as the draft lottery broke in their favor and delivered the franchise its first ever No. 1 pick.
The Sacramento Kings and Atlanta Hawks moved up to snatch the second and third selections, respectively, setting up the drat board as follows behind them:
The rumor mill is already buzzing with team and prospect nuggets, so let's dive into the latest.
Suns Undecided at the Top
Before Phoenix had even moved into pole position, it seemed certain the No. 1 pick would come down to Arizona big man Deandre Ayton or Slovenian playmaker Luka Doncic.
That the Suns will be the ones making this call only adds to its intrigue. There's an obvious proximity to Ayton, but the organization's new head skipper, Igor Kokoskov, worked directly with Doncic as head coach of last summer's EuroBasket champion Slovenian national team.
ESPN's Jonathan Givony hears the Ayton-Doncic race remains wide open: 
Jonathan Givony @DraftExpress

Phoenix stands pat at #1. Big decision coming from them. Hearing Ayton is not a done deal there by any means. They've liked Doncic all year. Ayton is our favorite to go #1 right now, but there will be a process that needs to play out there.
Phoenix has enough roster holes that either player would address a need.
The Suns were 30th in three-point percentage (33.4) and tied for 28th in assists (21.3 per game), so they could use a perimeter playmaker like Doncic. But their centers were also bottom third in points (13.8, 27th) and rebounds (13.6, 21st), which wouldn't make it easy to pass on a player with Ayton's production, physical gifts and potential.
"We're going to draft whoever we think the best player is," Suns general manager Ryan McDonough said, per azcentral.com's Scott Bordow. "…Doncic will certainly be in that mix. But Ayton and a few other guys will, as well."
Hawks Are Bagley Fans
Atlanta had the fourth-best odds to win the lottery and walked away with the No. 3 pick. That's a victory in itself, but the Hawks might be happier than most in this situation.
Maybe some would lament likely falling outside of the Ayton-Doncic range. Atlanta apparently has a different take.
The organization is reportedly high on Marvin Bagley III, per Givony, and ready to pounce on him or Doncic if he slips:
Jonathan Givony @DraftExpress

Atlanta will likely gladly "settle" for whoever is left for them between Luka Doncic and Marvin Bagley. We've been hearing for a while now they are very high on Bagley in particular. Trae Young would have likely gotten a strong look had they landed outside of the top three.
While there are some concerns over where and how effectively Bagley will defend in the NBA, he'd be quite the consolation prize.
He was a nightly supplier of 21 points and 11.1 rebounds during his lone season at Duke, where he converted a blistering 61.4 percent of his field goals. He even flashed some floor-spacing (23 threes at a 39.7-percent clip), along with copious amounts of athleticism and energy.
That's perhaps why Hawks general manager Travis Schlenk sounds content to use the pick as opposed to packaging it in a trade.
"If somebody wants to make us a great offer, we will listen," Schlenk said, per Michael Cunningham of the Atlanta Journal-Constitution. "Right now, we are happy to pick three and we know we are going to get a good player."
Trae Young's Shoe Market Is Booming

David Sherman/Getty Images
Few, if any, talent evaluators treat Trae Young like the top prospect in this class. Givony and Bleacher Report's Jonathan Wasserman both see the former Oklahoma Sooners standout being the sixth player selected.
But shift the conversation from on-court potential to marketability, and suddenly Young shoots to the top.
"A handful of sneaker brands…considers the former Oklahoma guard the most marketable player in the NBA draft class of 2018," ESPN's Nick DePaula wrote. "…Young and his group will listen to sneaker endorsement pitches from companies beginning next week in Los Angeles. Nike, Adidas, Under Armour and Puma are all expected to present."
No, you didn't read that wrong—Puma is in the running.
"This is their first real foray back into basketball since 1998 with Vince Carter," Omar Wilkes, one of Young's Octagon agents, told DePaula. "The possibility to be the seminal piece to re-establish that category for Puma is what's enticing."
Young might have the same average-Joe appeal that has endeared Stephen Curry to fans across the globe. Neither is especially big, long or explosive. Both make their biggest marks as outside sharpshooters with seemingly limitless range and playmakers with creativity and pizzazz.
Like Curry, Young was also wildly productive in college. His first and only season at that level produced NCAA Division I history as he paced the country in both points (27.4) and assists (8.7). He had four games of 40-plus points, 21 with 26 points or better and nine outings with at least five three-point splashes.
Young isn't a sure thing as a pro prospect, but his ceiling and style are both electric enough to excite the entire sports apparel industry.
NBA News
via Bleacher Report – NBA https://ift.tt/yO6Sgr
May 16, 2018 at 06:08AM