NBA Draft Order 2018: Fresh Mock Draft After Lottery Results
NBA Draft Order 2018: Fresh Mock Draft After Lottery Results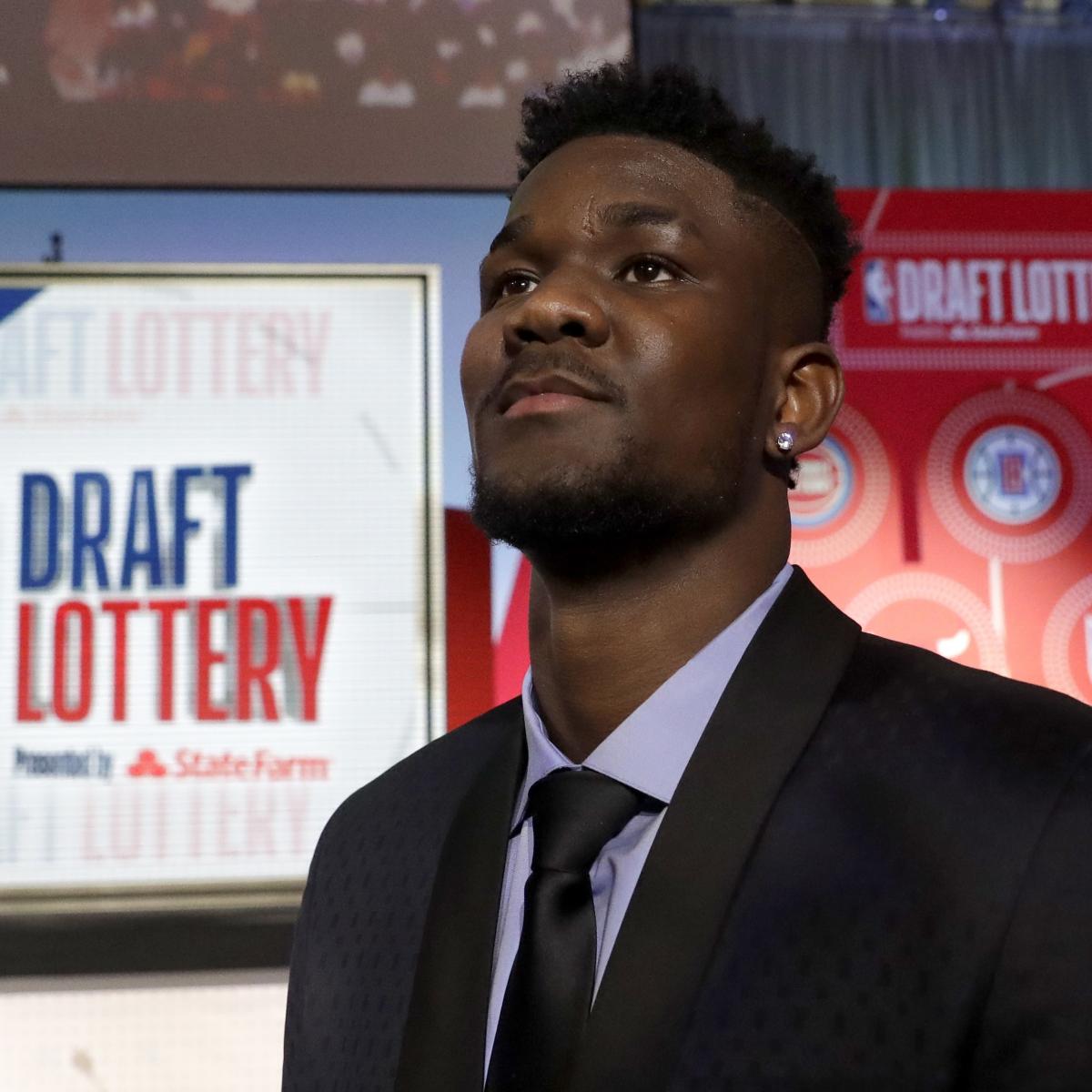 Charles Rex Arbogast/Associated Press
The Phoenix Suns won the NBA draft lottery and presumably the option of choosing between Deandre Ayton and Luka Doncic.
That seems as close to a sure thing as there is in the 2018 NBA Draft, and even then there's uncertainty regarding which will be the top selection, according to ESPN's Jonathan Givony:
Jonathan Givony @DraftExpress

Phoenix stands pat at #1. Big decision coming from them. Hearing Ayton is not a done deal there by any means. They've liked Doncic all year. Ayton is our favorite to go #1 right now, but there will be a process that needs to play out there.
The Suns will welcome the debate, as the franchise makes its first No. 1 pick in its 50-year history. It can also easily travel the best-player-available route, since there are glaring voids when it comes to playmaking and providing an interior presence.
So, who gets the call between Ayton and Doncic? Which prospect will follow those two heavyweights at No. 3?
Let's run through an updated mock draft and take a closer look at our projected top three.
2018 NBA Mock Draft
1. Phoenix Suns: Deandre Ayton, C, Arizona
2. Sacramento Kings: Luka Doncic, PG/SG, Slovenia
3. Atlanta Hawks: Marvin Bagley III, PF/C, Duke
4. Memphis Grizzlies: Jaren Jackson Jr., PF/C, Michigan State
5. Dallas Mavericks: Mohamed Bamba, C, Texas
6. Orlando Magic: Michael Porter Jr., SF/PF, Missouri
7. Chicago Bulls: Mikal Bridges, SF, Villanova
8. Cleveland Cavaliers (via Nets): Trae Young, PG, Oklahoma
9. New York Knicks: Wendell Carter, PF/C, Duke
10. Philadelphia 76ers (via Lakers): Lonnie Walker, SG, Miami
11. Charlotte Hornets: Miles Bridges, SF/PF, Michigan State
12. Los Angeles Clippers (via Pistons): Collin Sexton, PG, Alabama
13. Los Angeles Clippers: Robert Williams, C, Texas A&M
14. Denver Nuggets: Kevin Knox, SF/PF, Kentucky
15. Washington Wizards: Jontay Porter, C, Missouri
16. Phoenix Suns (via Heat): Shai Gilgeous-Alexander, PG, Kentucky
17. Milwaukee Bucks: Zhaire Smith, SF, Texas Tech
18. San Antonio Spurs: Mitchell Robinson, C, USA
19. Atlanta Hawks (via Timberwolves): Troy Brown Jr., SG/SF, Oregon
20. Minnesota Timberwolves (via Thunder): Dzanan Musa, SG/SF, Bosnia & Herzegovina
21. Utah Jazz: Anfernee Simons, PG/SG, IMG Academy
22. Chicago Bulls (via Pelicans): Moritz Wagner, C, Michigan
23. Indiana Pacers: Aaron Holiday, PG, UCLA
24. Portland Trail Blazers: Chandler Hutchison, SF, Boise State
25. Los Angeles Lakers (via Cavs): Donte DiVincenzo, SG, Villanova
26. Philadelphia 76ers: Jacob Evans, SG/SF, Cincinnati
27. Boston Celtics: Khyri Thomas, SG, Creighton
28. Golden State Warriors: Jalen Brunson, PG, Villanova
29. Brooklyn Nets (via Raptors): Gary Trent Jr., SG, Duke
30. Atlanta Hawks (via Rockets): Elie Okobo, PG, France
Top 3 Breakdown
Ayton Stays in Arizona
There are a ton of arguments for considering Doncic. He worked directly with new Suns coach Igor Kokoskov on the Slovenian national team, and Doncic's playmaking prowess would be an obvious boon for an offense that tied for 28th with 21.3 assists per game.
The arguments for Ayton are simple—players this big, athletic and skilled are seldom seen.
He averaged 20.1 points and 11.6 rebounds during his lone season as a Wildcat, and he makes you believe he can approach those marks in NBA games sooner rather than later.
The Suns can rightfully question what kind of an impact Ayton will make on their worst-ranked defense. What they can't do is ignore how much of an upgrade over the current center crop, which has not only disappointed but also could be thinning out with Alex Len bound for unrestricted free agency and Tyson Chandler entering the final year of his contract.
Kings Grab Doncic
Srdjan Stevanovic/Getty Images
The Kings entered the lottery in the seventh slot and came out of it with the second selection. That's the exact type of good fortune this franchise needs to finally progress toward snapping the Association's longest playoff drought.
Doncic—assuming he's still available—would be a dream draft-night addition.
Sacramento doesn't have a natural table-setter. De'Aaron Fox was the top distributor with just 4.4 assists per game, and only seven teams assisted on a lower percentage of their field goals (55.6).
"Scouts rave about Doncic's basketball aptitude, and his playmaking ability and remarkably advanced game for age 19 will enable him to succeed," Jeremy Woo wrote for SI.com. "…He could be the glue that ties the Kings' pieces together."
On paper, the strengths of Doncic (decision-making, creativity) and Fox (explosiveness, speed) form a snug fit. These could be the primary building blocks that help the organization turn itself around.
Hawks 'Settle' for Bagley
Don't bother telling the Hawks they are consolation-prize winners.
Sure, Atlanta is probably outside of the Ayton-Doncic range—although, anything seems possible with Sacramento. But the Hawks have long been enamored with Bagley, per Givony:
Jonathan Givony @DraftExpress

Atlanta will likely gladly "settle" for whoever is left for them between Luka Doncic and Marvin Bagley. We've been hearing for a while now they are very high on Bagley in particular. Trae Young would have likely gotten a strong look had they landed outside of the top three.
Bagley's numbers were basically the same as Ayton's (21 points, 11.1 rebounds) despite there being more mouths to feed on the Blue Devils' offense. Bagley also converted 61.4 percent of his field goals and added 23 threes at a 39.7-percent clip.
He's long, agile, effortlessly explosive and always energetic. He didn't always get to show it at Duke, but he has flashed the handles needed to turn rebounds into transition chances or attack slower bigs off the bounce.
If he was a better shot-blocker (0.9), he'd be an easier fit alongside sophomore-to-be John Collins. But the athleticism and motor of a Bagley-Collins frontcourt would be incredible to see.
Unless otherwise indicated, all stats are from Basketball Reference or NBA.com.
Breaking Sports News
via Bleacher Report – Front Page https://ift.tt/yO6Sgr
May 16, 2018 at 10:07AM