5-Star SG Romeo Langford Commits to Indiana over Vanderbilt and Kansas
5-Star SG Romeo Langford Commits to Indiana over Vanderbilt and Kansas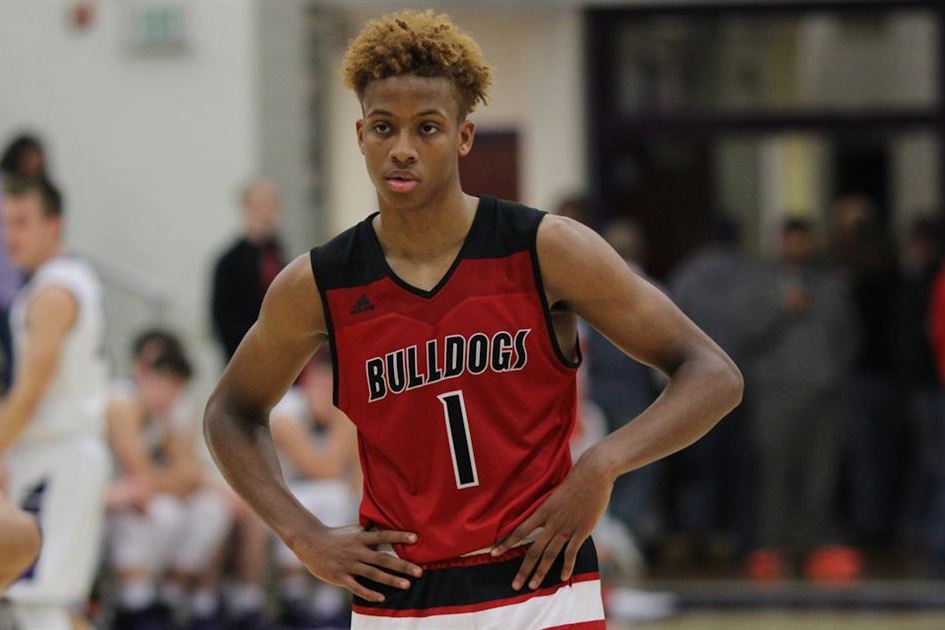 Photo credit: 247Sports.
Guard Romeo Langford is one of the most dynamic offensive players in the class of 2018, and he announced his intention to play for the Indiana Hoosiers on Monday.

NCAA March Madness @marchmadness

Romeo Langford is staying home!

The 2018 ⭐️⭐️⭐️⭐️⭐️ commits to Indiana 🔴⚪️ #IUBB https://t.co/rrmQrBCS0P
Langord made his announcement at New Albany Senior High School, and the Indianapolis Star's Gregg Doyel showed how the anticipation had grown throughout the day:
Gregg Doyel @GreggDoyelStar

Line forming for Romeo Langford's college announcement at New Albany HS. In two hours. Craaaaaaazy. https://t.co/7In7vXJTnG
According to 247Sports, Langford is a 5-star prospect, and he rates as the No. 6 overall recruit as well as the No. 2 shooting guard in his class.
The New Albany, Indiana, native was a standout at New Albany, and top programs have come from far and wide to scout him and convince him to attend their school.
Per 247Sports, Louisville, Duke, Indiana, Kansas, North Carolina and UCLA are among the elite programs that pursued Langford and offered him a scholarship. ESPN's Jeff Borzello noted how significant it is for the Hoosiers to secure Langford's commitment:
Jeff Borzello @jeffborzello

This is the first time since 2007 that Indiana has landed the top-ranked senior from the state.
Langford is somewhat slight at 6'5″ and 191 pounds, but he is a remarkable athlete who doesn't shy away from traffic.
As seen in this highlight courtesy of Overtime, Langford is willing to make his way into the paint and use his leaping ability to his advantage:
Langford is a combo guard who dominates the basketball and is capable of scoring in bunches when he gets on a hot streak.
He is the constant center of attention when it comes to the opposition attempting to shut him down, but it hasn't stopped him from turning in incredible performances.
According to Scout.com's Mike Pegram, New Albany head coach Jim Shannon believes Langford will be even better at the collegiate level when he is surrounded by more elite talent:
"When he gets it he has to take one or two guys every time. It's really hard and that's why he's such a fascinating player, because he's able to do that. When he gets to the college level and he's surrounded by other athletes and D-1 type players, he'll be even better. He'll be unbelievable."
Langford is an explosive player who can shoot, get to the rim and get his teammates involved, which give him a strong chance to be among the most impactful freshmen in college basketball next season.
While it is difficult to envision him remaining in college for more than one year, he could be a major contributing factor in Indiana playing important games in March.
On the heels of consecutive seasons without an NCAA tournament berth, Indiana desperately needed a big-time star capable of getting it back into contention on the national stage.
Langford has that type of talent, and he has the makings of the driving force behind the Hoosiers returning to March Madness.
With head coach Archie Miller settled in as well, Indiana appears likely to be far more competitive during the 2018-19 season.
Breaking Sports News
via Bleacher Report – Front Page https://ift.tt/yO6Sgr
April 30, 2018 at 04:53PM