NFL Draft 2018 Results: Full List of Selections and Grades from Round 1
NFL Draft 2018 Results: Full List of Selections and Grades from Round 1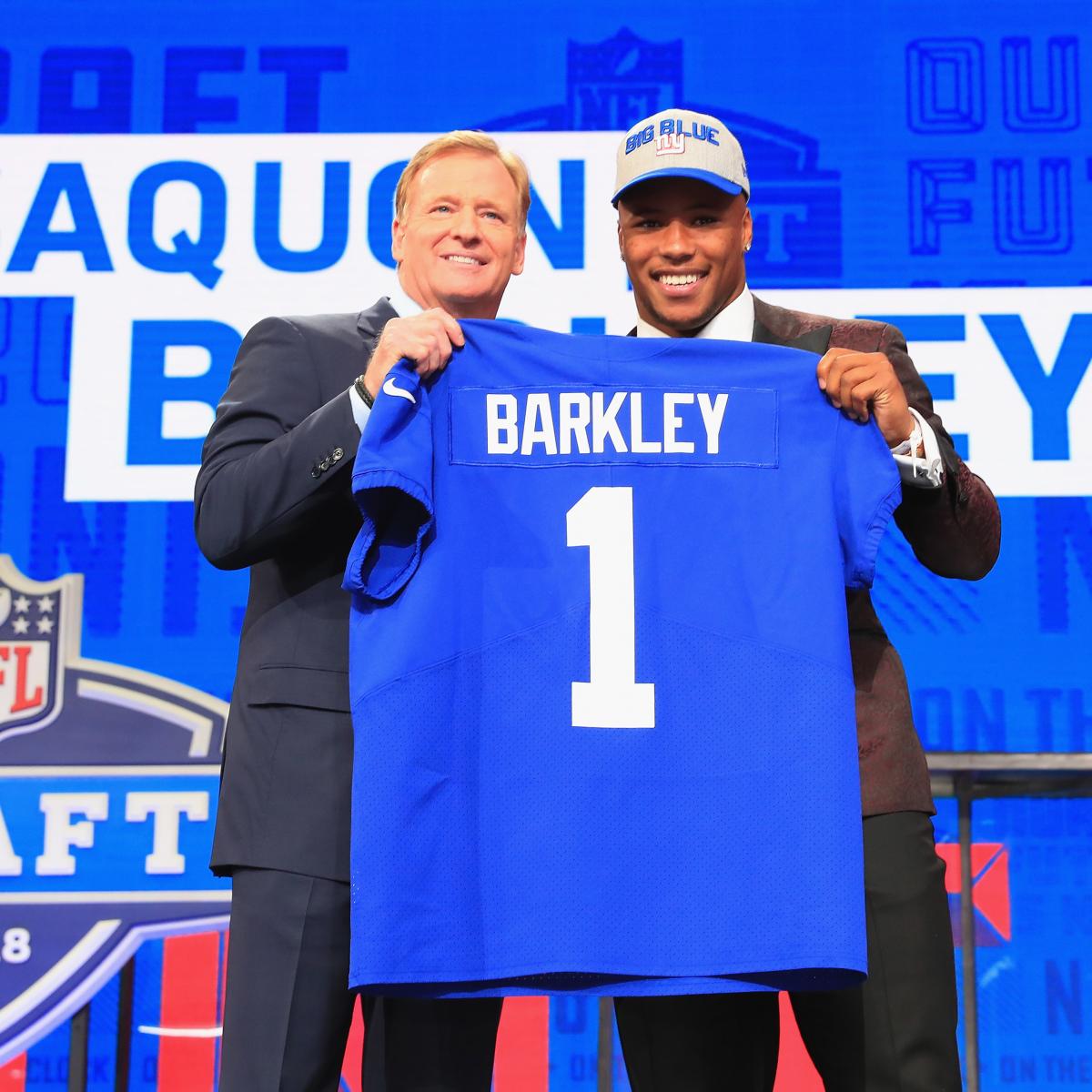 Tom Pennington/Getty Images
In five years, the 2018 NFL draft will be one that either cost a lot of GM's their jobs or made them look like geniuses. 
That's the risk of taking a quarterback in Round 1. Draft Aaron Rodgers and every decision you make after that will look just a little smarter than it actually is. Draft Johnny Manziel and you'll be out of the league just as fast as he was. 
In total, there were six teams that rolled the dice on a signal-caller in the first round this year, making it a draft class that's going to be remembered for a long time–for better or worse. 
Here's a look at the full list of Day 1 selections, grades for every team who picked in the round and first reactions. 
1. Cleveland Browns: Baker Mayfield, QB, Oklahoma
Grade/Analysis: B+. There's going to be plenty of doubt as to whether this was the right selection. The dings are obvious. Mayfield is short for a quarterback at just under 6'1″ and his on-field antics made him controversial in college. 
However, the Browns got the quarterback who had the most complete college resume. He didn't always get it done in the most conventional ways, but his accuracy was the best in the class, according to Pro Football Focus:
The truth is that all the quarterbacks in this class had faults. Darnold turned the ball over often, Josh Allen completed less than 60 percent of his passes and Rosen has a long history of injuries. Mayfield has baggage, but was the most proven of the class. 
2. New York Giants: Saquon Barkley, RB, Penn State
Grade/Analysis: B+. It feels like this was the worst kept secret of the draft that the Giants coveted Barkley, but just because it feels like it's inevitable doesn't mean that it totally makes sense. If Barkley turns out to be a generational talent then this pick won't be doubted. 
If he's anything less than 2017 Todd Gurley or peak LaDainian Tomlinson, then fans are going to wonder why they opted for a few more years of Eli Manning before going after a franchise quarterback with the No. 2 pick in the draft. 
3. New York Jets (via Indianapolis Colts): Sam Darnold, QB, USC
Grade/Analysis: A. The Jets trade up to No. 3 before draft night really paid off when Darnold fell to them at No. 3. His intermediate accuracy should translate really well to the NFL, even if his penchant for turnovers does too. Many consider Darnold to be the best quarterback in this draft class and winding up with him at No. 3 is the best the Jets could do. 
4. Cleveland Browns (via Houston Texans): Denzel Ward, CB, Ohio State
Grade/Analysis: B. The fact this pick wasn't Bradley Chubb was interesting to say the least. The thought of pairing him with last year's No. 1 pick Myles Garrett to terrorize quarterbacks for the next 10 years had to have been tantalizing, but the fact they opted for Ward speaks volumes about their evaluation of him. 
The Browns haven't had a lockdown corner since Joe Haden, which was the last one they took in the top 10. If he turns out to be as good as him, this pick looks great in hindsight. Or maybe John Dorsey just wanted to add a Buckeye to the roster after taking the guy that planted an Oklahoma flag in the middle of the Shoe last season. 
5. Denver Broncos: Bradley Chubb, DE, NC State
Grade/Analysis: A. The Browns questionable decision making was an absolute gift for the Denver Broncos. ESPN's Adam Schefter  reported that the Broncos were planning on trading this pick, but couldn't pass up Chubb once he fell to No. 5. Quarterbacks in the AFC West might have just started crying. 
6. Indianapolis Colts (via New York Jets): Quenton Nelson, OG, Notre Dame
Grade/Analysis: A. It only took a lost season for the Colts to finally realize that it's probably a good idea to do what they can to protect Andrew Luck, but they finally did it. Nelson is a mauler who will add some toughness to the Colts offensive line from Day 1. His ability to stymie bull-rushers up the middle could extend Luck's stay in Indianapolis as well. 
7. Buffalo Bills (via Tampa Bay Buccaneers): Josh Allen, QB, Wyoming
Grade/Analysis: B. It was no secret that the Bills needed a quarterback heading into this draft and there would probably be a trade to do it. The team didn't have to give up both first round picks to move up which is a bonus but only coming up to seven limited their options to Rosen and Allen. Taking the big guy from Wyoming should make the transition to Buffalo a little easier than it would have been for Rosen, but Allen's efficiency is a serious question mark. 
8. Chicago Bears: Roquan Smith, LB, Georgia
Grade/Analysis: B+. Roquan Smith is the kind of linebacker that can be worth a top 10 selection in today's NFL. His sideline-to-sideline coverage ability combined with a nose for the football should be an important cog in the rebuilding Chicago defense.
9. San Francisco 49ers: Mike McGlinchey, OT, Notre Dame
Grade/Analysis: B. In a weak offensive line class it's understandable why a team would reach for the top offensive tackle in the class, but there were many options on the board that could have made a bigger impact right away. The defense could have used an upgrade from the likes of Tremaine Edmunds, Derwin James or even Minkah Fitzpatrick. 
Like the Browns pick of Ward, this fills a need but simply feels too high for the player.
10. Arizona Cardinals (via Oakland Raiders): Josh Rosen, QB, UCLA
Grade/Analysis: A. If you went back to the college football season and said Josh Rosen wouldn't be taken until No. 10 in the draft you'd probably get laughed at. But injuries and personality questions can hurt one's stock a little bit and that appears to be what happened here. The Cardinals are the beneficiary as they get a guy that is just as likely as the rest of the class to succeed while only having to trade up to No. 10. 
11. Miami Dolphins: Minkah Fitzpatrick, S, Alabama
Grade/Analysis: A. At this point the Dolphins were hard-pressed to mess this pick up. Given that they didn't reach on a quarterback they had their choice of Derwin James, Tremaine Edmunds or Fitzpatrick. Either one would have been great, but they must have preferred Fitzpatrick's fit with their vision a little more.                     
12. Tampa Bay Buccaneers (via Buffalo Bills from Cincinnati Bengals): Vita Vea, DT, Washington
Grade/Analysis: B. This grade isn't necessarily a reflection on Vea as a player. Truth be told, he should be an excellent nose tackle for the Bucs with his ability to not only clog running lanes, but push the pocket as a surprisingly good athlete for a man of his stature. The problem is that Derwin James was still available. James might be the best defender in the draft and passing on him makes this pick solid, but not the best possible option. 
13. Washington Redskins: Da'Ron Payne, DT, Alabama
Grade/Analysis: B. The Redskins had to be frustrated with the Bucs when Vea's name was announced for them. The Washington Husky would likely have become a Redskin knowing that Washington was looking to beef up the defensive front. Instead, Payne was the pick which if a fine consolation. 
14. New Orleans Saints (via Green Bay Packers): Marcus Davenport, DE, UTSA
Grade/Analysis: B-. The New Orleans Saints nailed the 2017 draft, but started the 2018 draft with a bold move that's either going to look really smart down the line or be a total head-scratcher. Davenport is a pass-rusher with a super high ceiling thanks to his off-the-charts athleticism, but giving up a 2019 first round pick seems like a high price to move to the middle of the first round. That takes some of the shine off the pick itself. 
15. Oakland Raiders (via Arizona Cardinals): Kolton Miller, OT, UCLA
Grade/Analysis: C+. Oy vey. The Raider did a nice job of trading back, but to win those trades you have to make the most of the picks. Taking a tackle in Miller who is likely a project for a few years is as perplexing as they come. Seeing the Raiders reach on a lineman like this brings back shades of Robert Gallery.                    
16. Buffalo Bills (via Baltimore Ravens): Tremaine Edmunds, LB, Virginia Tech
Grade/Analysis: A+. This feels like one of the absolute best picks of the first round. Edmunds compares favorably to Roquan Smith in some regards at the same position, yet, here he is eight picks later. The Bills did well to trade up once again because even if Allen doesn't transform their offense Edmunds could be the centerpiece of their defense for years to come. 
17. Los Angeles Chargers: Derwin James, S, Florida State
Grade/Analysis: A+. This is the best pick of the first round in terms of value. James might be the best defensive back in this draft class. That includes Denzel Ward who went No. 4 overall and Minkah Fitzpatrick who was taken at No. 11. The Chargers bided their time and got an incredible athlete, leader and versatile playmaker. 
Bud Elliott of Tomahawk Nation broke down the pick for the Chargers:
Bud Elliott 🔌 @BudElliott3

Derwin James has been one of or the best player at every level of ball he's been at. Freak athlete, physical, plays super hard, losing really bothers him. Nice pick Chargers.
18. Green Bay Packers (via Seattle Seahawks): Jaire Alexander, CB, Louisville
Grade/Analysis: B. It's hard to like this move for the Packers. They traded pack and got some extra picks, but missed out on the blue chip defensive back prospects in the process. They acquired Alexander who will probably be a consistent starter for them for years to come, but not an anchor of the secondary. Solid pick that could have been a great pick if the Packers would have held on. 
19. Dallas Cowboys: Leighton Vander Esch, LB, Boise State
Grade/Analysis: A. This might not have been a popular pick with the Dallas faithful in attendance, but it was a pick that made a ton of sense from both a fit and value perspective. Vander Esch is the kind of versatile linebacker that can be on the field at all times for a team. If the Cowboys didn't take him here he wasn't lasting much longer. 
20. Detroit Lions: Frank Ragnow, C, Arkansas
Grade/Analysis: B. This pick isn't going to set the world on fire, but the likelihood that Ragnow is a bust is extremely low. The Lions played it safe and that's reflected in the grade. Ragnow should be a consistent force on the offensive line and could play center or guard depending on what the Lions need this season or in the future. The kind of pick that will go unnoticed but will pay dividends. 
21. Cincinnati Bengals (via Buffalo Bills): Billy Price, OL, Ohio State
Grade/Analysis: B-. This pick would be better if Price hadn't suffered a pectoral injury, but he should be ready to play this season. It's easy to criticize this pick because it feels like they could've got him later, but it's hard to tell if there would have been a trade market for the pick. Instead, the Bengals just took their guy who will probably start for them for most of his rookie contract. Not bad. 
22. Tennessee Titans (via Baltimore Ravens from Buffalo Bills and Kansas City Chiefs): Rashaan Evans, LB, Alabama
Grade/Analysis: A. Mike Vrabel made a smart move in moving up to take Evans. He found the kind of versatile linebacker that is going to be an important piece to their defensive puzzle for years to come. The Titans are a team that feels like they are a few pieces away from making noise. They added one of those pieces on Day 1 in Evans. 
23. New England Patriots (via Los Angeles Rams): Isaiah Wynn, OT, Georgia
Grade/Analysis: A-. The Patriots offensive line got a big upgrade here as Wynn is a devastating run blocker and effective in the passing game too. Wynn will likely kick inside and play guard, but this late into the first he's going to give a good return on investment regardless. 
24. Carolina Panthers: D.J. Moore, WR, Maryland
Grade/Analysis: A-. Another in the run on picks that are just great fits for the team they went to. It was a slight surprise that D.J. Moore was the first receiver taken, but it makes sense for the Panthers. They haven't had an elite wide receiver since Steve Smith and coincidentally, he sees a lot of himself in the Maryland wide receiver:
Evan Silva @evansilva

Steve Smith on NFL Network had Cooper Kupp as last year's WR1. Smiff's WR1 this year comes from #Maryland:: "I love D.J. Moore. He is my spirit animal."
His abilty to create after the catch should be a welcome addition for Cam Newton. 
25. Baltimore Ravens (via Tennessee Titans): Hayden Hurst, TE, South Carolina
Grade/Analysis: C+. This was one of the more perplexing picks in the first round. Hurst has shown the ability to be an NFL tight end in bursts, but he'll be 25 when the season starts and tight end is usually a position that takes a year for rookies to adjust to. 
26. Atlanta Falcons: Calvin Ridley, WR, Alabama
Grade/Analysis: A-. The last time the Falcons took a wide receiver from Alabama, it worked out alright. Ridley isn't Julio Jones, but he's a great running mate for him. Ridley is an excellent route runner and should benefit from the attention that Jones will get from secondaries. Ridley's ceiling might only be a great No. 2 option, but that's all the Falcons need him to be. 
27. Seattle Seahawks (via Green Bay Packers from New Orleans Saints): Rashaad Penny, RB, San Diego State
Grade/Analysis: C-. This was definitely a case of the media build up for a player and where an NFL team valuing him simply not lining up. You'd be hard pressed to find a mock draft that had Rashaad Penny going anywhere in the first round yet here we are. 
He was extremely productive in college yet his usage was kept low enough that he has plenty of tread on the tires. His ability in the passing game is likely why the Seahawks didn't mind reaching for him a bit. 
28. Pittsburgh Steelers: Terrell Edmunds, S, Virginia Tech
Grade/Analysis: C-. Again, this is a pick that just doesn't make too much sense. Edmunds has the skill set of his brother Tremaine in a much smaller body. Which is to say he's simply a box safety with limited coverage skills. That doesn't sound like a guy that's a Day 1 selection. Perhaps the Steelers see an enforcer a la Troy Polamalu, but that's hard to see given his college tape. 
29. Jacksonville Jaguars: Taven Bryan, DT, Florida
Grade/Analysis: A. This is a prime example of drafting based on best player available and not need. The Jags have more pressing needs on the roster. Their pass rush is already excellent. But for it to continue to be excellent–and affordable–building a pipeline of talent is essential. When picking late in the first teams can afford to do that. 
Picks like this is why Jacksonville will likely be picking this far back in the first round for a while. 
30. Minnesota Vikings: Mike Hughes, CB, UCF
Grade/Analysis: A-. This cornerback class is one that can be debated which means that Hughes probably ranked higher than Jaire Alexander on some draft boards yet the Vikings were able to get him significantly later. Not only did the Vikings fill a need, but got one of the best players on the board. 
31. New England Patriots: Sony Michel, RB, Georgia
Grade/Analysis: B+. It's hard to argue against the Patriots taking offensive players. They'll find a way to use them. Michel is an interesting pick for them as he'll join a crowded backfield and the Patriots aren't generally a team to use too much draft capital on a running back. 
However, Michel might be a special exception. Not only is a he a strong runner between the tackles, but he's a home run hitter as a runner and a weapon in the passing game. Splitting carries with Nick Chubb in college should help with his longevity too. 
32. Baltimore Ravens (via Philadelphia Eagles): Lamar Jackson, QB, Louisville
Grade/Analysis: A. This isn't necessarily an A because Lamar Jackson is going to light the NFL on fire. He very well could, but let's wait and see on that. Why this pick does get an A is because of the decision to come back into the first round to do it. It's a savvy move that will maximize Batltimore's window with Jackson on a rookie contract to his fifth year. 
One of the quickest ways to build a Super Bowl contender is to utilize the cap freedom that comes from having a quarterback on a rookie deal. With Joe Flacco able to be dumped next season, the Ravens could have a window to build behind Jackson while he's cheap. 
If he's anything like the Michael Vick label he's received, this could be a huge move when we look back on this draft. 
Breaking Sports News
via Bleacher Report – Front Page https://ift.tt/yO6Sgr
April 27, 2018 at 04:26AM