NBA Playoff Schedule 2018: Tuesday TV Guide, Live Stream Info and Picks
NBA Playoff Schedule 2018: Tuesday TV Guide, Live Stream Info and Picks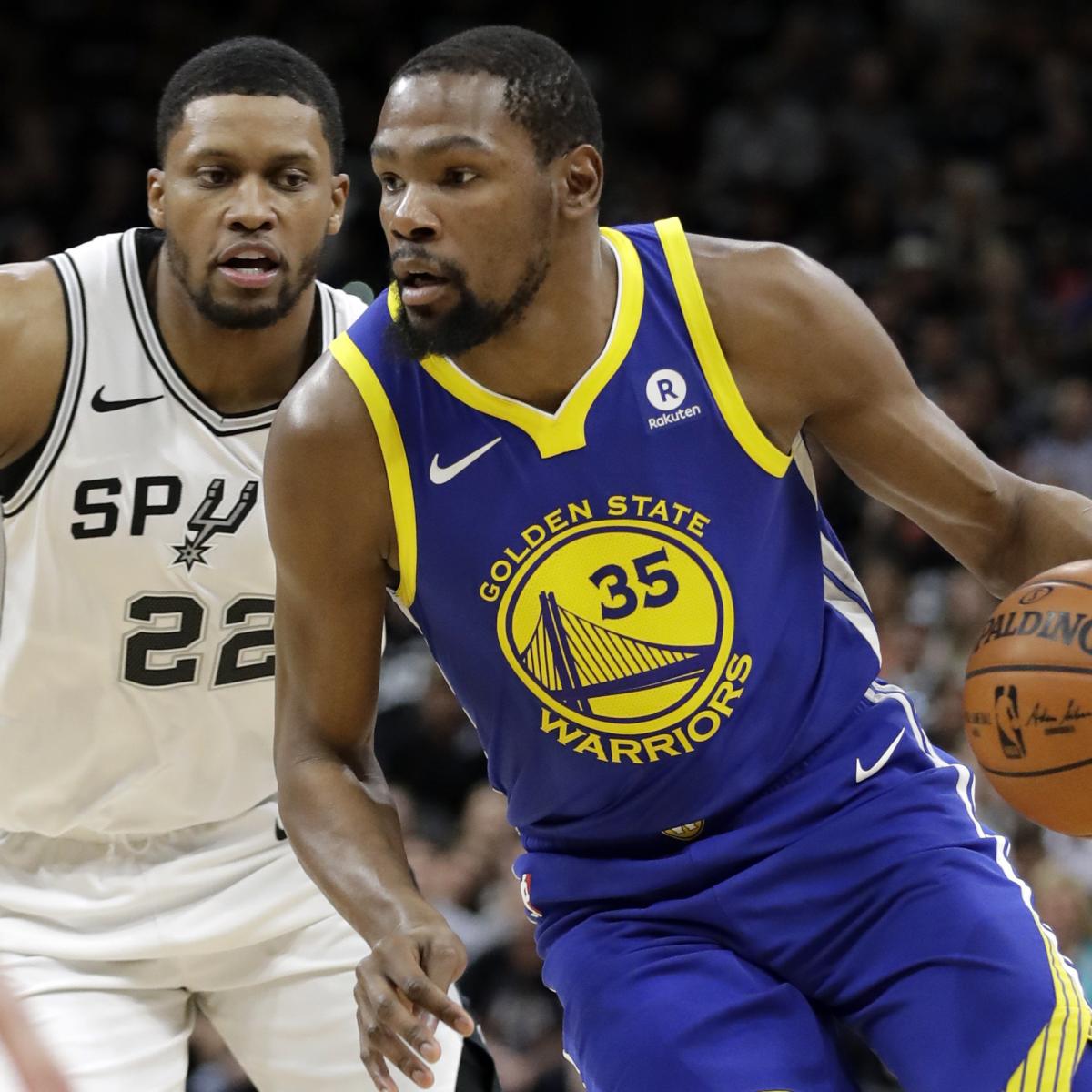 Eric Gay/Associated Press
Two playoff lives are on the line in Tuesday's three-game NBA postseason slate.
Both the Miami Heat and San Antonio Spurs face the possibility of elimination in their road clashes with the Philadelphia 76ers and Golden State Warriors, respectively. The Boston Celtics and Milwaukee Bucks, meanwhile, head back to Beantown to unlock their 2-2 tie.
Here's a look at the evening's television schedule, along with live-stream information and predictions for the three tilts.
Tuesday TV Guide and Live-Stream Information
Milwaukee Bucks at Boston Celtics, 7 p.m. ET on NBA TV
Miami Heat at Philadelphia 76ers, 8 p.m. ET on TNT (Stream: TNTDrama.com)
San Antonio Spurs at Golden State Warriors, 10:30 p.m. ET on TNT (Stream: TNTDrama.com)
*Bucks-Celtics will not be live-streamed, but fans who have NBA League Pass can listen through NBA League Pass Audio.
Milwaukee at Boston
Both the Celtics and Bucks own a double-digit victory over one another, but the other two contests were instant classics.
Game 1 required an extra session, after the two teams combined for three triples in the final 12 seconds of regulation. Game 4 wasn't decided until Bucks All-Star Giannis Antetokounmpo tipped in the go-ahead—and game-winning—basket with 5.1 seconds remaining to cap a 27-point, seven-rebound, five-assist gem.
Milwaukee Bucks @Bucks

The best of Giannis Antetokounmpo in Game Four:

27 PTS | 5 AST | 7 REB https://t.co/RlHXGfolka
It's almost been a tale of two series for the Shamrocks offense. In the two wins, Boston pumped in an average of 116.5 points and shot 42.1 percent from the three. In the losses, those figures fell to just 97 points and 34 percent shooting from distance.
The Celtics, of course, are without Kyrie Irving, who was sidelined by knee surgery. While Jaylen Brown (23.8 points on 51.4 percent shooting) and Al Horford (17.3 on 57.5) have tried picking up the offensive slack, Boston's next three scorers—Terry Rozier, Marcus Morris and Jayson Tatum—are all shooting below 41 percent for the series.
The Bucks are following Antetokounmpo's lead. The 23-year-old is pacing the team in points (27.8), rebounds (8.5), assists (6.5) and steals (1.5). More importantly, he's instilling in them the type of confidence needed to dispatch a second seed in the opening round, as Malcolm Brogdon said, per Matt Velazquez of the Milwaukee Journal Sentinel:
Matt Velazquez @Matt_Velazquez

Malcolm Brogdon talking about Giannis Antetokounmpo: "At the end of the day in the playoffs, we know we have the best player on the floor. So we rely on him and he comes through."
Boston boasts superior depth, but without Irving (or Gordon Hayward), it can't match Antetokounmpo's star power. While Milwaukee isn't a great road team (19-22 during the regular season), Boston actually fared better in away games (28-13) than home contests (27-14).
If Antetokounmpo's star continues to shine, the Bucks should get a leg up in this series.
Pick: Milwaukee
Miami at Philadelphia
The 76ers carried a considerable talent advantage into this series, behind All-Star Joel Embiid and Rookie of the Year candidate Ben Simmons.
That edge has surfaced when it's mattered most. No team has done a better job of controlling the final frame than Philly's process-trusters. The Sixers have not only won every fourth quarter, they hold a plus-42 point advantage in that stanza—by far the biggest of the first round (Indiana Pacers are second at plus-20).
"We all feel that we're this close, and that's what makes this game tough," Heat coach Erik Spoelstra said, per Mark Bradley of the Palm Beach Post. "We've had a tough time finishing games against Philadelphia, and that's been the issue."
The late-game miscues have been many for Miami. Yielding an uncontested dunk out of a half-court set in the final minute, for instance, is less than ideal.
But the youthful Sixers have energy and endurance the Heat haven't been able to match. While the 24-and-under trio of Embiid, Simmons and Dario Saric have attacked in waves, Miami's best option has been countering with 36-year-old Dwyane Wade. The future Hall of Famer, who averaged a career-worst 11.4 points this season, is pacing Heat regulars with a 30.6 usage percentage in the fourth quarter.
Philly hasn't played the cleanest series. It has twice shot under 23 percent from range, and it committed an egregious 26 turnovers the last time out.
But the win column shows the luxury of having stars and facing a team that doesn't. Expect that trend to continue when the Sixers look to secure their first series win since 2012 in front of a raucous crowd.
Pick: Philadelphia
San Antonio at Golden State
Not to kick the Spurs while they're down Kawhi Leonard, but their Game 4 victory was as improbable as any in the opening round.
Even with the loss, Golden State owns a postseason-best plus-11.7 net efficiency rating. Yes, that is a better mark than the New Orleans Pelicans posted while sweeping the Portland Trail Blazers.
"In this kind of situation, sometimes you are already fine with playing a good game," Spurs assistant Ettore Messina—coaching in place of Gregg Popovich after the death of his wife—said, per ESPN.com's Baxter Holmes. "You shake their hands and congratulate them on their way to a possible championship and go home happy.
"I think our guys wanted more."
The Spurs not only picked up a series-extending victory, they also launched Tony Parker and Manu Ginobili into the record books as the Association's all-time winningest playoff duo, per NBA TV:
NBA TV @NBATV

Manu Ginobili and Tony Parker now have the most #NBAPlayoffs wins by a tandem. 👀

The top 3 in NBA history features a pair of @spurs teammates. #GoSpursGo https://t.co/CoywKS9aKN
That said, the (brief) good times are likely coming to an end for the Alamo City's finest.
As is often the case in Warriors' losses, they were their own worst enemy. They gave away five turnovers in the first four minutes, with the Spurs' first 10 points coming off their miscues. Golden State lost the first-half turnover battle by an 11-1 margin.
"[The] Lack of focus to start the game was really the key," Warriors head coach Steve Kerr said, per Al Saracevic of the San Francisco Chronicle. "Lack of energy. More than energy, was sense of purpose. I take a lot of the blame for that."
Warriors' All-Stars Kevin Durant, Klay Thompson and Draymond Green shot just 7-of-25 from three (28 percent). San Antonio, meanwhile, buried 53.6 percent of its long-range looks, after connecting on only 24.1 percent through the first three games.
If the Oracle Arena crowd doesn't wake up the Warriors, positive regression to the mean should be enough to steer this star-studded squad past the Leonard-less Spurs.
Pick: Golden State
Unless otherwise indicated, all stats are from Basketball Reference or NBA.com.
Zach Buckley covers the NBA for Bleacher Report. Follow him on Twitter: @ZachBuckleyNBA.
Breaking Sports News
via Bleacher Report – Front Page https://ift.tt/yO6Sgr
April 24, 2018 at 05:06AM