Where's the Love for Calvin Ridley? Why the Draft's Top WR Doesn't Get More Hype
Where's the Love for Calvin Ridley? Why the Draft's Top WR Doesn't Get More Hype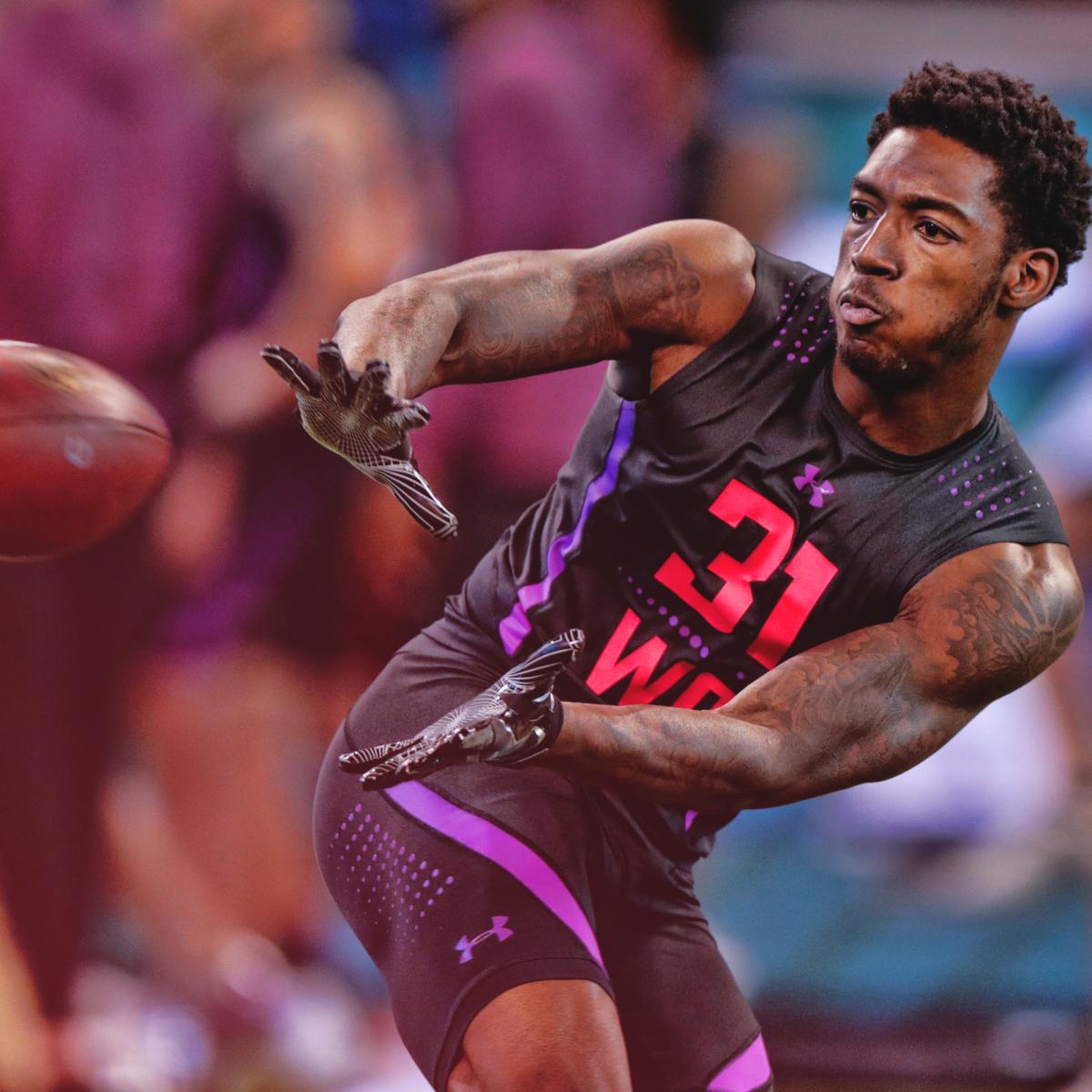 B/R
In today's pass-heavy NFL, wide receivers are more important than ever.
You see as much reflected in free agency, where players like Allen Robinson and Sammy Watkins receive huge contracts to reward middling production. You see it too in the draft, where seemingly every year brings a handful of new hyped receivers to the league, including last year, when three (Corey Davis, Mike Williams and John Ross) went in the first nine picks. 
In fact, since 2009, as many as six and an average of four receivers have been picked in the first round. So this year, when only one receiver is a lock to go in Round 1, how is there so little hype around him?
Where's the love for Calvin Ridley?
Ridley didn't have eye-popping numbers or get Biletnikoff Award recognition in his three seasons at Alabama, but among NFL executives, scouts and coaches Bleacher Report has spoken to, the consensus is that he's a level apart from any other receiver in this draft.
They look at Ridley and see a silky-smooth route-runner with plus speed and hands who can be a part of a dynamic passing attack on Day 1 in the NFL. My mock draft reflects that opinion, projecting Ridley to go 16th overall (the only receiver I have in the first round).
So why isn't he a household name?
Part of it is that the hype might already have passed Ridley by. He signed at Alabama as the top wide receiver in the 2015 recruiting class (and 12th-best player at any position, according to 247Sports) and burst onto the scene, catching 89 passes for over 1,000 yards as a true freshman. But his numbers dropped in each of the next two seasons—72 catches as a sophomore and 63 as a junior—and he never got over that 1,000-yard mark again.
That might look bad to casual draft fans, but the NFL knows there's context that explains it, most notably the play of Jalen Hurts at quarterback.
"He had a running back throwing him the ball," says one longtime NFL wide receivers coach bluntly. "I don't know how anyone can look at his stats to judge him."

Wesley Hitt/Getty Images
The coach also noted Alabama's scheme changed so much in Ridley's three years—going from a Lane Kiffin passing system to a power run game and then to Brian Daboll's scheme in 2017—that Ridley never had a chance to showcase his skills like James Washington (Oklahoma State) or Christian Kirk (Texas A&M), players who put up flashier numbers but don't project as first-rounders.
As scouts open up about Ridley's play, they do point out there are issues that go beyond the situation he was in at Alabama—and that explain why he's not considered a top-10 pick despite the value of the position and his relative value to other receivers in this year's draft.
One weakness Ridley can't do anything about is his age.
NFL clubs generally "red-flag" a player if he turns 24 during his rookie season, which Ridley will December 20. Age might seem like an odd thing to flag, but scouts have to evaluate whether the player's collegiate performance was due to being better than opponents or merely because his mental and/or physical maturity gave him an edge.
Decision-makers also have to look at their rosters and see if an older player who might be more NFL-ready makes sense over a younger player with more upside but less pro-readiness. (Ridley isn't the only pass-catching prospect for whom age will be a factor; South Carolina tight end Hayden Hurst turns 25 this year and also projects as a first-rounder.)
Another common concern with Ridley is his size. He measured at 6'0 ½" and 189 pounds at the combine—not prototypical size for a No. 1 wide receiver. Last year's first two receivers picked were at least 6'3″ and over 205 pounds. Ridley, compared to them, is tiny.

Michael Conroy/Associated Press
Speed is a plus for Ridley, who tied for the sixth-fastest 40 among receivers at the combine. But it also isn't off the charts in a way that might jump off the page to a fan or convince the ghost of Al Davis to pick him two rounds too early.
"Last year we had these monster receivers who all had speed—and Ross who broke the [40-yard dash] record," the wide receivers coach says. "This year the top guys are either small or lack speed. There's no Corey Davis here."
That explains the lack of hype. But no one's saying Ridley doesn't deserve more love. Even if he is a little older, a little smaller and not the fastest guy in the draft, teams see him as can't-miss.
An NFL scout says: "He isn't big. He isn't that fast. He's older. But damn it, he's smooth." Smooth is the best word to describe Ridley as he glides through a route and then snaps off a cut to leave defenders tripping over themselves to adjust.
Says a coach, "All these big wide receivers and all these fast guys, but none of them can run routes like Ridley."
The route running, again and again, is what they point to that sets Ridley apart as a prospect.
"Look at the bust rate among wide receivers, and you see a common thread: guys who don't know how to get open on their own. He's the only one that can," a vice president of player personnel explains.
That's another common thread among executives, scouts and coaches: There's no threat to his status as the consensus top receiver. Courtland Sutton might be the closest. A team that is looking for a bigger receiver could fall in love with his 6'3″, 218-pound frame. But scouts are concerned about his lack of speed down the field and his limited reps against top-tier competition while at SMU.
Other challengers to the throne are D.J. Moore (Maryland), Kirk (Texas A&M) or potentially D.J. Chark (LSU). All three offer similar speed, with only Chark's 4.34 a significant difference over Ridley. None can compete with his route-running skills, though.
Says the wide receivers coach: "If you're looking for a complete player, it's Ridley. And of the second tier of guys like Moore and Kirk, none are as refined as route-runners."

LM Otero/Associated Press
The other thing NFL teams love about Ridley is that he's the rare college wide receiver who appears to be NFL-ready.
Look back at the three receivers drafted in last year's top nine, and none made an impact. Davis, Williams and Ross combined for 45 catches and zero touchdowns in their first seasons. And we're still waiting for 2016 first-rounders like Laquon Treadwell and Josh Doctson to break out.
Ridley, meanwhile, is the type of player you'll hear more about once he's on an NFL field making plays and bucking the trend of low-impact rookie receivers.
That's especially true if the things that are keeping him off the hype radar put him in a better situation with an established quarterback and team.
"It's hard to predict stats or impact until we know where he's drafted," says one AFC scout, "but he has the goods to be very special right away.
"Imagine him in New England with Tom Brady or New Orleans with Drew Brees. He'd catch 90 balls."
Now there's some hype.
Breaking Sports News
via Bleacher Report – Front Page https://ift.tt/yO6Sgr
April 17, 2018 at 04:56AM