Social Media Star Rachel DeMita Is Living a Different Kind of Basketball Dream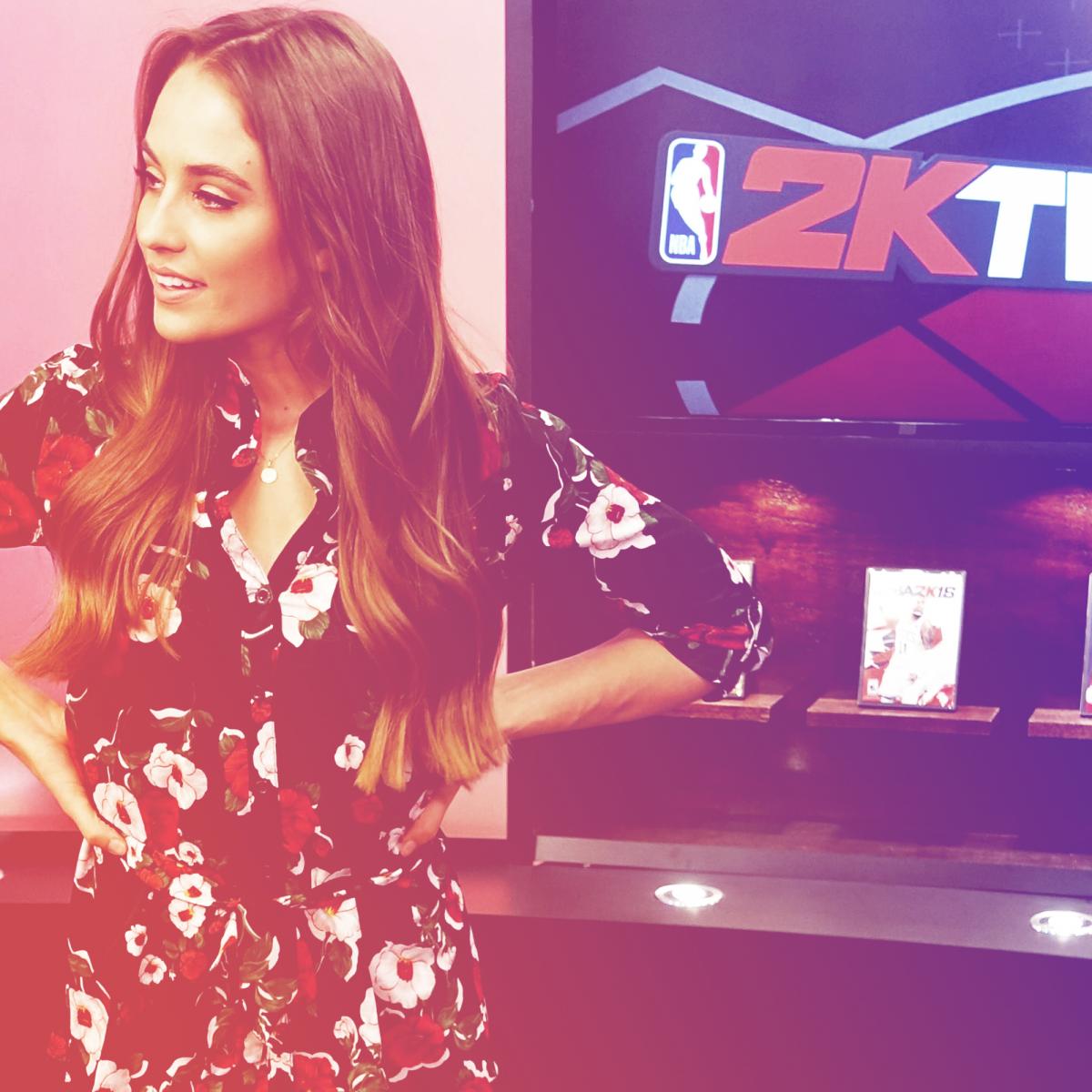 NBA2K
"I must be a miserable person to be around. Like, oh my gosh!"
This wasn't something I was expecting to hear from Rachel DeMita, who was describing her hectic, nonstop lifestyle. There was that trip to 10 cities in 12 days. That time when she was home for Christmas when she couldn't completely relax and shot a YouTube video. And wherever she is, she can't seem to stop brainstorming ideas for her next project.
It's a Friday in March, one of those sunny Los Angeles days that blur together, and we're sitting in Cafe Gratitude, a vegan restaurant in Venice Beach. DeMita, a vegan, eats a kale caesar salad while outlining her daily schedule, which never seems to end. On social media, she posts photos nearly every day, sometimes from around Los Angeles, sometimes in the airport, sometimes playing basketball, always with a bright smile, packing in more joy than a season's worth of Sesame Street, Blue's Clues and Arthur combined.
All of this started in 2014, when DeMita auditioned to become the host of NBA 2KTV. A former college basketball player at Old Dominion, DeMita tapped into her love of the game to distinguish herself in a field of sports personalities, interviewing the NBA's biggest names.
Four years later, DeMita has become a star herself, a social media behemoth with 1.2 million followers on Instagram, 286,000 on Twitter and 186,000 subscribers on YouTube. She regularly plays in celebrity basketball games and is constantly coming up with ideas on how to engage her followers. It's here where you'll see tweets like this one, which simply reads "happy
" and has received 2,200-plus likes. The job doesn't stop, because Rachel DeMita's job…is to be Rachel DeMita.
"I'm a more miserable person when I'm not busy," DeMita says. "Happiness is never stopping working. Let's get this shoot or training done. When I learn a new skill or hit another milestone in my workouts, that makes me happy. Helping shelter animals makes me happy. Coming up with new concepts, seeing people watching my shows and really enjoying makes me happy."
All of it has kept her busy, and DeMita admits she doesn't have much of a social life. "I'm trying to do better," she tells me with a laugh. It's all a byproduct of being a rising personality and a star on the internet, where the demand for new content never stops. And with the DeMita Machine, there's no time to slow down.
"My million followers isn't gonna do crap if I'm like, Wow, I've got a million followers—now let me settle," DeMita says. "It's now what content can I make to make all these million followers happy?"
---

Jayne Kamin-Oncea/Getty Images
A year after she quit playing basketball, DeMita walked into the gym and cried. It was the smell of the hardwood floors. The sounds of the bouncing ball. The swish of the net. At Old Dominion, where she'd achieved her lifelong goal of earning a Division I basketball scholarship, she'd quit during her freshman season. The sport had stopped bringing her joy. Given her precarious sports-school balance, she began to doubt whether basketball was what she really wanted to do.
"I never wanted to play professionally, so I was like, either I'm going to graduate in four years and be really good at basketball and then figure out what I'm going to do with my career, or I'm going to stop now and just pursue my career," DeMita says.
She chose the latter and transferred to American University where she threw herself into media. On campus, she worked a morning news internship. She got up at 3 a.m. for her shift from 4:30 to 8. She'd take a nap before going on a run. Then she'd head off to class and work on homework before going to bed at 11 p.m. and starting the cycle all over again. She removed basketball from her life, not watching an NBA game for years.
"I was not a happy person. I was super-lonely and I think I was just confused," DeMita says. "I know people are like, 'Oh my god, you quit a sport.' It's not that big a deal, but it was."
When DeMita graduated, she moved to Los Angeles, hoping to bypass the traditional television news path of going to a small town and working up from market to market. After growing up in Akron, her mom a schoolteacher, her dad a construction shop manager, she had her sights set on working in entertainment. She took a job at the W Hollywood hotel as a server and started her YouTube channel. She began in the fashion and makeup space, which she quickly found to be saturated.
It took a year of living in L.A. before DeMita relented and picked up a basketball again, heading down to the narrow basketball court at her apartment complex and shooting around.
"It was four years clean," DeMita remarks.

Gary Dineen/Getty Images
She began shooting, and balls began going in. She had forgotten how satisfying it all was. It was that moment that pushed her to sign up for a Nike skills challenge, an event she won. That got her noticed by people at Adidas, Finish Line and Fox Sports. She began to do freelance video work after they noticed her YouTube channel, which had around 200 subscribers.
DeMita's best friend, Liana Lake, who DeMita met while working at the W, noticed something different about her from the beginning. Becoming the host of NBA 2KTV was never the goal, but Lake says DeMita knew from the beginning her worth and abilities as a potential on-air personality.
"Since her YouTube channel started, she always had a vision for herself of being someone who could be successful, someone who could express herself creatively and not fall within a mold of something," Lake says.
DeMita quickly saw an opportunity to combine her basketball abilities and her pursuit of a career as an on-camera host, her unique skill set separating her from the pack. She pivoted on her YouTube channel to more lifestyle and basketball videos, which got her noticed by the people at NBA 2K, who flew her to Atlanta to audition with Shaquille O'Neal and Ernie Johnson. Of course, she got the job.
"I'm not the coolest girl. I'm kind of goofy, but I'm also not a comedian … I'm not trying to be the sexiest girl because I'm not that, or I don't feel that way," DeMita says. "I wasn't going to try to be someone I'm not because then you have to keep up with that."
---
She reads the comments. She admits that. After all, so much of her job is based on her likability. Because DeMita isn't here to tell you whether she thinks LeBron is better than Jordan or whether Donovan Mitchell or Ben Simmons deserves to be Rookie of the Year, the comments matter. There's a lot of positive stuff, the nearly 18 fan pages on Twitter, the 45 fan pages on Instagram (many of which DeMita herself follows), the encouraging comments about her play on the court. But DeMita, unprompted, brings up that her audience is nearly 90 percent male and acknowledges that sometimes makes it hard to go through the comments.
"Just like, a lot of inappropriate people," DeMita says. "Just gotta have thick skin."

David Dow/Getty Images
That's the nature of becoming well-known on the internet. It's different than the celebrity of a Leonardo DiCaprio or Beyonce, major stars who most people recognize. DeMita has that similar star power, but among a niche audience that will wait for hours to get a picture with her after a celebrity basketball game or will find old photos of her to post on fan accounts that DeMita herself has never seen. She generates excitement traditionally reserved for such A-listers but is also able to walk down the street unrecognized by all but her most avid fans.
DeMita's internet fame is fueled by her willingness to put herself out there on YouTube, Instagram and Twitter. It requires an endless work ethic to acquire that audience in the first place, to separate from the pack trying to do the exact same thing. This was something that Sickamore, the creative director at Interscope, a major American record label, noticed when the two became friends when DeMita worked at the W.
"I think people that are athletes, they don't lose that work ethic," Sickamore says. "It just transfers into other places. It's really hard to build a model for something that doesn't exist. She's created a job for herself out of thin air."
Four years have changed things drastically for DeMita. She's now endorsed by Adidas and regularly teams up with brands to endorse products on top of her 2K duties. But DeMita says nothing is guaranteed. It's the reason she doesn't stop working. It's the reason she films vlogs or asks her mom to take photos of her for social media when she's back home in Akron on vacation.
It's why she's expanding her capabilities behind the camera as well, hoping to produce more shows for other front-facing talent. It's why she cites Oprah, Ellen DeGeneres, Ryan Seacrest and Steve Irwin the crocodile hunter ("How much passion he brought to every single show was incredible.") as her biggest professional role models.
"I understand that it could all go away at any second," DeMita says. "I'm not getting wrapped up in the fame part of it. I'm always trying to work on my craft, in front and behind the camera. If you're skilled in something and if you're really good at something, then that can carry you. Even if I'm not a pretty face, or as I get older and I can't host a show or a video game, I can go produce a full TV show and put a young girl out there who can do it."
All of that work, she acknowledges, requires a lot of trade-offs. She doesn't have much time to hang out with friends. Most of her free time, she says, is spent listening to audio books (right now, she's listening to Mastery, a book about mastering your craft), spending time with her cat or watching a show on Netflix. The last few years, she's only taken time off for Christmas, Thanksgiving and three days for her birthday. It's one of the few moments she lets herself breathe.

Rachel DeMita and Jamie Foxx in the 2018 NBA All-Star Celebrity GameChris Pizzello/Associated Press/Associated Press/Associated Press/Associated Press
"My dreams are really big, so I go back and forth with days that I'm lonely or I don't feel like I have a lot of friends or whatever. I'm like, OK, so do I need to feel happy, do I need to be with all these friends? Or am I gonna be happier if I sacrifice? I'm used to sacrificing with having played basketball. How much do I need to be happy, or how much do I need to be happy later?"
"So when are you going to be satisfied?" I ask her.
"Probably never," DeMita says, before pausing. "I probably won't be. I think about that too. I don't know."
"Do you think you're doomed?" I ask, half-joking.
"I might be, yeah," she responds. "For sure, I might be."
DeMita strives for there to be no difference between who she is on the internet and who she is in real life. She avoids cursing during her daily life so she doesn't curse online or on camera. Her love for basketball, playing and watching, has become intertwined with her professional life.
"People normally say that who you are in real life is who you are as a person, and then your work is your alter ego," DeMita says. "But what if who you are in your work is actually who you are, and who you are in person is your alter ego? I think about that because I don't know. Who I am in my work life is so much of who I am as a person. I wouldn't be who I am without my work."
---
A few weeks back, DeMita felt an urge. An urge to do something spontaneous. Because she's always filming something, on a plane, in a hotel, making decisions on the fly is rarely an option. For the past few months, she's been trying to make more of an effort to say "yes" to friends who ask if she wants to hang out. So here she was in a bowling alley with Lake and Sickamore, a social media star hoping to grow her social life.
"We should get our ears pierced tonight," DeMita said to Lake at the start of the night, half-jokingly, not yet ready to act.
"It was one of those nights we never have where we just see where the night takes us," Lake tells me months later.
As they waited for their bowling lane to open up, DeMita played Lake and Sickamore in Pop-A-Shot five times, summoning her inner D-I college baller. Even after Lake and Sickamore finished, DeMita stayed behind, feeling the urge to beat the machine's high score, which she did after several attempts. It was after that and after the group's night bowling that DeMita—completely sober, she points out—turned to Lake again, ready.
"Let's go get our ears pierced!" she said.
"Tonight is the night," Sickamore said.
They went to a local tattoo parlor, where DeMita pushed Lake to go first. They each got two piercings: matching little gold sparkly balls on their upper ears. Weeks later, DeMita laughs as she finishes up her salad, retelling this story, showing me the result of her spontaneous decision.
"That was a really fun night," DeMita says, showing off her bright, white smile. "See, there's me, trying to be more social."
NBA News
via Bleacher Report – NBA https://ift.tt/yO6Sgr
April 17, 2018 at 05:50AM