MLB All-Star Thriving After Old Team Inexplicably Tossed Him to the Curb
MLB All-Star Thriving After Old Team Inexplicably Tossed Him to the Curb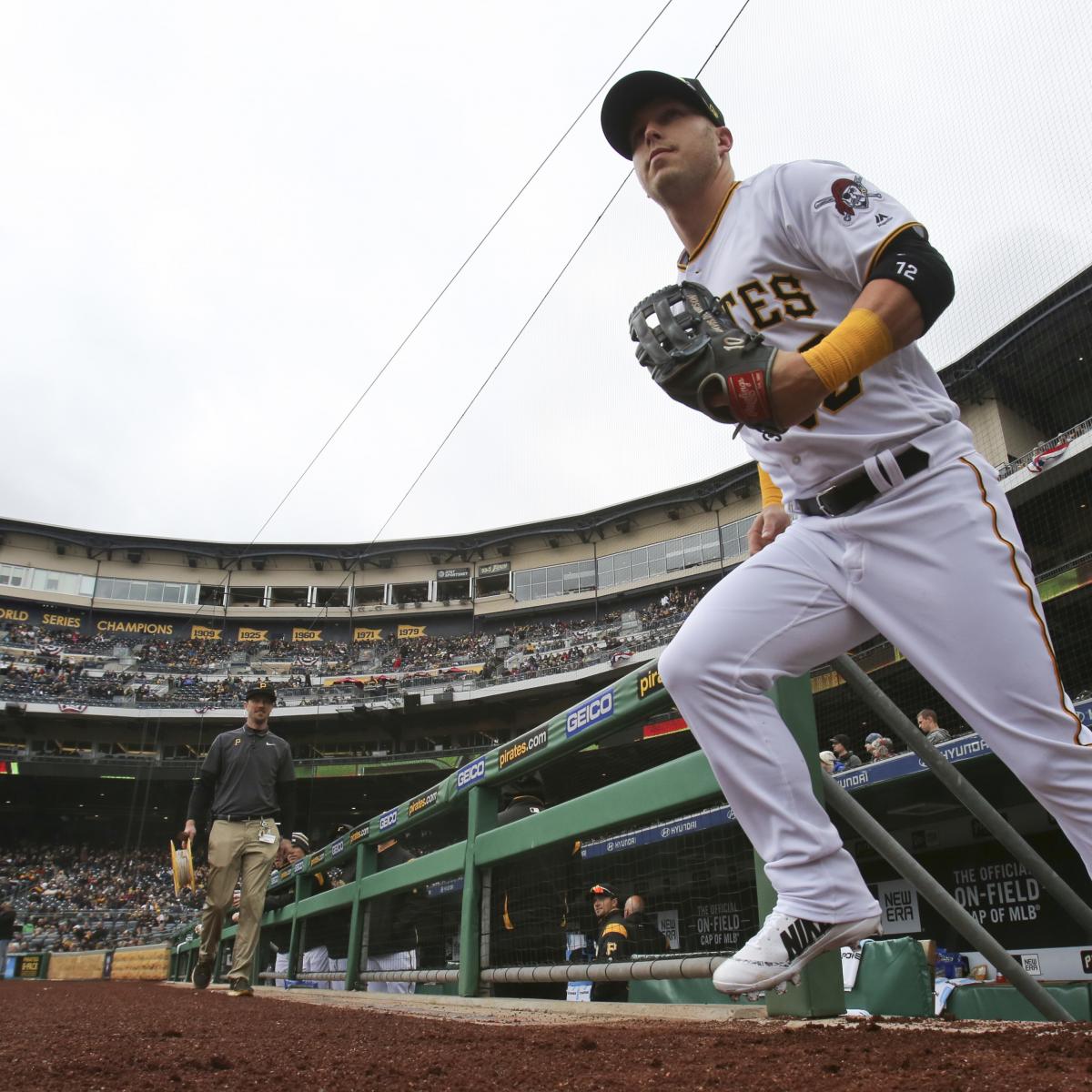 Gene J. Puskar/Associated Press
The Pittsburgh Pirates aren't scheduled to play the Tampa Bay Rays, so Corey Dickerson can only indirectly take revenge on his old team.
To get a read on how that's going, let's take a look at the National League wins above replacement leaders at Baseball Reference. Here's how they stacked up on April 16:
1. Corey Dickerson: 1.4
T2. Freddie Freeman: 1.0
T2: DJ

LeMahieu

: 1.0
Just to be safe, we'd better look at how FanGraphs' WAR stacked 'em up, too:
1. Corey Dickerson: 1.1
T2. Bryce Harper: 1.0
T2: Kris Bryant: 1.0
OK, now it's safe to say it: The Rays screwed up when they designated Corey Dickerson for assignment.
This was apparent even at the time it happened in February. Dickerson was fresh off a 2017 season in which he was selected to his first All-Star team and recorded an .815 OPS and 27 home runs. He'd also already agreed to a reasonable $5.95 million salary for 2018, his second-to-last before free agency.
"I kind of thought I was dreaming at first," the 28-year-old left fielder said of getting the fateful call from Rays general manager Erik Neander.
The decision to DFA Dickerson meant the Rays had 10 days to trade him, outright him to the minor leagues or flat-out release him. They ultimately went through Door No. 1 on February 22, when they dealt him to Pittsburgh for right-handed reliever Daniel Hudson and infield prospect Tristan Gray.
What the Pirates have gotten in return is a player who's been a huge key in their surprising 11-5 start.
Dickerson has taken the next step in his offensive awakening with a .938 OPS and nine extra-base hits in 14 games. At least one of his former Rays teammates has noticed, as Arizona Diamondbacks outfielder Steven Souza Jr. tweeted on April 10:
Steven Souza Jr. @SouzaJr

Corey Dickerson is hitting .324 and was DFA'd, and was a 2017 all star, and was only making 5.9 million! Pirates got a good one!
Dickerson has also already racked up seven defensive runs saved in left field. That leads all qualified players.
For their part, the Rays have gotten…well, basically nothing.
The move that precipitated Dickerson's DFA was a trade with the Los Angeles Angels for first baseman C.J. Cron. He'd put up just a .741 OPS in 2017 and has thus far struggled with a .672 OPS in 2018.
Hudson, meanwhile, was released by the Rays on the eve of Opening Day. Gray is still in the team's farm system, but he didn't make MLB.com's cut as one of the Rays' top 30 prospects.
The Rays aren't even saving any money with Dickerson out of the picture. They're paying Cron $2.3 million and are on the hook for $4.5 million of Hudson's $5.5 million salary.
Thus, there's only one thing for the file with the "What Tampa Bay Is Getting out of the Dickerson DFA" label: Cron's extra year of club control through 2020.

Justin Berl/Getty Images
This is where it's only fair to usher in the "to be fair…" portion of the program.
By the time spring training opened up, the Tampa Bay Rays had already bid adieu to several key free agents (e.g., Alex Cobb, Logan Morrison and Steve Cishek) and traded several other key players (e.g., Evan Longoria and Brad Boxberger). Elsewhere in the AL East, the Boston Red Sox, New York Yankees and Toronto Blue Jays were loading up.
So, it made sense for the Rays to lean into a rebuild by looking to move Dickerson next.
The complication was that he didn't have a ton of trade value alongside a free-agent market that was still saturated with quality hitters. As told to Marc Topkin of the Tampa Bay Times, Neander saw the DFA as the best way to spur interest:
Marc Topkin @TBTimes_Rays

Sounds like #Rays don't have a deal in hand for Dickerson, but did the DFA move to spur conclusion of some trade talks. Neander: "We've had enough conversations where we felt this was best way to get things resolved for him and for us."
Despite his All-Star creds and cheap salary, it's not surprising that the Rays still couldn't get much for Dickerson. For one thing, they didn't have a ton of leverage. For another, prospective suitors had plenty of nits to pick regarding Dickerson's playing ability.
Although he owned an .829 career OPS, the caveats were that he spent three years with the Colorado Rockies and that his production came with frequent peaks and valleys. Relating to the latter, only eight players topped his 55.6 swing percentage between 2013 and 2017.
To boot, Dickerson's reputation as a poor defensive outfielder preceded him. Both DRS and ultimate zone rating (UZR) typically rated him as below average.
What Dickerson is proving now, however, is that the Pirates were right to gamble on his underlying talents.
His approach is still aggressive but not wild. He still often hits what he chases outside the strike zone, and his new trick is to swing at more strikes. The payoff of that is twofold: a career-low 11.5 strikeout rate and a career high .806 in-zone slugging percentage.
As seen in his 3.3 BB%, Dickerson still isn't much for walks. But he's more capable than most of getting away with that for two reasons: He has good power, and, because of his all-fields hitting ability, he's tough to defend.
The big unknown ought to be whether Dickerson can keep up his early defensive excellence. But the Pirates have been optimistic from the beginning.
"The foot speed is there to cover range," manager Clint Hurdle said in March, per Rob Biertempfel of The Athletic. "He just needs more opportunity, I think. Sometimes, players get pigeon-holed into a one-dimensional facet."
The speed remark checks out, as Dickerson's average sprint in 2017 was an above-average 28 feet per second. And he's already attracted the attention of Statcast once with his defense this season:
At the risk of spoiling the party, here's this: No, Dickerson won't be the best position player in baseball at the end of 2018. If nothing else, it's a good guess based on the fact that his name isn't "Mike Trout."
However, those who has an eye on him now won't be wasting their time by keeping an eye on him. He was a good player to begin with, and it looks like he's gotten even better.
Had the Rays held on to him, they could have looked forward to parlaying his improvement into a suitable trade at the deadline. But in this reality, the more likely future involves the Rays' kicking themselves as Dickerson and the Pirates speed toward the postseason.
Stats courtesy of Baseball Reference, FanGraphs and Baseball Savant.
Breaking Sports News
via Bleacher Report – Front Page https://ift.tt/yO6Sgr
April 17, 2018 at 04:14AM