Man on Fire: How Iago Aspas Went from Liverpool Reject to World Cup Contender
Man on Fire: How Iago Aspas Went from Liverpool Reject to World Cup Contender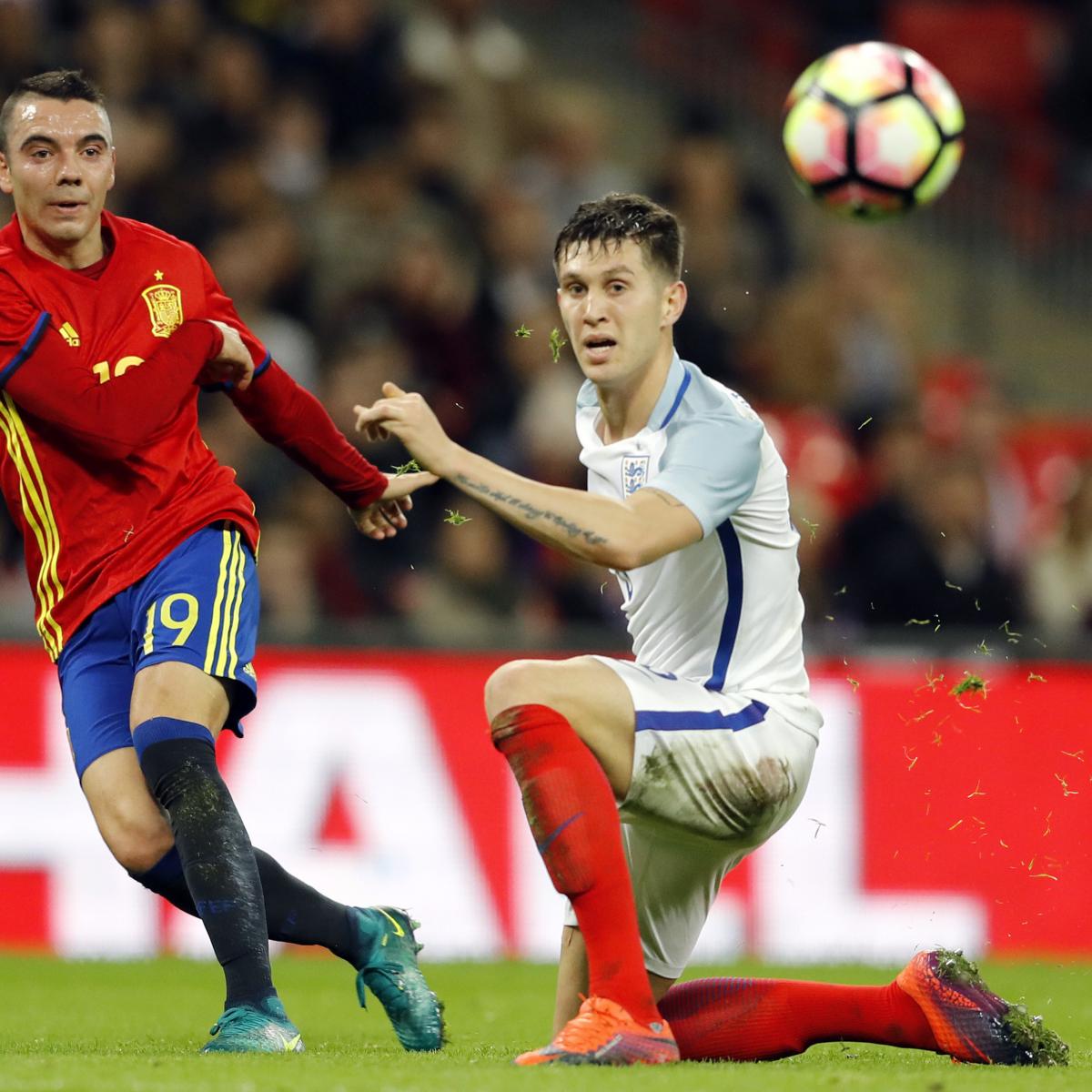 Frank Augstein/Associated Press
There are some familiar names at the top of the Liga scoring chart. Leo Messi leads the way on 29, followed by Cristiano Ronaldo and Luis Suarez on 23. Then on 19 goals comes two men: Antonine Griezmann and Iago Aspas.
Liverpool fans might be surprised to see that final name on the list, but Aspas has worked hard to win over the Spanish public and a place at the World Cup in Russia looks destined to be his reward. 
---
In truth, Iago Aspas never backs down from a fight. There was one day, however, when maybe he should have walked away. In March 2013, Aspas was playing for his hometown club Celta Vigo in their derby match against Deportiva de La Coruna. It was the first time Celta had met their Galician rivals at the Riazor Stadium in A Coruna in six years. The 25-year-old Aspas was wound up. He despised Depor. He said he wouldn't even take a girlfriend from the city of A Coruna.
It was a critical match in both clubs' fortunes. The pair were rooted to the bottom of La Liga as the spring bled towards summer and the end of the season. Some 34,000 fans streamed into the ground, including travelling support that took the hour-long drive from Vigo, members of the Iago Aspas Supporters Club among them, per La Voz de Galicia.
Depor took the lead after nine minutes. About 20 minutes later, the ball was knocked down towards Depor's penalty spot. Aspas went to challenge for the ball with his marker, one of Spain's grizzliest defenders, Carlos Marchena.

Aspas has become a hero at his hometown clubSTR/Getty Images
These days, Marchena has returned to where he started in the south—he's on the coaching staff at Sevilla. He grew up in a quintessential Andalucian town, Las Cabezas de San Juan Ramon in Andalucia, and is as hard as nails. During a La Liga career that spanned three decades, he once played in 50 consecutive undefeated matches for the Spain national team. He's a World Cup winner and a wily operator.
When the ball dropped in the square between Aspas and himself, Aspas beat him to it and flashed a shot over the bar. The pair spilled to the ground. Marchena fell back over Aspas. He said something to him. Aspas took the bait and stuck him with a head-butt.
The 33-year-old Marchena milked it, dropping to the canvas with his head held in his hands and rolling slowly backwards and forwards like a man with a bad fever. Aspas was sent off. Reduced to 10 men, Celta were beaten 3-1. Worse—Aspas, who had been the club's leading scorer that season, was suspended for four games.
"We still talk about that derby match in 2013," says Borja Reforos, a journalist with Atlantico Diario. "Both teams were fighting not to go down. The derby was very, very heated. Marchena said something and Aspas didn't give him a bad head-butt but Marchena reacted theatrically. Most of Celta's fans felt disappointed because we knew the importance of that match about losing their best player. Everyone knew that Marchena, well, he is well known as a troublemaker." 
The rush of blood cost him dearly. He was on the verge of being called up to Spain's national squad for the first time, but Vicente del Bosque decided against it because of his indiscretion, per La Voz de Galicia. It was a cruel added blow.
Aspas was constantly in trouble early in his career because of his fiery temperament. He was born in August 1987, growing up in Moana, a Galician fishing town, which looks across the sea at Vigo. His mother was a fishmonger. Several of the menfolk in his family earned a living from football, including an uncle; one brother is a goalkeeper; his older brother Jonathan who played several seasons in midfield for Celta and a couple of cousins who traded in the country's lower leagues.
After coming up through the ranks at Celta's youth academy, Aspas fell out with the club and was shipped out on loan to a neighbourhood club in Vigo, Rapido Bouzas at the start of the 2005-2006 season. When the two sides met, Aspas got sent off. It was part of a pattern.
"As we say in Galicia, he was "un gamberrada"—a hooligan. He was naughty," says Manuel Pedro Seoane Cordal, president of Rapido Bouzas. "There is a story that he was once sent off in a match because he pulled down a player's underwear. If he did it or not, I don't know. That's a legend about him. 
"He was an explosive player. He had a lot of quality, but he had a very bad character on the pitch—'mala leche'. He was all the time getting sent off. The joke was that he used to get a red card every game; it wasn't that much but he was a guy with a bad mood—all the time arguing with other players, protesting against the ref. He loved to complain.
"He is a player who pushes himself to the limits. He's not like Messi who is 'muy tranquilo' or Iniesta, who is very relaxed. Aspas is a fighter who plays every match as if his life depended on it, and if he is in a situation where he has to kick somebody, well, he would do it. He has no fear. All the guy wants to do is win no matter what!"

Aspas has been impressive for club and countryTF-Images/Getty Images
Seoane explains that Aspas has a Jeckyll and Hyde personality. Off the pitch, he's full of smiles and easy company: "Outside the pitch," he says, "Aspas is an excellent guy, very friendly, very cordial, very happy. Inside the pitch he's transformed."
Aspas curbed his ways at Rapido Bouzas and returned to Celta where he made a sensational start to his senior career. In only his second game for the club, he was sprung from the bench in a relegation battle against Alaves in June 2009 with an hour gone on the clock. The club was drowning in over €80 million of debt, per ESPN, and relegation to Spain's third tier, a four-division morass could have signalled oblivion for Celta.
With his side a goal down, the 21-year-old Aspas delivered—scoring two late goals to secure a 2-1 win. "That image of Iago celebrating the goals and going absolutely crazy on the pitch and the whole stadium that went crazy as well. I think it is the most vivid memory I will always have about him," says Juan Carlos Alvarez, sports editor with Faro de Vigo.
The Iago Aspas legend at Celta was born. He has repeatedly added to the lore over the years—scoring 23 goals during their successful promotion campaign to La Liga in 2011-2012; several goals that dragged the club to within a whisker of the Europa League final last season, only to go out to eventual winners, Manchester United, in the semi-final; and a golazo against England at Wembley on the night of his international debut.
A big-money move to Liverpool at the start of the 2013-2014 went sour. During a season at Anfleld, he failed to score a goal in the league, and spent the bulk of the season on the bench, unable to dislodge Luis Suarez and Daniel Sturridge as the team's two preferred strikers. His time at the club is remembered for a botched corner kick where he comically "passed" the ball to Chelsea's Willian who took off on a counterattack from the edge of the box.
The environment was wrong for Aspas at Liverpool. He failed to learn the English language, and spent a lot of the time holed up with his Spanish entourage, including family members.
"I heard not directly but from mutual friends that he had problems at Liverpool because the club has a manner of playing, of behaving on the pitch, which is very correct," says Seoane. "He didn't like to conform. It would be different at a club like Atletico Madrid where he would fit. Celta doesn't curb him. It lets him be."  

Liverpool proved a bad fit for AspasClive Brunskill/Getty Images
Aspas has found his mojo again at Celta. This season, as was the case last season, he is the top Spanish scorer in La Liga. He has been called up to seven consecutive national team squads, and scored against Argentina in last month's friendly at the Wanda Metropoltiano. He is getting better with age, and looks a shoe-in for Spain's FIFA World Cup squad in the summer.
"I think the key is his determination, his mentality, his capacity to learn," says Alvarez. "He is 30 years old. He is at an advanced stage of his career, but everyday he learns something new. Every day, he is a better footballer. That is his big virtue. He is fast, scores a lot of goals. He knows how to solve a game, and he has this desire in his career to continually learn, even from his mistakes. That capacity to continue evolving is what has taken him to the top."
It's notable that he has only picked up three red cards in the last nine seasons, per Soccerbase.com. He has matured, but is still hungry for goals. Tonight at the Balaidos Stadium in Vigo he takes on Barcelona, one of the meanest defences in La Liga, and which is hoping to end the season unbeaten for the only time in the league's history. He'll relish the challenge. 
All quotes and information obtained firsthand unless otherwise indicated.
Follow Richard on Twitter: @Richard_Fitz
Breaking Sports News
via Bleacher Report – Front Page https://ift.tt/yO6Sgr
April 17, 2018 at 02:49AM