Lorenzo 'really needs' new MotoGP fairing to help feeling on Ducati
Lorenzo 'really needs' new MotoGP fairing to help feeling on Ducati
Jorge Lorenzo says he "really needs" his Ducati MotoGP team to introduce an aero fairing that works well with the 2018 version of its Desmosedici bike.
The aero package the team introduced at the Brno round in 2017 was a major factor in the progress made by Lorenzo in his first season with the manufacturer, but an "evolution" of the concept for 2018 has not gelled with the new Ducati.
After using the standard fairing at the Qatar season opener, Lorenzo switched to the 2017 evolution aero version for the Argentina race earlier this month.
"We made an evolution from the winglets from last year, and this new evolution, when we tried it in Buriram [testing] with the new bike, it didn't work in the corners," Lorenzo explained.
"Some strange things in the middle of the corner didn't work.
"We discover that in Qatar, and for the moment the best mix is without winglets."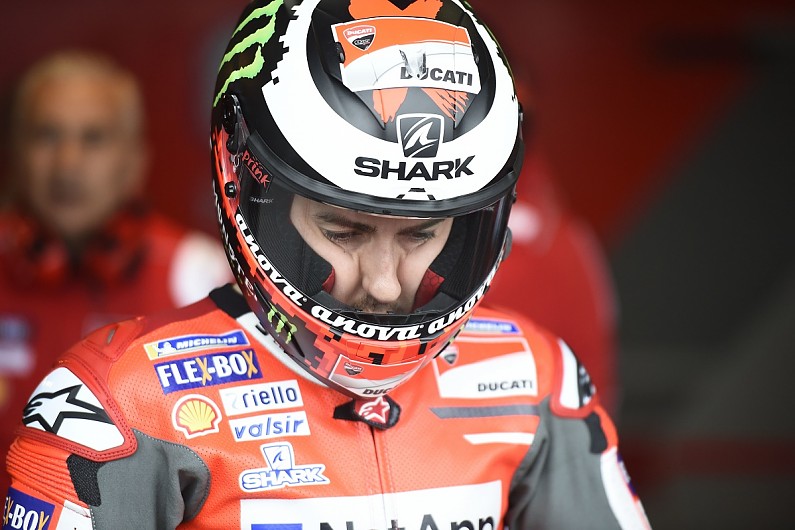 The Spaniard has pinned his hopes on a new version in development at Ducati, which he said he would like to have homologated in time for this weekend's round at Austin.
"We could not [homologate the new fairing], for the moment, we hope to make it in [time for] Austin," Lorenzo said.
"To have just two options for the rules is not the best for us, to be able to be free to try many things.
"For the moment the best combination has been without winglets. But I believe I really need the winglets for this bike to feel better with the front.
"Let's hope to have [them] as soon as possible."
Lorenzo has endured a tough start to his MotoGP season, crashing out of 10th due to a brake failure in Qatar before missing out on Q2 and finishing a lowly 15th in Argentina.
"I need more stability on the bike, and to have confidence to open the throttle fully as soon as possible, to enter the corners with confidence with downforce," he said.
Asked whether electronics would help satisfying those demands, he said: "Yes, for the moment, because we cannot change the engine and the chassis is the chassis that we have.
"So we can just improve the electronics, understanding what is the best way for me – I have some idea about that – and to be able to use the winglets."
Racing News
via All news – Autosport https://ift.tt/2uOa9Ei
April 17, 2018 at 04:01AM