How Anthony Davis, Pelicans Defied Expectations After DeMarcus Cousins Injury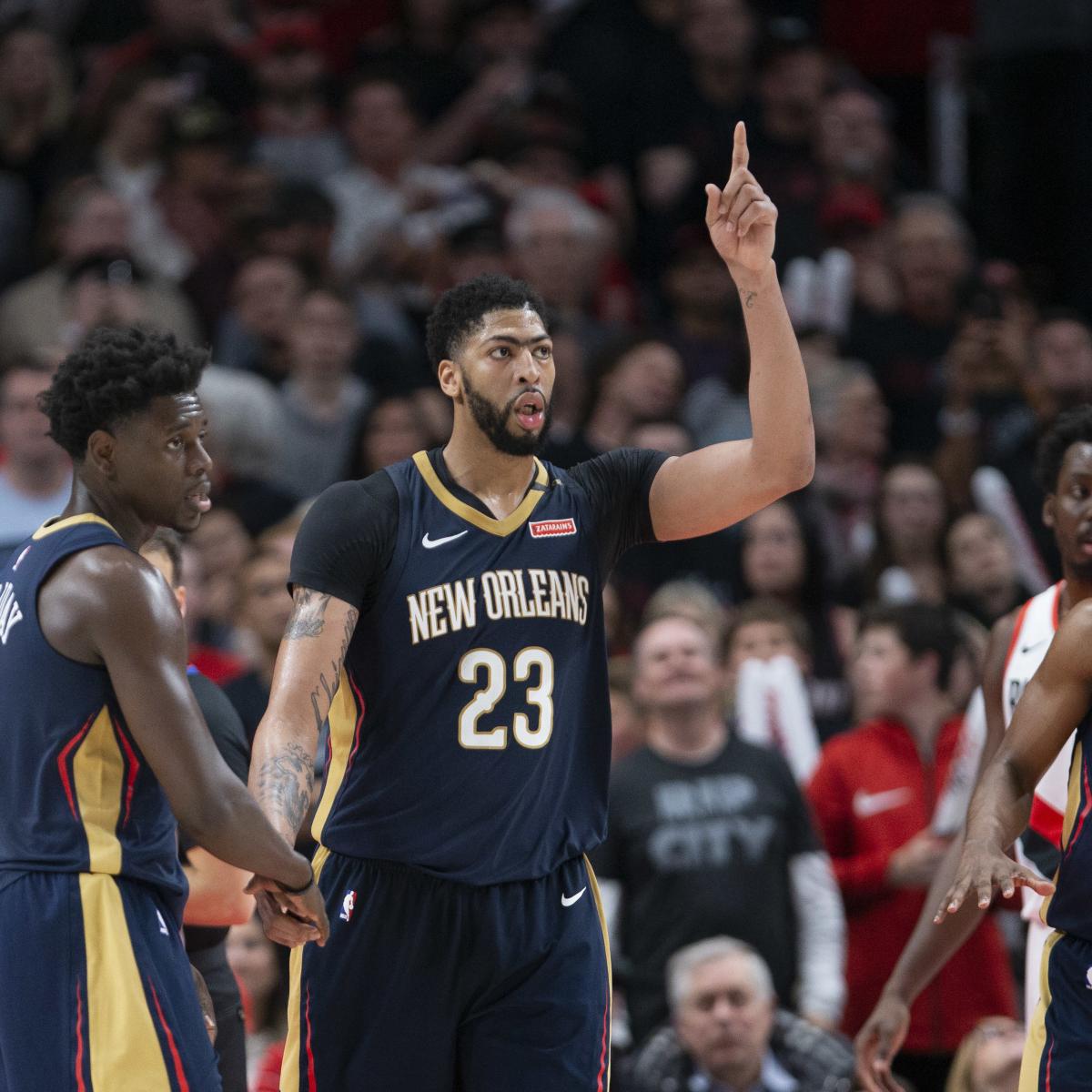 Randy L. Rasmussen/Associated Press
PORTLAND, Ore. — As the New Orleans Pelicans walked off the court and back to the locker room following Saturday night's playoff-opening 97-95 win over the Portland Trail Blazers, point guard Jrue Holiday could be heard telling his teammates: "Let's not come back."
A four-game sweep of the No. 3 seed Blazers is unlikely—this has all the makings of a series that will go long, no matter who wins—but the Pelicans might as well dream big.
They weren't supposed to be here in the first place. Not after losing superstar center DeMarcus Cousins for the season to a torn Achilles in January.
Together with Anthony Davis, Cousins formed half of the NBA's most formidable frontcourt duo, and he was in the midst of a career year when he went down. It's a testament to Davis' MVP-level play down the stretch that the Pelicans were able to not only stay afloat after losing Cousins, but put themselves in a position as a sixth seed to upset Portland and make an unlikely postseason run.
But their effectiveness doesn't just boil down to Davis' greatness. Since coming over in a February trade from the Chicago Bulls (and shaving his beard), power forward Nikola Mirotic has provided outside shooting and lineup versatility next to Davis. Mirotic had 16 points and 11 rebounds and hit four three-pointers in Saturday's Game 1 win. And Holiday, who had 21 points and a crucial late-game block in Game 1, has reasserted himself as one of the league's top guards at both ends of the floor.
To fans who rarely watched New Orleans during the season, it's easy to forget about the soft-spoken Holiday among the crowded group of great guards in the NBA. But to the rest of the Pelicans, this is nothing new.
"With Kawhi Leonard not playing, I'm not sure there's a better two-way player in the game," Pelicans head coach Alvin Gentry said after Saturday's win. "We ask him to get 20 points for us every night, and we also ask him to guard the best perimeter player on the other team, regardless of the size or who it is."
"The things that he does on both ends of the floor, they can't be talked about enough," added guard Ian Clark. "He's so valuable to our team and doesn't get enough credit."

Randy L. Rasmussen/Associated Press
Clark is one of the Pelicans veterans who has been here before. He won a championship with the Golden State Warriors last season and played a role on the 73-win team in 2016. This is just New Orleans' second playoff appearance since the trade of Chris Paul to the Clippers in 2011, but there is no shortage of experience among this group, including Clark, Holiday, Mirotic and point guard Rajon Rondo.
"We do kind of have a veteran team," Rondo said. "We have a lot of guys that are around 28, 27 years old. Not a lot of guys in their [early] 20s. We haven't been together a while as a veteran team, but we have a lot of guys with seven or eight years of experience."
Those veterans were instrumental in resuscitating a season that appeared dead in the water after Cousins went down. A 10-game winning streak in February vaulted the Pelicans from the outside of the playoff picture to a legitimate threat that demanded to be taken seriously. They finished the season on another five-game win streak.
While they entered the playoffs as the sixth seed, they were tied record-wise with the fourth-seeded Oklahoma City Thunder and fifth-seeded Utah Jazz.
"It started when we had that 10-game win streak," Clark said. "We saw what we could do for each other. Once guys start believing in that, I think guys start buying in and playing better in their roles. We understand that we can do something special. I think a lot of people counted us out, but we're here now."

Rocky Widner/Getty Images
Considering Cousins' impact, the Pelicans' resilience is astounding. When Cousins and Davis were on the floor together this season, New Orleans scored 114.1 points per 100 possessions, per NBAwowy. In a league rapidly moving away from the twin-towers approach, the size, physicality and versatility of Davis and Cousins provided a unique threat.
"I don't think people realize, we lost a guy that was probably going to be very much in the MVP talks," Gentry said this week at practice. "He was averaging 26 points and 13 rebounds. You take that away from your team, that's taking away an awful lot.
"And it's not just the numbers he was putting up," Gentry continued. "It's the physical play, the fact that when he and AD are out there, all of a sudden the matchups completely change. To be able to pick it up when DeMarcus is not there, it's an unbelievable situation for those guys to be able to do that. It would have been easy to say, 'Well, we lost DeMarcus, we're just going to go through the motions.' But right from the start, they said, 'We're still a playoff team, we can still accomplish what we need to.'"
New Orleans still has an uphill climb to advance to the second round. By Gentry's own admission, Blazers guards Damian Lillard and CJ McCollum aren't likely to combine to shoot 13-of-41 from the field again. Even with the Pelicans' swarming defense and Portland's cold shooting, the Trail Blazers were able to come back from a 13-point deficit with five minutes left in the fourth quarter to cut New Orleans' lead to one with several chances to win in the final minute. All indications are that this series will go six or seven.
Then again, the Pelicans weren't supposed to be in the playoffs with a 1-0 lead over a higher seed. That sweep Holiday spoke of could be the next way this team defies expectations. 
"We want to come out and be greedy," Davis said Monday. "Our goal was to win one on their home court, but now we want to be greedy."
NBA News
via Bleacher Report – NBA https://ift.tt/yO6Sgr
April 17, 2018 at 06:18AM