WWE Raw and SmackDown Superstar Shake-Up 2018 Preview and Predictions
WWE Raw and SmackDown Superstar Shake-Up 2018 Preview and Predictions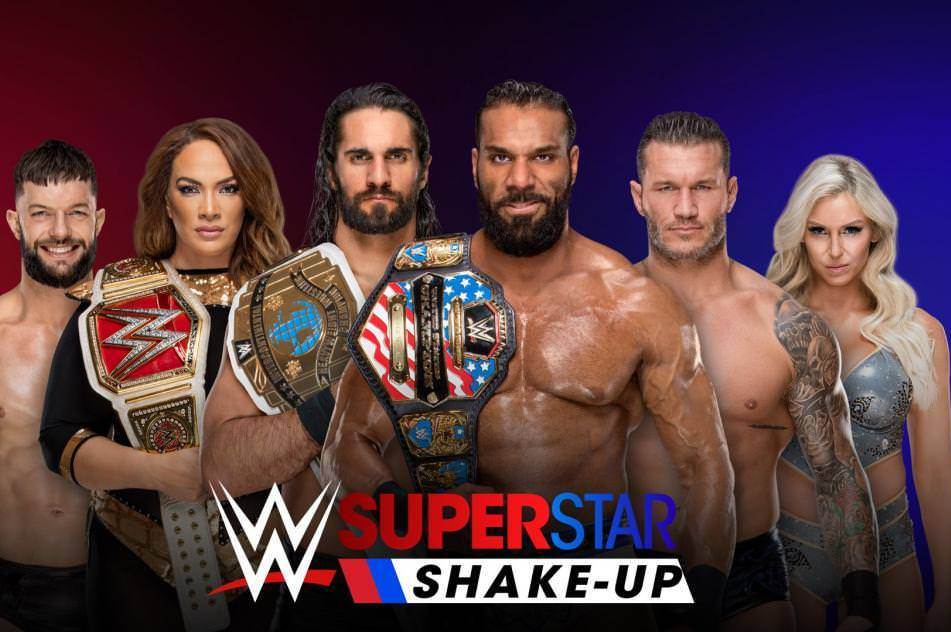 Credit: WWE.com
A transformation awaits WWE Raw on the first night of the Superstar Shake-up.
The red brand already looked quite different after the WrestleMania fallout show. Ember Moon and The Authors of Pain made the jump from NXT. Bobby Lashley returned to WWE after a decade away. Raw Superstar Paige headed to SmackDown to claim the vacant general manager spot.
Roster moves aplenty are now set to follow all that as Raw and SmackDown move around puzzle pieces during this year's Superstar Shake-up. 
WWE @WWE

Get ready to shake things up NEXT WEEK when the @WWE #SuperstarShakeup takes place on #RAW and #SDLive! https://t.co/NunCmlnOp3
The rules and format of the two-day event aren't clear. The one certainty is that a number of wrestlers are going to find new homes going from Raw to SmackDown and vice versa. Hartford, Connecticut, will host as Raw looks to balance those changes and continue to build toward the Backlash pay-per-view.
News updates, the Raw preview on WWE.com and predictions help paint an early picture of what the Superstar Shake-up will look like before it kicks off at 8 p.m. ET on USA Network.
Superstar Shake-Up News, Rumors
The 2016 Andre the Giant Memorial Battle Royal winner may not only be on the move, he may be climbing up the WWE ladder. Per the Wrestling Observer Newsletter (h/t Randall Ortman of Cageside Seats), WWE CEO Vince McMahon has a high opinion of Baron Corbin and The Lone Wolf could be in line for a push. 
Corbin won the Money in the Bank ladder match two years ago, failed to cash in and has since been a low priority on SmackDown. Is change afoot for him?

Is Baron Corbin headed to Raw?Credit: WWE.com
Asuka could be joining him on Team Red. WWE has possibly spoiled her move to SmackDown via promotional material. Marc Middleton of Wrestling Inc noted: "The Empress of Tomorrow is currently being advertised for the Sunday, June 10 blue brand live event from Tupelo, Mississippi, at the BancorpSouth Arena."
The first night of the Superstar Shake-up apparently won't be short on star power.  PWInsider's Mike Johnson reported: "Based on what we have heard today, it appears that just about every major star on the SmackDown roster will be backstage at this Monday's Raw."
Any number of possible interactions and moments are on the table if that's the case. 
Raw Shake-Up Predictions
Something is in the works for Rusev whether that is a move to a new brand or an end to his WWE run.
The Lion of Bulgaria was all set to face Undertaker at the Greatest Royal Rumble, but WWE switched things up and inserted Chris Jericho into the match instead with little explanation. Rusev has also teased a move of some kind on social media.
With a heel reigning as SmackDown's midcard champ, a leap to Raw makes sense for the powerhouse.
Absolution is likely to dissolve, freeing either Mandy Rose or Sonya Deville to move to SmackDown. The group no longer has Paige as a mouthpiece and central figure. It's now easy to imagine WWE doing away with the stable and seeing how Deville and Rose do as solo acts.
As for the most likely candidates to join the red brand, Becky Lynch, Breezango and Corbin have to be on that list.
Lynch has been largely ignored of late in The Land of Opportunity. She could use a fresh start with a new set of foes. 
Breezango was once the toast of SmackDown, but the duo's comedy segments don't air nearly as often. Raw's longer running time offers more space for Tyler Breeze and Fandango's antics.
And Corbin is spinning his wheels on Tuesday nights. If McMahon is indeed a big supporter of his, he may want to give him a boost by moving him to Raw.
Raw Preview 
While the Superstar Shake-up will be the biggest order of business on Monday, Raw still has a PPV card to construct. 
Where the recently returned Lashley fits into that is one of the biggest questions ahead of Backlash. The former Impact Wrestling world champ noted lasted week that he has "unfinished business" in WWE. He's likely to soon give us a better idea of what that means.
Sasha Banks and Bayley's story will continue on Monday as the two former best friends' relationship further splinters. 
The two have bickered and grown distant in recent weeks. Bayley has refused to accept Banks' apologies. They will now look to settle things in the ring when they face off in one-on-one action in Hartford.

Bayley will clash with Sasha Banks on Monday's Raw.Credit: WWE.com
Matt Hardy and Bray Wyatt, meanwhile, have their eyes on the Raw Tag Team Championship.
They are one win away from earning a crack at those vacant belts. Hardy and Wyatt will face The Revival in the next stage of a Tag Team Eliminator. The victors on Monday will battle The Bar at The Greatest Royal Rumble on April 27.
Ronda Rousey promises to be a major part of the show, as well.
Last week, she wrestled Raw commissioner Stephanie McMahon to the mat and wrenched her arm. That signaled that Rousey isn't quite done feuding with Raw's authority figures.
The WWE.com Raw preview teased some kind of retribution for Rousey: "The McMahons aren't known for taking disrespect lightly, so what awaits Ronda when she enters Raw on Monday?"
Is a McMahon vs. Rousey singles match on the way? Will The Billion Dollar Princess instead name a proxy to fight for her? Those questions swirl as Raw is poised to undergo a makeover on Monday night.
Breaking Sports News
via Bleacher Report – Front Page https://ift.tt/yO6Sgr
April 16, 2018 at 06:49AM