'That's Your Leverage': Don't Blame Kawhi Leonard for Taking Control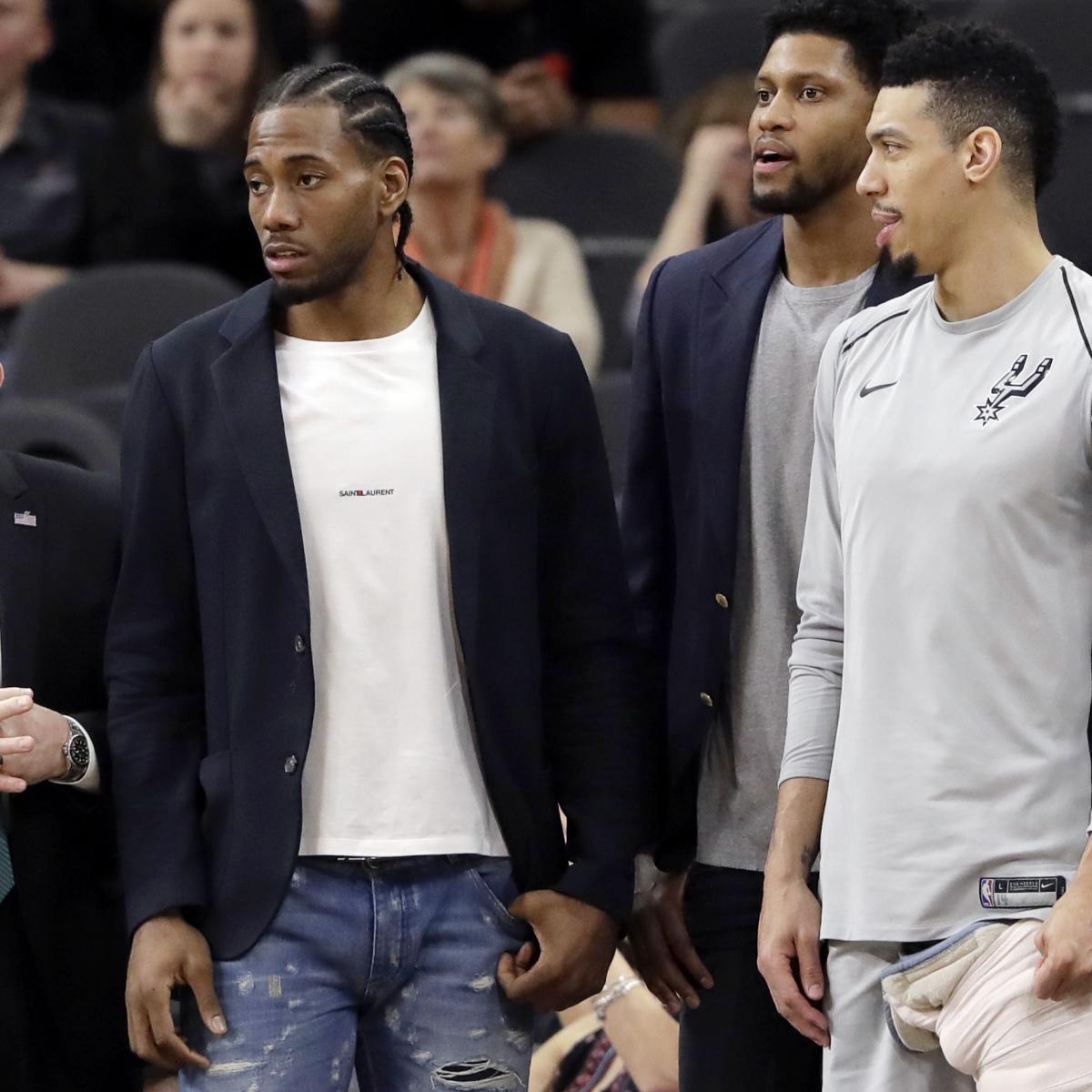 Eric Gay/Associated Press
Perennial All-Star Kawhi Leonard and the San Antonio Spurs have arrived at an unlikely impasse, with questions surrounding loyalty, trust, money and control.
Leonard's absence from the Spurs bench became a topic of discussion yet again during Saturday's nationally televised broadcast. Their relationship with their franchise player looks murkier by the day, with a report surfacing from The Vertical's Shams Charania that Leonard will continue rehab on an injured quad in New York as opposed to emerging from the shadows of ambiguity to join his team against the Golden State Warriors in the first round of the playoffs.
Spurs coach Gregg Popovich has issued statements that appear to be coded, as team doctors have apparently cleared Leonard to play. Leonard's consultation with independent doctors produced a different prognosis, as the second opinion he's sought has confirmed his feeling that he's not quite ready to return.
Popovich seems perplexed by Leonard's inactivity, and when asked about Leonard's potential availability, he told reporters, "You'll have to ask Kawhi and his group that question."

Brandon Dill/Associated Press
It's not the first time a star player and team have differing opinions, where a player has relied on outside opinions to determine the best course of action—and Leonard's future free agency comes into play, as he could exercise a player option in the 2019-20 season or hit the open market.
Leonard is taking control of his future, while the Spurs move through the present with trepidation. 
Leonard need look no further than the events of last spring when Isaiah Thomas fought through a deteriorating hip and the emotional strain caused by his sister's unexpected death to perform for the Boston Celtics.
His dream of a max contract and being the unquestioned leader of a contender was in his grasp—until his hip finally gave out and he missed the final games of the conference finals to the Cleveland Cavaliers.
Then the second-guessing began and hasn't stopped since. The max contract he craved now seems as unlikely as his rise to stardom from the last pick in the 2011 draft.
It all stems from his decision to play on an injured hip last March, believing his dedication and willingness to play hurt would result in loyalty and respect in the form of a long-term contract.
Thomas will be penalized for his sacrifices and subsequent events in and out of his control—as he probably wishes he'd put himself and fiscal potential first in hindsight.
"Look at Isaiah's situation," a Western Conference executive told B/R. "Are you kidding me? Cost that guy a whole bunch of money by coming out trying to play."

Nathaniel S. Butler/Getty Images
The Celtics traded Thomas in the Kyrie Irving deal and later dismissed longtime medical personnel who treated Thomas and advised him his hip wouldn't get worse, which he implied in an interview with ESPN's Rachel Nichols.
He consulted multiple specialists after the fact, but it's a reason why players aren't just taking the word of teams in the moment.
"A lot of these guys are starting to have their own workout people, medical people," an Eastern Conference executive told B/R, citing the work LeBron James has done with his trainers, as he played all 82 games for the first time in his 15-year career. "They're paying these guys, and a lot of times these guys have a different opinion than the team. Or present themselves as dedicated to the [player] 100 percent.

"It needs to be a collaborative effort between the team and whomever that outside entity may be. Because at the end of the day, both entities want what's best for the player."
The money has grown even greater than it has in years, making teams weary about committing nine-figure salaries to players without the certainty of availability. And the players have understood the importance of keeping their bodies properly tuned to ensure their present and futures.
Thus, both sides are often at an impasse about how to proceed. Solid relationships built on trust often become strained, even when there's no friction beforehand.
"That's your moneymaker. This is how you make a living. That's your leverage," the executive said. "If you feel that [team doctors] didn't do a good job or weren't thorough enough, I have no problem with players getting second opinions.

"For peace of mind. We're confident in our ability as an organization, we encourage that. Go get one. We're cool with that. Whatever makes you mentally comfortable, go for it."
Leonard is merely the latest to go through the gamut. And the Spurs, a franchise lauded for a lack of drama, are discovering no one is immune from such circumstances.
'Kawhi Is Not Tim Duncan'

Ronald Cortes/Getty Images
Tim Duncan set the standard for what became known as "The Spurs Way," which is understood to mean selfless sacrifice on and off the floor. The thinking went: if Duncan, arguably the best power forward of all time, set the bar high, everyone else would be held accountable. It worked—Duncan and the Spurs' five NBA titles will attest.
That extended to contract talks and taking less money than the max, or trusting the singular word of team doctors. The Spurs Way wasn't challenged.
Leonard is the best Spur since Duncan was drafted in 1997. Though his stoic outward demeanor is similar to Duncan's, the comparisons might end there.
The Spurs doctors have cleared Leonard, but he has sought second opinions from medical personnel outside the organization and hasn't been cleared from the independent doctors.
"The 'totally cleared' part? The doctors are saying they feel you can't harm the injury anymore if you play. Outside of a freak accident," the executive said. "But if you don't feel you are, it's a mental part for these guys. That's big."
Leonard can be offered a "supermax" contract this summer, a five-year deal worth up to $219 million. But rival executives feel neither the Spurs' offer nor Leonard's accepting the offer is a certainty—thus the trickiness of the Spurs' old-school ways and Leonard's modern sensibilities.
"As a player, potential free agent, that sticks a little to him," the executive said. "If you rush him, you end up with Grant Hill in Orlando."

Carlos Osorio/Associated Press
Hill was one of the game's five best players as a Detroit Piston, but he played on an ankle injury at the end of the 2000 season that should've sidelined him. It was the start of a cycle that robbed Hill of his prime years as he left Detroit for Orlando that summer. It took five years before he found his health again, and he turned into just a valuable role player as his career wound down.
One can assume Leonard doesn't want to put himself in such a vulnerable position. Injuries to Stephen Curry, Jimmy Butler and Irving are all leg issues—perhaps a byproduct of a changing game that requires more torque and cutting as offenses grow more sophisticated. It's not a stretch to say Leonard, possibly the NBA's best two-way player, needs his body at optimal condition to be the player he expects to be.
"A team or organization has you under contract," Bucks forward Khris Middleton said. "Once you're damaged goods, after a certain [number of] years they move onto the next one. You have to do the right thing and do what's best for you."
Knowing all that's at stake for Leonard, it still leaves the Spurs bewildered.
"They have their people in house, they think you can go, 'what's going on,'" the executive said. "'We're trying to make this playoff run. What more do you have to do?"
Leonard has his own medical people, and in this day and age, that isn't uncommon.
Stories about team meetings and ominous statements from longtime Spurs leaders Tony Parker and Manu Ginobili have been out of character for the notoriously private Spurs.
"Same kind of injury [as Leonard's], but mine was a hundred times worse, but the same kind of injury," Parker told reporters in late March. "I could've gone anywhere, but I trust my Spurs doctors. They have been with me my whole career."

Darren Abate/Associated Press
It was reported Leonard was on track to test the injured quad March 15, but he hasn't felt comfortable enough to play, and his doctors apparently agree with him.
"We fell for it a week ago, again," Ginobili said in late March. "I guess you [reporters] made us fall for it."
Multiple executives believe the Spurs have been using various tactics to urge Leonard to play, but to no avail.
"It's a little bit of 'how dare you,'" said another executive of the Spurs' process, as their way has been praised and copied by other teams for years.
"Kawhi is saying for whatever reason he doesn't feel ready to come back. When you try to jump into a player's body and mind, that's a slippery slope."
Leonard isn't doing things the way that has worked for the Spurs, and it appears they've yet to adapt to him—leading to all types of speculation about his present and future.
"Kawhi is not Tim Duncan, who's bought into the Spurs way, into taking less money," the executive said. "And now it's putting some egg on Kawhi's [reputation]."
But if the Spurs or other teams in similar situations don't adapt to the new rules, they'll be left with no superstar and no one worth the max—let alone one who'll take less.
NBA News
via Bleacher Report – NBA https://ift.tt/yO6Sgr
April 16, 2018 at 10:01AM