Premier League Table: 2018 Standings, Week 35 Fixtures After Week 34 Results
Premier League Table: 2018 Standings, Week 35 Fixtures After Week 34 Results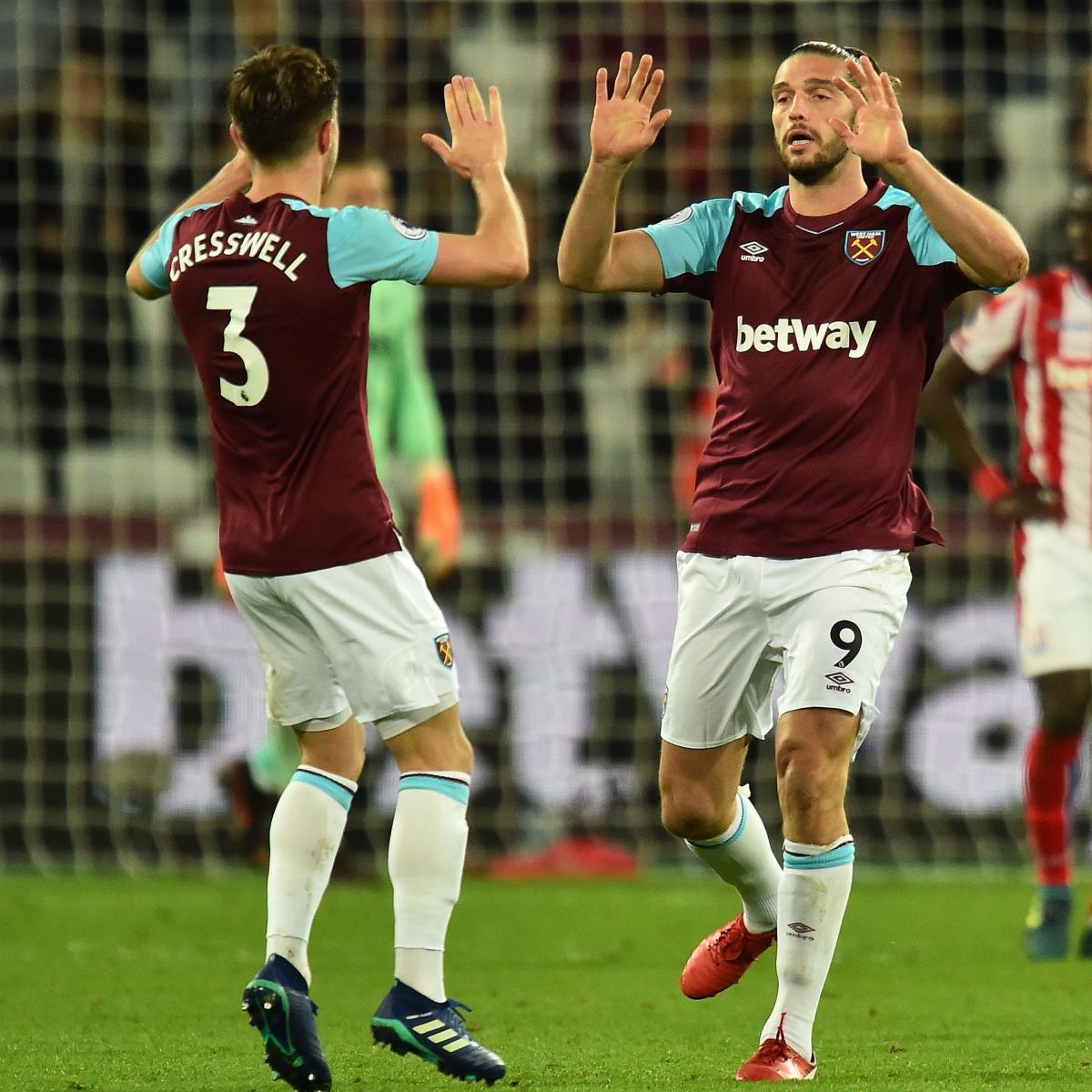 GLYN KIRK/Getty Images
After Manchester United's shock defeat to West Bromwich Albion saw Manchester City crowned Premier League champions on Sunday, the focus returned to the relegation battle on Monday.
Stoke City were desperately in need of at least a point against West Ham United to keep their survival hopes alive, and they did earn a 1-1 draw at the London Stadium.
But it was a hugely disappointing result for the Potters, who conceded to Andy Carroll in the final minute of normal time after Peter Crouch's 79th-minute strike looked to have earned them their first win in 10 matches. 
Here is what the table looks like following Week 34's final match (Team, Played, Goal Difference, Points):
1. Manchester City, 33, 68, 87
2. Manchester United, 33, 37, 71
3. Liverpool, 34, 43, 70
4. Tottenham Hotspur, 33, 35, 67
5. Chelsea, 33, 24, 60
6. Arsenal, 33, 17, 54
7. Burnley, 33, 4, 52
8. Leicester City, 33, 2, 43
9. Everton, 34, -15, 42
10. Newcastle United, 33, -7, 41
11. Bournemouth, 34, -15, 38
12. Watford, 34, -18, 37
13. Brighton & Hove Albion, 33, -15, 35
14. West Ham, 33, -18, 35
15. Huddersfield Town, 34, -27, 35
16. Crystal Palace, 34, -18, 34
17. Swansea City, 33, -19, 33
18. Southampton, 33, -20, 28
19. Stoke City, 34, -33, 28
20. West Bromwich Albion, 34, -25, 24
A midweek group of fixtures now takes place (all kick off at 7:45 p.m. BST/2:45 p.m. ET):
Tuesday, April 17: Brighton & Hove Albion vs. Tottenham Hotspur
Wednesday, April 18: Bournemouth vs. Manchester United 
Thursday, April 19: Burnley vs. Chelsea 
Thursday, April 19: Leicester City vs. Southampton 
Monday Recap
A tense and even first half at the London Stadium saw chances for both sides but no goals scored.
Hammers goalkeeper Joe Hart was forced into stops from Moritz Bauer and Mame Biram Diouf, while his opposite number, Jack Butland, was worked by Aaron Cresswell and Marko Arnautovic.
Quality was lacking, but West Ham's Austrian forward did look dangerous, per Bleacher Report's Sam Tighe:
Sam Tighe @stighefootball

Another 45 minutes of relentless attacking movements from Marko Arnautovic. On the shoulder, in the channel, in the box. He's so hard for defenders to pick up, and he creates a yard for himself so well.
And 10 minutes into the second half, Arnautovic got beyond the Stoke defence to head down and into the back of the net, but the goal was correctly ruled out for a very narrow offside.
With the tempo having increased following the break, Diouf then snatched at an attempt six yards out and skied an effort over the bar.
In the 66th minute, West Ham were denied again by the offside flag when Edimilson Fernandes fired past Butland from the edge of the area.

GLYN KIRK/Getty Images
Once again, it was the correct decision, as Arnautovic was standing in an offside position and blocking Butland's view. 
But the home fans were up and Stoke were under the cosh.
Butland was forced into another fine save from Cresswell minutes later, and the Potters could barely get out their box, let alone their half, for a 10-minute period. 
West Ham could not make their pressure tell, though, and Crouch was on hand to put Stoke ahead when they finally got forward again 11 minutes from time.
Hart spilled Shaqiri's shot from the edge of the box, and Crouch was quickest to respond, poking it past his fellow Englishman for a record-breaking Stoke goal:
Paul Lambert's side only had to hold out for the remaining 10 minutes, but they failed to do so, Carroll breaking Stoke hearts with a superb left-footed volley from the edge of the box in the 90th minute.
Breaking Sports News
via Bleacher Report – Front Page https://ift.tt/yO6Sgr
April 16, 2018 at 02:09PM