NFL Mock Draft 2018: 1st-Round Mock Draft and Top Storylines to Watch
NFL Mock Draft 2018: 1st-Round Mock Draft and Top Storylines to Watch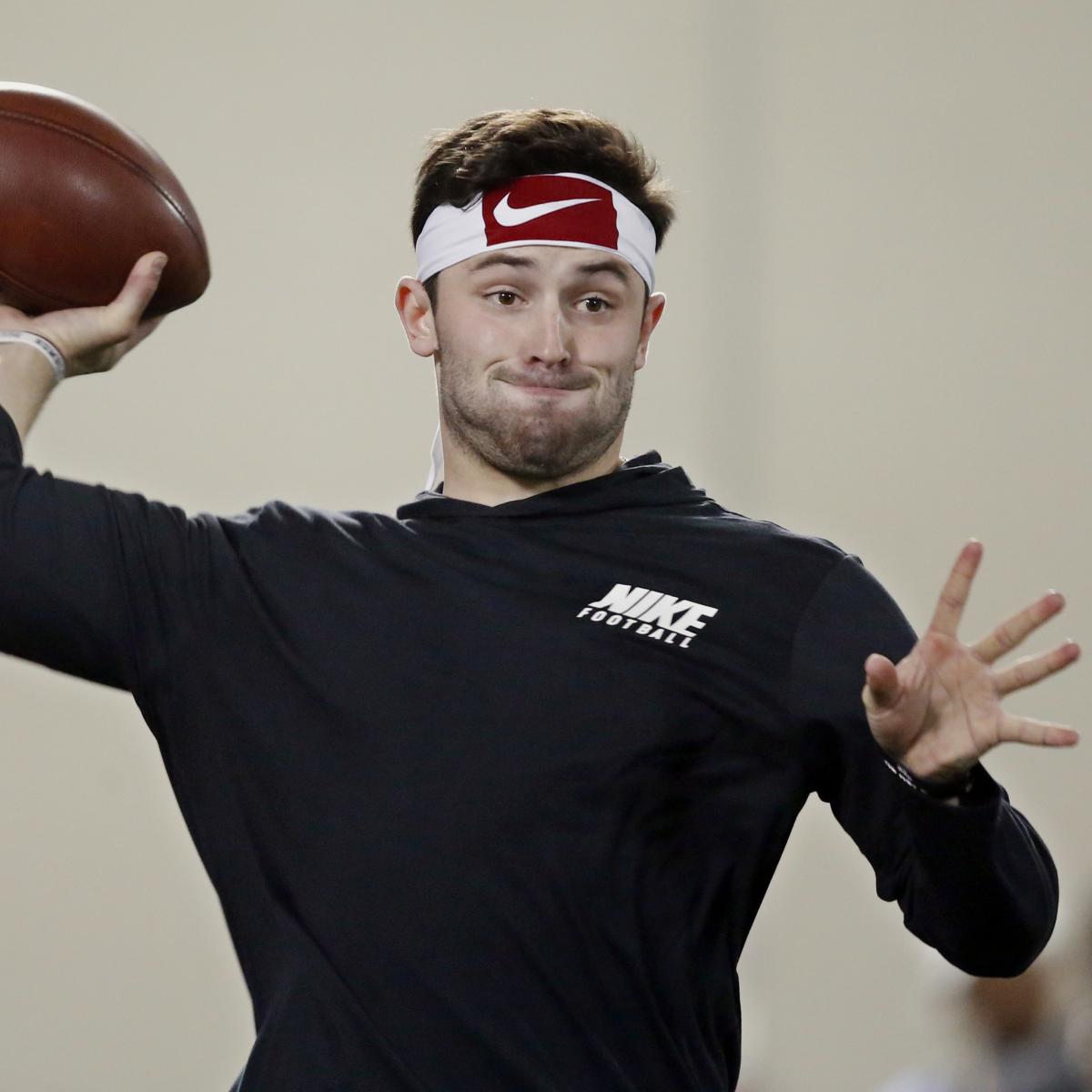 Sue Ogrocki/Associated Press
The 2018 NFL draft certainly doesn't lack for interesting storylines. 
So it goes when a draft class is finally deep at quarterback and offers some surefire prospects across the offensive line. We've seen how important this class is to teams already via a few trades allowing franchises such as the Buffalo Bills and New York Jets to move up in the order. 
Normally those sorts of moves would wait until during the draft itself, which speaks to how valuable this class is at various positions. And keep in mind this could lead to more trades during the draft as well. 
Below, let's look at an updated mock draft offering one potential take on how events could play out, then examine some of the top storylines. 
2018 NFL Mock Draft
1. Cleveland Browns: Baker Mayfield, QB, Oklahoma
2. New York Giants: Sam Darnold, QB, USC
3. New York Jets: Josh Rosen, QB, UCLA
4. Cleveland Browns (via Houston Texans): Bradley Chubb, DE, NC State

5. Denver Broncos: Josh Allen, QB, Wyoming
6. Indianapolis Colts: Saquon Barkley, RB, Penn State
7. Tampa Bay Buccaneers: Derwin James, S, Florida State
8. Chicago Bears: Quenton Nelson, G, Notre Dame
9. San Francisco 49ers: Roquan Smith, LB, Georgia
10. Oakland Raiders: Courtland Sutton, WR, SMU
11. Miami Dolphins: Minkah Fitzpatrick, DB, Alabama
12. Buffalo Bills: Lamar Jackson, QB, Louisville

13. Washington Redskins: Calvin Ridley, WR, Alabama
14. Green Bay Packers: Leighton Vander Esch, LB, Boise State
15. Arizona Cardinals: Vita Vea, DT, Washington
16. Baltimore Ravens: Harold Landry, DE/OLB, Boston College
17. Los Angeles Chargers: Tremaine Edmunds, LB, Virginia Tech
18. Seattle Seahawks: Isaiah Wynn, OT, Georgia
19. Dallas Cowboys: Mike McGlinchey, OT, Notre Dame
20. Detroit Lions: Derrius Guice, RB, LSU
21. Cincinnati Bengals: Mike Gesicki, TE, Penn State 
22. Buffalo Bills (via Kansas City Chiefs): Denzel Ward, CB, Ohio State
23. New England Patriots (via Los Angeles Rams): Billy Price, C/G, Ohio State
24. Carolina Panthers: James Daniels, OL, Iowa
25. Tennessee Titans: Da'Ron Payne, DT, Alabama
26. Atlanta Falcons: Maurice Hurst, DT, Michigan
27. New Orleans Saints: Will Hernandez, OG, UTEP
28. Pittsburgh Steelers: Marcus Davenport, DE/OLB, UTSA
29. Jacksonville Jaguars: Joshua Jackson, CB, Iowa
30. Minnesota Vikings: Isaiah Oliver, CB, Colorado
31. New England Patriots: Mason Rudolph, QB, Oklahoma St.
32. Philadelphia Eagles: Mark Andrews, TE, Oklahoma 
Top Storylines to Watch
How High Does Quenton Nelson Go? 

Michael Conroy/Associated Press
The NFL has a good problem on its hands with Notre Dame guard Quenton Nelson.
Nelson is a generational prospect, one any team in the draft wouldn't mind adding to their roster and keeping around for the next five years of more. He's 6'5″ and 329 pounds of snap-to-snap mean streak, the intelligence to move all over the place in pass protection and is likely athletic enough to play offensive tackle if asked. 
He's not shy about explaining why he should come off the board early either, according to ESPN.com's Nick Wagoner: "I think I should be talked [about] in that regard, the top-five conversation, because you have guys that are dominating the NFL right now in Aaron Donald and Geno Atkins, Fletcher Cox, that have just been working on interior guys; you need guys to stop them, and I think I'm one of those guys."
And he's not wrong. Guard is more important than ever in today's quick-passing league. Quarterbacks can step up in the pocket if a guy gets beat on the edge—they can't if the interior is collapsing and having to avoid interior pressure means risking a run to the edge.
One problem—the NFL doesn't like taking guards high in drafts. 
Picking a guard means missing out on a premium position. It could mean leaving a quarterback on the board or missing premium help such as with the pass rush via Bradley Chubb or in the defensive secondary with Derwin James. 
In the mock above, the teams in the top 10 still lean on premium positions, driving Nelson to the Chicago Bears at No. 8, where he'll have to protect Mitchell Trubisky for the foreseeable future. 
Trades? 

Gregory Payan/Associated Press
More trades are bound to pop up. 
Those Bills shipped Cordy Glenn to the Cincinnati Bengals so they could move to No. 12. In the mock above, that has them landing Louisville quarterback Lamar Jackson. But it's not so simple—the Bills still have a pair of first-round picks and could then choose to package them it yet another move up for a player of their choosing. 
The Jets also completed the deal with the Indianapolis Colts to move up to No. 3, where above they land UCLA quarterback Josh Rosen. Call it a strategical move, as it put the Jets above the Cleveland Browns at No. 4. Meaning, Cleveland might have to take a quarterback at No. 1 instead of hoping their guy falls to their second pick in the top five. 
But those Browns might not be done trading either. There's immense value in shopping the fourth pick to a team like the Bills after getting the quarterback they want with the first selection. Other teams such as the Washington Redskins at No. 13 could look to move down. 
Also, try not to forget about Bill Belichick and the New England Patriots. They added another first-round pick via the Brandin Cooks trade and have a need at backup quarterback. In a draft with four to six potential first-round quarterbacks, the front office in Foxborough might choose to move around and assure they get the guy they want.
The QBs
Quavo's Mega-Celebrity Flag Football Game

Meet the NFL's Next Alshon Jeffery

Tremaine Edmunds Is NFL Draft No-Brainer

Grading the Rams' Deal with Suh

Meet the Undisputed Top CB in the NFL Draft

Grading Jordy Nelson's Deal with the Raiders

Grading the Kirk Cousins Contract

Grading the Allen Robinson Contract

Guice Is the Superstar Prospect to Remember

Simms: Lamar Jackson Is No.1 QB in 2018 Draft

Biggest Winners and Losers from NFL Combine

Where Will Jimmy Graham Land?

Simms: Barkley Is on a Different Planet

Where Would the Dolphins Trade Jarvis Landry?

Where Will Kirk Cousins Land?

Building the Perfect QB Prospect for the Draft

James Washington Is the Top Riser at WR for NFL Draft

Eagles Fans Celebrated Exactly as You Would Expect

Melvin Gordon Keeps It Real About the Pats
Right Arrow Icon
This quarterback class seems to have it all. 
Baker Mayfield out of Oklahoma is a special talent who can extend plays with his feet, though he's viewed as a risk because of the system he played in and whether a team can properly build around his strengths. It's a similar story with Jackson out of Louisville, as his Mike Vick-esque ability to make defenders miss can win games outright, though accuracy issues will chase him to the pros. 
Speaking of accuracy issues, it's one of the biggest complaints with Wyoming's Josh Allen. He arguably has the best arm in the draft and is a stout 6'5″ and 233 pounds, yet his completion percentage was always spotty. It has led many to caution against him early in the draft: 
Allen might not be the most polarizing name though. That could go to Rosen out of UCLA in large part because of the way those in and around the NFL view some of his off-field habits and opinions. 
Somehow, USC's Sam Darnold has emerged as one of the safest prospects at the position in large part because he doesn't have any major question marks around his play. He's a pocket passer from a program used to pumping out pros and should come off the board early. 
Perhaps the most underrated quarterback in the process is Mason Rudolph out of Oklahoma State, a 6'5″, 235-pound prospect who doesn't have the liveliest arm but has shown an ability to win in the right system by leaning on play-action passes and deep attempts. 
It's a lot to keep up with right? Above, the run on the position naturally starts early and ends with six quarterbacks coming off the board in the first round, which is starting to look like one of the more predictable outcomes of the draft's first night. 
Breaking Sports News
via Bleacher Report – Front Page https://ift.tt/yO6Sgr
April 16, 2018 at 12:02PM