NFL Draft 2018: 1st-Round Order and Prospects Who Can Shake Up Draft Outlook
NFL Draft 2018: 1st-Round Order and Prospects Who Can Shake Up Draft Outlook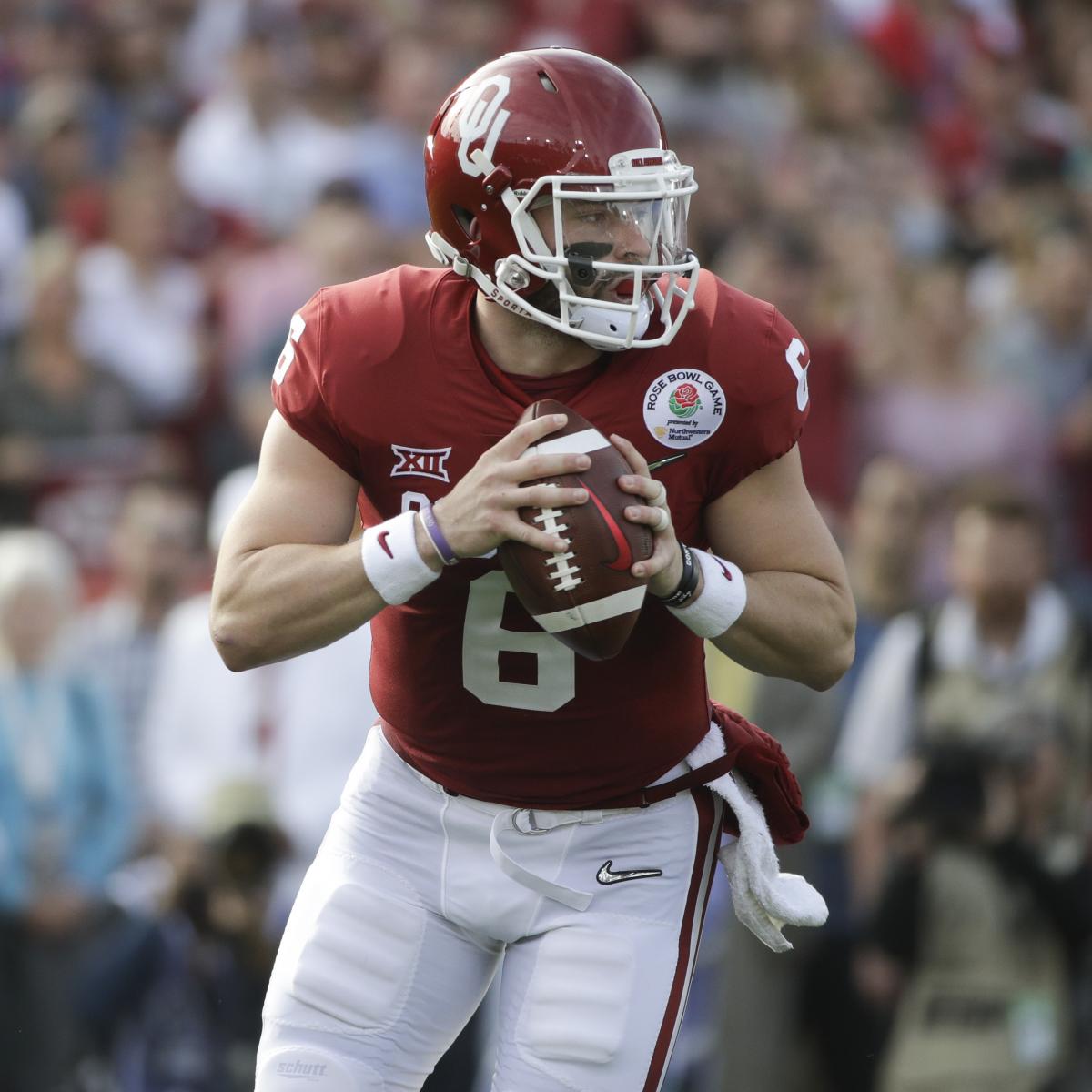 Jae C. Hong/Associated Press
With less than two weeks remaining before the 2018 NFL draft kicks off, you can almost hear the boos raining down on commissioner Roger Goodell.
The first round will commence Thursday, April 26. By the end of that Saturday, all 32 teams will have a fresh batch of youngsters itching to realize their lifelong dreams.
The talent pull is close enough that most draft stocks have lost their volatility. But after running through the first-round order, we'll highlight three prospects capable of altering the draft landscape.
2018 NFL Draft First-Round Order
1. Cleveland Browns
2. New York Giants
3. New York Jets (via Indianapolis Colts)
4. Cleveland Browns (via Houston Texans)
5. Denver Broncos
6. Indianapolis Colts (via New York Jets)
7. Tampa Bay Buccaneers
8. Chicago Bears
9. San Francisco 49ers
10. Oakland Raiders
11. Miami Dolphins
12. Buffalo Bills (via Cincinnati Bengals)
13. Washington Redskins
14. Green Bay Packers
15. Arizona Cardinals
16. Baltimore Ravens
17. Los Angeles Chargers
18. Seattle Seahawks
19. Dallas Cowboys
20. Detroit Lions
21. Cincinnati Bengals (via Buffalo Bills)
22. Buffalo Bills (via Kansas City Chiefs)
23. New England Patriots (via Los Angeles Rams)
24. Carolina Panthers
25. Tennessee Titans
26. Atlanta Falcons
27. New Orleans Saints
28. Pittsburgh Steelers
29. Jacksonville Jaguars
30. Minnesota Vikings
31. New England Patriots
32. Philadelphia Eagles
Prospects to Watch
Baker Mayfield, QB, Oklahoma

Darron Cummings/Associated Press
Baker Mayfield's numbers say he shouldn't need to wait long before hearing his name called.
He ran away with the Heisman Trophy by passing for 4,627 yards and 43 touchdowns against only six interceptions as a senior. He added another five scores on the ground while rushing for 311 yards on 97 attempts. For good measure, he even had a two-yard touchdown grab on his stat sheet.
Considering how many quarterback-needy teams are picking at the top of this draft, surely Mayfield will land with one of them, right?
Depends whom you ask, actually.
Both ESPN's Mel Kiper Jr. and Bleacher Report's Matt Miller have Mayfield going to the Denver Broncos at No. 5. Kiper's colleague, Todd McShay, has Mayfield going one pick later to the Miami Dolphins in a projected trade.
But NFL.com's experts are less bullish about the outspoken signal-caller. None of them have Mayfield going before No. 8, and three see him falling outside the top 10 (two have him 11th, the other pegs him at 12th).
Maybe the biggest knock on Mayfield is his lack of size typically seen in a top-shelf quarterback. But that didn't stop him from carving up collegiate defenses, and a similar build hasn't kept Drew Brees from having a Hall of Fame-caliber career.
Mayfield has also been knocked for perceived cockiness, but when NFL.com's Charley Casserly polled 24 teams about the top four quarterback prospects, Mayfield was universally praised for his "it factor, the competitiveness, the leadership."
Charley Casserly @CharleyCasserly

I polled 24 teams this week and asked them to rank their top 4 QB's in order. Here are the results of the poll and what teams told me about each of the QB's @NFLDraft @nflnetwork https://t.co/un3KbZSYWp
There's enough to like about Mayfield to envision a team in the top five—maybe top three—choosing him to be its franchise quarterback.
Lamar Jackson, QB, Louisville

Stephen B. Morton/Associated Press
The fanbase of Lamar Jackson includes some of the most recognizable names at the quarterback position.
The 2016 Heisman winner was just labeled "a beast" by five-time MVP Tom Brady.
Before that, Jackson was dubbed "five times better" than the college version of Michael Vick, by Vick himself.
NFL Network @nflnetwork

FIVE. TIMES. BETTER. 😳

@MichaelVick ➡️ @Lj_era8

📺: @MoveTheSticks // @BuckyBrooks https://t.co/lzv8sibtHK
It's hard to think of much higher praise than that. But that praise hasn't carried over to the mock-drafting world.
Among Kiper, McShay and Miller, Kiper has Jackson going the highest—at No. 22. McShay sees Jackson landing at No. 29, while Miller doesn't have Jackson in his first round.
Former Arizona Cardinals coach Bruce Arians thinks that's far too late. He endorsed the Cards using the 15th pick on the dual-threat quarterback in an interview with Bob McManaman of AZCentral Sports:
"That's one guy I really am intrigued with because he can spin it and he's been in a pro-style offense and he's been hard coached by Bobby [Petrino]. He brings that unique skill set, and it makes me look back at Vince Young. Vince could beat you and he was a heck of a leader. I don't know why it didn't work out for him, but listening to him now, telling his story, he's like, 'I didn't put the time in.'
"I think Lamar puts the time in. He's going to get better, and he just brings that unique ability to break the game open with his legs."
Jackson is an open-field wizard in the mold of Vick, but Jackson doesn't always get enough credit for his passing. Last season, Jackson passed for more touchdowns than Josh Rosen (27-26), threw fewer interceptions than Sam Darnold (10-13) and completed a higher percentage of passes than Josh Allen (59.1-56.3).
"It will take a creative offensive mind to unlock Jackson's full potential, but if somebody taps into it, he could have a higher upside than any other QB in the draft," Jared Dubin wrote for CBS Sports. 
Derrius Guice, RB, LSU

Darron Cummings/Associated Press
Derrius Guice might be this draft's second-best running back. That's how Miller sees things, at least.
"Guice is a natural runner with a physical, bruising style of play and the athleticism to back it up," Miller wrote. "He's powerful, fast and persistent as a runner. Teams that want a power run game will fall in love with Guice's skills."
What's unclear, though, is what being the second-best running back will mean in terms of draft position. Miller has Guice going in the second round, which meshes with the educated guesses of Kiper and McShay.
That could be a reflection of team need in the back half of the first round. It also feels late for a Marshawn Lynch clone who battled injuries in 2017 and still tallied 1,375 yards and 13 touchdowns from scrimmage.
"Don't waste your time on 2017 film because he wasn't even back up to his top speed until the bowl game," an LSU assistant coach told NFL.com's Lance Zierlein. "He will be the same player he was in 2016. If you had a grade on him after last year, you should use that."
In 2016, Guice totaled 1,387 yards (7.6 per attempt) and 15 touchdowns on 183 carries. His best tape shows an intriguing blend of violent power and breakaway speed. He can run through would-be tacklers or dance around them. His improving work in the passing game gives him three-down potential.
His draft position could have less to do with his skills than the strategies of squads on the clock. But if there's a running back capable of joining Saquon Barkley in the first round, Guice looks like the one.
Statistics used courtesy of Sports-Reference.com.
Breaking Sports News
via Bleacher Report – Front Page https://ift.tt/yO6Sgr
April 16, 2018 at 08:01AM