NBA Draft 2018: Ideal Mock Draft Selections for Every 1st-Round Team
NBA Draft 2018: Ideal Mock Draft Selections for Every 1st-Round Team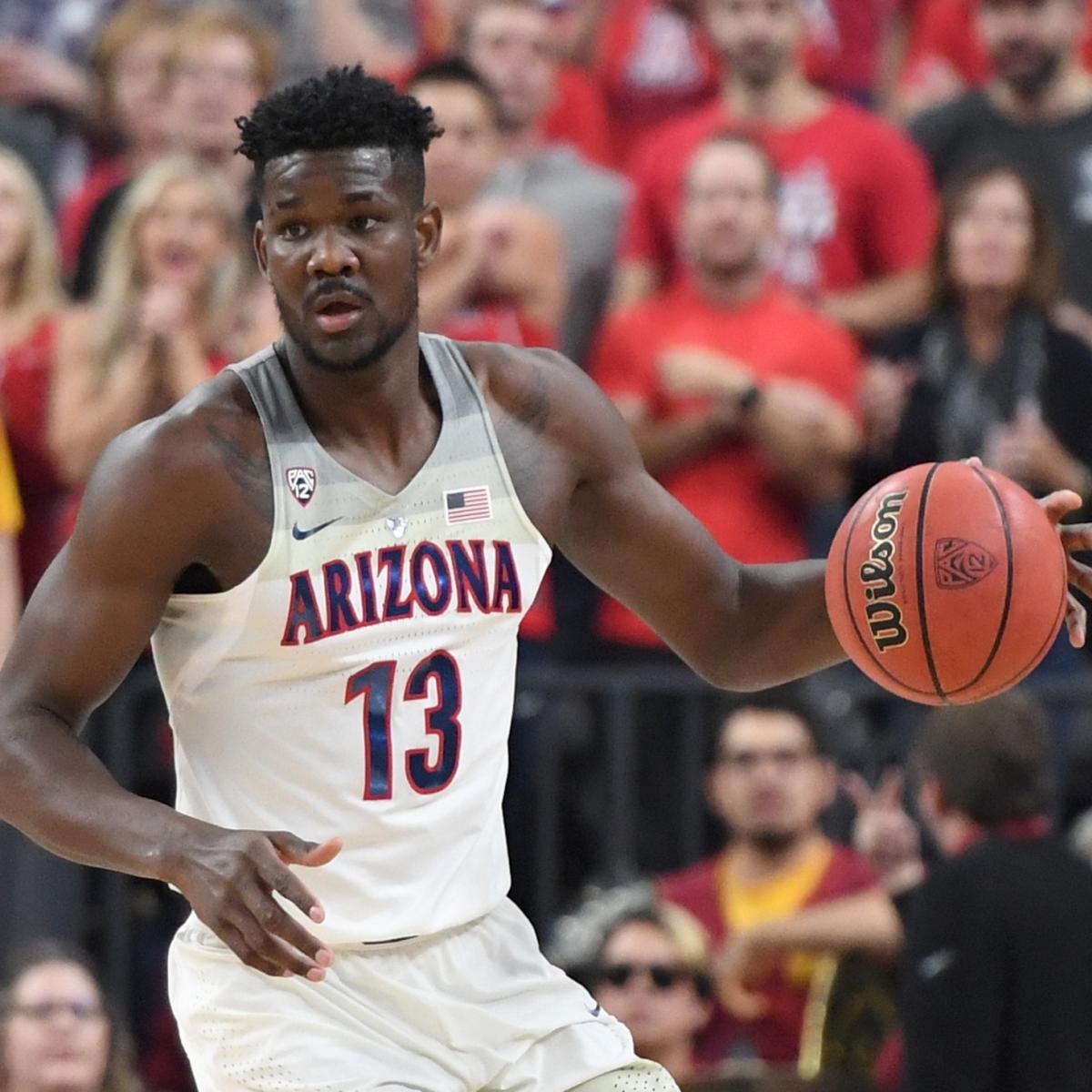 Ethan Miller/Getty Images
It's easy to lose yourself in the roundball bliss that is NBA playoff action.
But for 14 fanbases that don't have a dog in the second-season race, their hopes are tied to the upcoming draft. Luckily, it looks like a good one, boasting both top-level talent and depth.
With the draft order as clear as it can be until the May 15 lottery, let's run through a mock first round and spotlight ideal selections for three early-round drafters.
2018 NBA Mock Draft
1. Phoenix Suns: Deandre Ayton, C, Arizona
2. Memphis Grizzlies: Luka Doncic, PG/SG, Slovenia
3. Dallas Mavericks: Marvin Bagley III, PF/C, Duke
4. Atlanta Hawks: Jaren Jackson Jr., PF/C, Michigan State
5. Orlando Magic: Mohamed Bamba, C, Texas
6. Chicago Bulls: Michael Porter Jr., SF/PF, Missouri
7. Sacramento Kings: Wendell Carter Jr., PF/C, Duke
8. Cleveland Cavaliers (via Brooklyn Nets): Collin Sexton, PG, Alabama
9. New York Knicks: Trae Young, PG, Oklahoma
10. Philadelphia 76ers (via Los Angeles Lakers): Mikal Bridges, SF, Villanova
11. Charlotte Hornets: Kevin Knox, SF/PF, Kentucky
12. Los Angeles Clippers (via Detroit Pistons): Miles Bridges, SF/PF, Michigan State
13. Los Angeles Clippers: Robert Williams, C, Texas A&M
14. Denver Nuggets: Shai Gilgeous-Alexander, PG, Kentucky
15. Washington Wizards: Aaron Holiday, PG, UCLA
16. Phoenix Suns (via Miami Heat): Zhaire Smith, SF, Texas Tech
17. Milwaukee Bucks: Mitchell Robinson, C, USA
18. San Antonio Spurs: Lonnie Walker IV, SG, Miami
19. Atlanta Hawks (via Minnesota Timberwolves): Anfernee Simons, SG, IMG Academy
20. Minnesota Timberwolves (via Oklahoma City Thunder): Khyri Thomas, SG, Creighton
21. Utah Jazz: Keita Bates-Diop, SF/PF, Ohio State
22. Chicago Bulls (via New Orleans Pelicans): Troy Brown, SG, Oregon
23. Indiana Pacers: Dzanan Musa, SG/SF, Bosnia and Herzegovina
24. Portland Trail Blazers: Chandler Hutchison, SF, Boise State
25. Los Angeles Lakers (via Cleveland Cavaliers): Jontay Porter, C, Missouri
26. Philadelphia 76ers: Jacob Evans, SG/SF, Cincinnati
27. Boston Celtics: De'Anthony Melton, PG/SG, USC
28. Golden State Warriors: Grayson Allen, SG, Duke
29. Brooklyn Nets (via Toronto Raptors): Tyus Battle, SG/SF, Syracuse
30. Atlanta Hawks (via Houston Rockets): Jalen Brunson, PG, Villanova
Ideal Selections
Deandre Ayton to Phoenix
Ted S. Warren/Associated Press
The Phoenix Suns have put ample resources into finding a difference-making big.
They used the fifth pick of the 2013 draft on Alex Len. Two years later, they gave Tyson Chandler a four-year, $52 million deal. Last summer, Alan Williams got $17 million for three seasons.
If the names haven't already given this away, here's the unfortunate truth—the Suns are still shopping for centers. In fact, general manager Ryan McDonough called the position a "higher priority" than point guard, per Scott Bordow of azcentral.com, which is telling given how many floor generals have held that post for Phoenix in recent years.
But if the Suns strike lottery gold, their agonizingly lengthy search should finally come to an end. Deandre Ayton not only scratches that itch, he does so while arriving as the top prospect in this class.
Like most 19 year olds, Ayton isn't the most consistent defender. Unlike most 19 year olds, he's an athletic and sculpted 7-footer with a wealth of offensive ability who capped his only collegiate campaign with 20.1 points on 61.2 percent shooting and 11.6 rebounds per game.
"He checks essentially every offensive box for his position: he has soft touch, can face up or play with his back to the basket, his midrange shot projects nicely to the perimeter and he's also a sound passer out of double-teams," Jeremy Woo wrote for Sports Illustrated. " … It's extremely rare to find a 7-footer with his array of gifts, and Ayton is just scratching the surface."
Slot Ayton alongside Devin Booker, and the Suns have at least two cornerstones to build around—three if Josh Jackson parlays his second-half surge into a sophomore leap.
Luka Doncic to Memphis

Lefteris Pitarakis/Associated Press
How desperate were the Memphis Grizzlies for shot-creators? MarShon Brooks started his late-season Grizzlies' tenure on a 10-day deal after completing the Chinese Basketball Association campaign and promptly paced the team in scoring with 19.1 points per game. He was second on the team in shots behind Dillon Brooks, last summer's 45th pick and Memphis' fifth-highest scorer.
Granted, the former grit-and-grind crew was black-and-blue by the time Brooks arrived. But even at full-strength, this offense has struggled to find needle-movers. A healthy Mike Conley is the closest, and his breakout 2016-17 effort didn't include a top-15 finish in points or assists.
That said, Memphis has a seemingly competitive nucleus in place, provided everyone can find a clean bill of health. That means the Grizzlies are searching for both longterm upside and an ability to contribute right away. Luka Doncic answers that call as well as anyone in this draft.
"Doncic would be a dream selection for the Grizzlies because he has the size, skill and versatility to fit in well alongside all their existing talent while possessing star potential in his own right," ESPN's Jonathan Givony wrote.
Doncic, 19 years old and playing against the stiffest competition outside of the NBA, holds per-36-minute averages of 21.8 points, 7.5 rebounds and 6.7 assists. He's already a cerebral distributor, and his penchant for passing makes players better around him.
Mike Schmitz @Mike_Schmitz

9 points, 10 assists, 8 rebounds and 4 steals for Luka Doncic against Joventut. He's averaging 8.5 assists per 40 minutes over his last 10 games. Passing is his best NBA skill. https://t.co/zF0rwDM2TJ
If Memphis finds some welcome relief on the health front, it isn't hard to envision Doncic helping Conley and Marc Gasol crash the 2019 playoff party.
Michael Porter Jr. to Chicago

Jeff Roberson/Associated Press
If this scenario was presented to Chicago Bulls fans last summer, they'd have been overjoyed. They also would have assumed Chicago landed the top pick, since that's largely where Michael Porter Jr. was ranked back then.
As Joe Cowley wrote for the Chicago Sun-Times in June, this past season was about maximizing draft lottery odds and getting in Porter's range:
"That's really where the Bulls' focus is for the 2017-18 season: Get a top-four pick next June. A front-office source reiterated that to the Sun-Times last week.
"More specifically, the Bulls' ideal scenario is landing the No. 1 pick in the lottery and drafting Missouri freshman Michael Porter Jr. League scouts have touted the 6-10 forward as a can't-miss scoring machine at the next level."
There's little reason to think Porter's scouting report has changed, even if a back injury effectively prevented him from ever displaying his skills for the Tigers. He's still a three-level scorer who can create his own looks from anywhere. He has some defensive question marks, but so do Ayton, Doncic and Marvin Bagley III.
Getting Porter to the Windy City would be the best of both worlds for the Bulls. He's the player they've coveted all along and still need with a No. 1 option opening. They also didn't have to bottom out to get him, which allowed for encouraging growth signs from rookie Lauri Markkanen and sophomore Kris Dunn.
Statistics used courtesy of Basketball-Reference.com and NBA.com.
Breaking Sports News
via Bleacher Report – Front Page https://ift.tt/yO6Sgr
April 16, 2018 at 10:08AM