MLB Power Rankings: Where All 30 Teams Stand at April's Midway Point
MLB Power Rankings: Where All 30 Teams Stand at April's Midway Point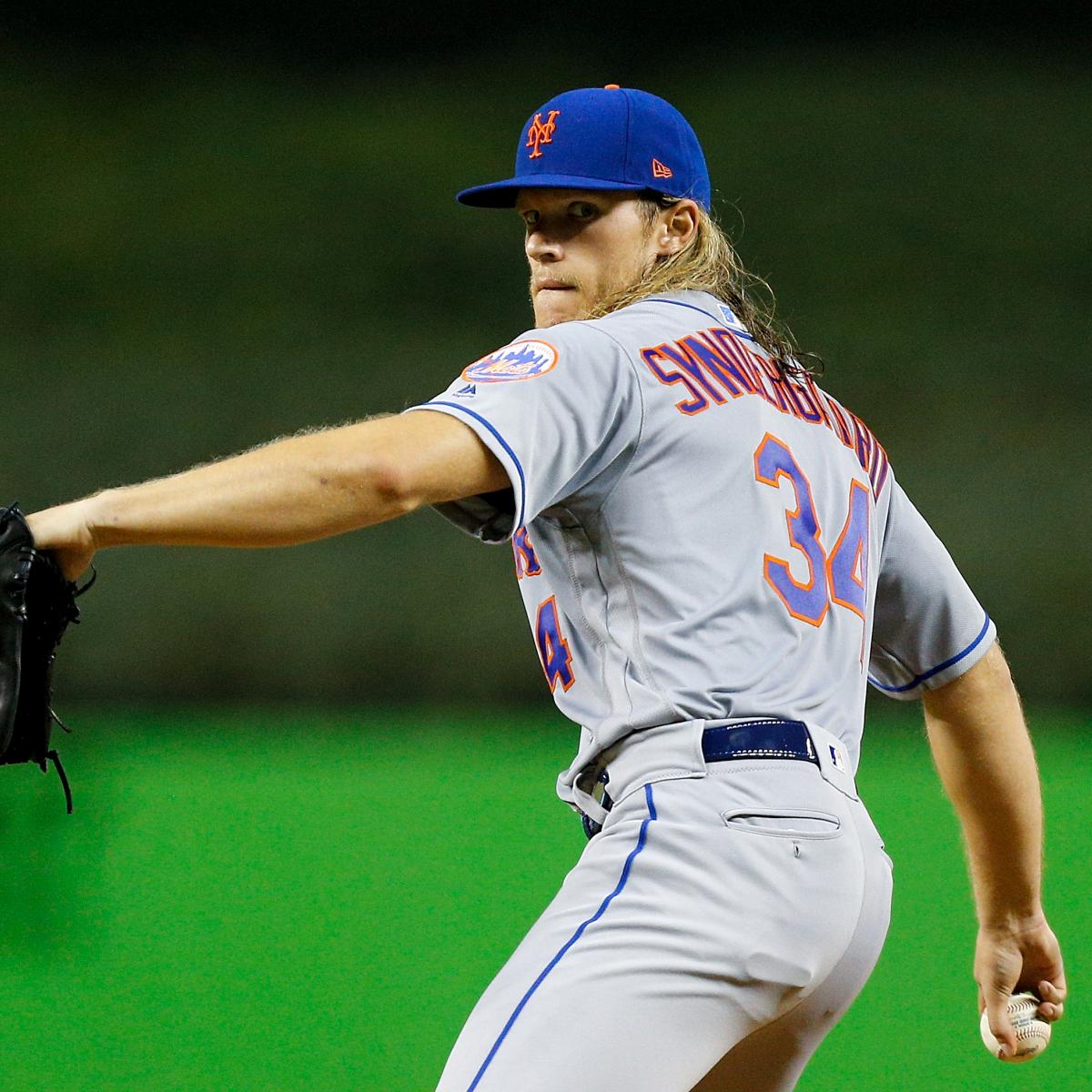 Michael Reaves/Getty Images
Inclement weather continues to be one of the biggest stories of the 2018 MLB season as a number of games were postponed last week.
However, even with unbalanced schedules and a small sample size, a handful of teams are beginning to separate themselves from the pack, and that's reflected in the latest version of our MLB power rankings.
It's important to remember in the early going that a team's potential and overall outlook will still carry significant weight. That said, you should notice more dramatic shifting in the rankings this time around as a large body of work begins to lend credence to hot and cold starts.
This remains a fluid process, with teams rising and falling based on where they were ranked the previous week. If a team keeps winning, it will keep climbing—it's as simple as that.
Here's an updated look at where all 30 teams stand heading into this week's action.
|   | Updated Rankings |   |
| --- | --- | --- |
| 1 |  Boston Red Sox (13-2) | 1 |
| 2 |  Los Angeles Angels (13-3) | 3 |
| 3 |  Arizona Diamondbacks (11-4) | 1 |
| 4 |  New York Mets (12-2) | 6 |
| 5 |  Houston Astros (10-6) | 4 |
| 6 |  Cleveland Indians (8-6) | 3 |
| 7 |  Pittsburgh Pirates (11-4) | 13 |
| 8 |  Toronto Blue Jays (9-5) | 3 |
| 9 |  St. Louis Cardinals (9-7) | 4 |
| 10 |  Chicago Cubs (7-7) | 7 |
| 11 |  New York Yankees (7-7) | 4 |
| 12 |  Washington Nationals (7-9) | 6 |
| 13 |  Los Angeles Dodgers (5-9) | 5 |
| 14 |  Minnesota Twins (7-4) | |
| 15 |  Colorado Rockies (9-8) | 3 |
| 16 |  Seattle Mariners (8-5) | |
| 17 |  Milwaukee Brewers (8-8) | 2 |
| 18 |  Philadelphia Phillies (9-5) | 5 |
| 19 |  Atlanta Braves (8-6) | 2 |
| 20 |  Texas Rangers (6-11) | 2 |
| 21 |  Oakland Athletics (6-10) | |
| 22 |  Baltimore Orioles (5-11) | 3 |
| 23 |  San Diego Padres (7-10) | 7 |
| 24 |  Tampa Bay Rays (3-12) | |
| 25 |  San Francisco Giants (6-9) | 3 |
| 26 |  Detroit Tigers (4-9) | 1 |
| 27 |  Miami Marlins (4-11) | 1 |
| 28 |  Chicago White Sox (4-8) | 1 |
| 29 |  Kansas City Royals (3-10) | 1 |
| 30 |  Cincinnati Reds (2-13) | 1 |
Teams That Impressed

Jameson Taillon has gone 2-0 with a 0.89 ERA and 0.69 WHIP for the upstart Pittsburgh Pirates.Joe Sargent/Getty Images
Let's start this week's rundown of teams that impressed with an apology of sorts for the Pittsburgh Pirates. While other strong starts led to a steady climb up the rankings, the Pirates only made it as high as the No. 20 spot heading into the week. Their early performance was met with a healthy amount of skepticism.
That said, with an 11-4 record and a plus-19 run differential, and fresh off two more series wins over the Chicago Cubs and Miami Marlins last week, it was time they received the credit they were due.
Staying in the National League, the New York Mets continued their impressive start with a sweep of the Marlins and a series win over the Milwaukee Brewers, running their win streak to nine games before losing Saturday.
The team didn't have a winning streak longer than five games all of last season. An MLB-best 2.58 ERA is largely to thank, and they'll look to keep things rolling this week as they host the rival Washington Nationals.
The Mets were not the only NL East team making noise last week. The Philadelphia Phillies deserve some attention for a perfect 6-0 week that featured series sweeps of the Cincinnati Reds and Tampa Bay Rays.
With a plus-21 run differential that ranks fourth in the NL, they could soon join the middle of the pack after climbing five spots this week.
A seven-spot climb for the San Diego Padres was as much a result of poor play from the teams around them as it was their own strong play. The team that occupied the No. 30 spot last week went 5-2 with series wins over the Colorado Rockies and San Francisco Giants. News that promising young right-hander Dinelson Lamet will need Tommy John surgery was a big blow, though.
As for AL teams on the rise, keep an eye on the 9-5 Toronto Blue Jays, who quietly slide into the top 10. An AL-best 2.38 ERA from the bullpen and an offense that's averaging 5.1 runs per game has helped them jump off to a strong start.
Speaking of offense, the Los Angeles Angels have scored 103 runs so far this season—14 more runs than any other team and good for 6.4 runs per game. At 13-3, they look like the real deal, and they join the Boston Red Sox as the early front-runners in the American League.
Teams That Disappointed

With a .122/.204/.224 line and just five RBI, Ryan Zimmerman is one of a handful of Washington Nationals players off to a slow start.Pablo Martinez Monsivais/Associated Press
Two of the biggest early disappointments come from a pair of NL favorites, as the Los Angeles Dodgers and Washington Nationals have both stumbled out of the gates.

The Dodgers close out the week with a series loss to the Arizona Diamondbacks and are now 3-7 in their last 10 games, while the Nationals lost three of four to the Colorado Rockies and have dropped nine of 12 after a 4-0 start.
The bullpens for both teams have been an issue early: The Dodgers (4.47 ERA, 22nd in MLB, 1-3, 2/5 SV) and Nationals (4.73 ERA, 26th in MLB, 0-4, 3/4 SV) will both need to do a better job slamming the door on games.
The Chicago Cubs have also scuffled early, needing a nine-run inning Saturday to split two games with the Atlanta Braves after a series loss to the Pirates. A 5.40 starters' ERA and an offense that has done its damage in bunches but struggles to find consistency are the biggest culprits.
While the Texas Rangers scored a nice series win over the Houston Astros over the weekend, the week began with a sweep to the Angels and news that shortstop Elvis Andrus would miss significant time with a fractured elbow.
At the bottom of the rankings, rough starts continued for the Cincinnati Reds, Kansas City Royals, Chicago White Sox, Miami Marlins and Detroit Tigers.
Those five teams went a combined 3-25 last week and have a minus-127 run differential. The Baltimore Orioles (-35) and Tampa Bay Rays (-33) also deserve a (dis)honorable mention.
MVPs of the Week
AL MVP: SP Corey Kluber, Cleveland Indians
Stats: 1 GS, W, 8.0 IP, 2 H, 0 ER, 1 BB, 13 K
Kluber won his second AL Cy Young award last season by going 18-4 with a 2.25 ERA, 0.87 WHIP and 265 strikeouts in 203.2 innings.
Why bring up his 2017 stats?
As impressive as those numbers were, he only had one start last year with a Game Score higher than the 90 he posted against the Tigers on Monday.
Game Score is a metric that was created by Bill James to measures the strength of a pitcher's individual performance.
Kluber will take the ball next on Tuesday against the Twins on six days rest after weather kept the Indians out of action on Saturday and Sunday ahead of an off-day on Monday.
NL MVP: SP Max Scherzer, Washington Nationals
Stats: 2 GS, 2 W, 16.0 IP, 3 H, 2 ER, 1 BB, 21 K
Not to be outdone, the reigning NL Cy Young winner also had himself a week with a pair of dominant starts:
4/9 (vs. ATL): 9.0 IP, 2 H, 0 ER, 0 BB, 10 K
4/14 (vs. COL): 7.0 IP, 1 H, 2 ER, 1 BB, 11 K
The 93 Game Score he posted in that two-hit shutout against the Braves stands as the most dominant start of the 2018 season and was better than any of the 31 starts he made last season.
Meanwhile, his Saturday start was equally impressive in its own right.
After surrendering a two-run home run to Charlie Blackmon with one out in the top of the first inning, he settled in to retire 20 in a row—striking out 10 during that span before turning it over to the bullpen with a 6-2 lead.
The cherry on top of a great week? His first career stolen base.
Video Highlights of the Week
Longest Home Run: Paul DeJong, St. Louis Cardinals
After hitting three home runs in his first four games, DeJong went 33 plate appearances without a longball before taking Austin Brice deep on Thursday.
It was worth the wait.
The 24-year-old connected on a 3-2 fastball up in the zone and crushed it an impressive 464 feet to left center field. The blast registered an exit velocity of 110.0 mph and was the longest of his young MLB career.
Best Defensive Play: Austin Hedges, San Diego Padres
"Even coming out of high school, Hedges was known as an elite defender behind the plate. … Hedges is the complete package behind the plate, with quiet hands, good footwork and a strong arm."
That was the scouting report on Hedges back in 2014 when he was the top prospect in the Padres' system, according to MLB.com. Four years later, he's lived up to the hype and quickly established himself as the one of the best in the game behind the dish.
In his first full season in the majors last year, he racked up 20 DRS and threw out 36.6 percent of base stealers. There could be plenty of Gold Gloves awaiting the 25-year-old as his career progresses.
Must-See Upcoming Matchup
Boston Red Sox vs. Los Angeles Angels (Tuesday-Thursday)

Shohei Ohtani will take the ball on Tuesday after the Angels game was postpooned on Sunday.Jae C. Hong/Associated Press
The two top teams in the AL will square off this week when the Red Sox (13-2) head to Anaheim to take on the Angels (13-3).
Shohei Ohtani (2 GS, 2-0, 2.08 ERA, 0.46 WHIP) gets the start on Tuesday opposite David Price (3 GS, 1-1, 2.40 ERA, 1.00 WHIP) in what will be the must-see game of the day.
Tyler Skaggs (3 GS, 2-0, 1.69 ERA, 1.19 WHIP) will look to continue his hot start against Rick Porcello on Wednesday, while a pair of injury-returnees meet in the series finale as Nick Tropeano takes on Eduardo Rodriguez.
The Angels (+48) and Red Sox (+42) are currently the top two teams in the majors in run differential, and both clubs have looked strong top to bottom.
The team that comes out on top in this series will have a strong claim to the No. 1 spot next week.
All stats courtesy of Baseball Reference and FanGraphs unless otherwise noted.
Breaking Sports News
via Bleacher Report – Front Page https://ift.tt/yO6Sgr
April 16, 2018 at 04:27AM