Father finds Nou Camp 'hot dog' Good Samaritan
Father finds Nou Camp 'hot dog' Good Samaritan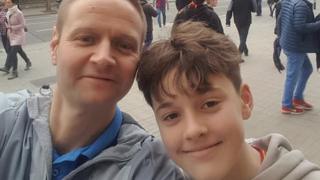 A man has found the "Good Samaritan" who helped him and his 16-year-old son when they were robbed in Spain.
Kevin Smart, 45, said he and son Max were on their way to FC Barcelona's match against Leganes last week when pickpockets took his wallet.
Dr Smart appealed on social media to find the unnamed man from Essex who paid get to their hotel and get Max a "hot dog and Coke".
The "Samaritan" – Kev Halesworth, from Little Dunmow – has since got in touch.
The Facebook status by Dr Smart from Stevenage, Hertfordshire, had been shared more than 4,000 times.
You may also like:
He said: "I was in the middle of putting my two little boys to bed when I got the Facebook message [from Mr Halesworth].
"I went downstairs and was shouting at my older son, 'Max, Max, I've found him' and he went straight on Facebook, Instagram and Snapchat – all those things teenage boys do – and told his mates."
Pharmaceutical scientist Dr Smart said he and Max arrived in the Spanish city last Saturday lunchtime and were on the underground to the match when he noticed his "wallet had taken leave from my pocket".
He found himself without any cards and unsuccessfully tried some shops to get cash via an online bank transfer to ensure they could get back to their hotel – a 10-mile (17km) walk away.
Dr Smart only had €3 (£2.59) when Mr Halesworth, who he had never met before, gave him €26 (£22.47) to "buy your son a hot dog, buy him a Coke and just enjoy yourself".
Dr Smart said when Mr Halesworth got in touch they exchanged a few messages and thanked him once more for "bailing me out of a big hole".
"I really wanted people to acknowledge and recognise something nice in the world," he added.
"You forget about the nice things and here's someone who's done a nice thing and deserves some recognition."
Dr Smart has now donated the equivalent money to a charity called – The Kawasaki Kid, which helps people with the rare Kawasaki disease.
Soccer News
via BBC Sport – Football https://ift.tt/OHg7x6
April 16, 2018 at 07:15AM