2018 NBA Mock Draft: Predictions and Analysis for Top Prospects Available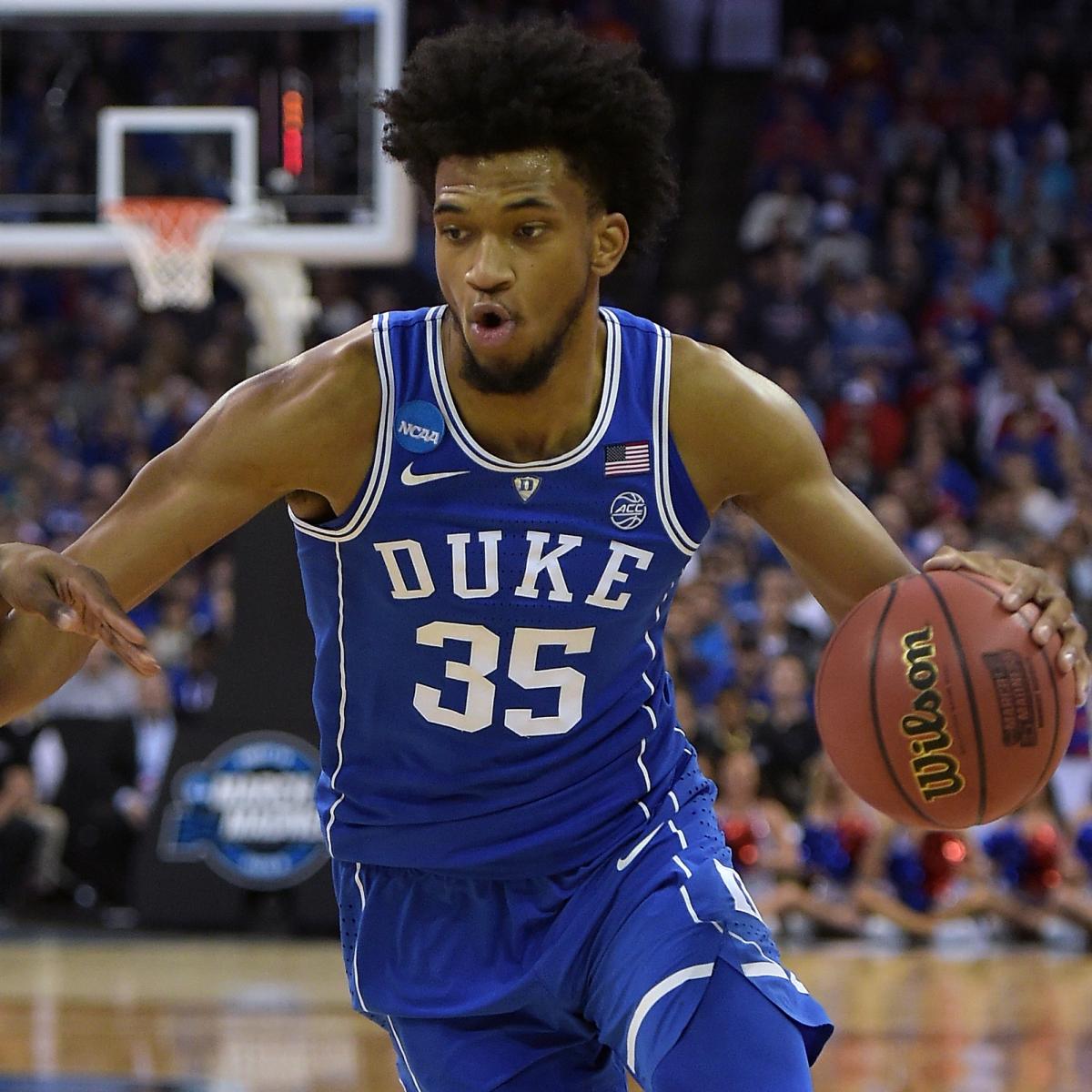 Lance King/Getty Images
The postseason is always a weird time for NBA fandom. Diehards who root for the 16 playoff teams are fully invested in the postseason, but fans for the other 14 teams may be focusing more attention on the upcoming draft and free-agency periods as they act as general managers with lottery simulators and the NBA Trade Machine.
This offseason should be particularly interesting in part due to a stacked draft class that features potential All-Star talent at all positions.
Here's a look at a mock, as well as rundowns of the top five picks in particular. Note that the top 14 draft slots will not be finalized until the lottery is held on Tuesday, May 15.
NBA Mock Draft
1. Phoenix Suns: Arizona C DeAndre Ayton
2. Memphis Grizzlies: Real Madrid PG/SG Luka Doncic
3. Dallas Mavericks: Duke F/C Marvin Bagley III

4. Atlanta Hawks: Michigan State F/C Jaren Jackson Jr.

5. Orlando Magic: Missouri SF/PF Michael Porter Jr.

6. Chicago Bulls: Texas C Mohamed Bamba

7. Sacramento Kings: Duke C Wendell Carter

8. Cleveland Cavaliers (via Brooklyn Nets and Boston Celtics): Oklahoma PG Trae Young

9. New York Knicks: Kentucky PG Shai Gilgeous-Alexander

10. Philadelphia 76ers (via Los Angeles Lakers and Phoenix Suns): Villanova SF Mikal Bridges

11. Charlotte Hornets: Texas Tech G/F Zhaire Smith

12. Los Angeles Clippers (via Detroit Pistons): Missouri C Jontay Porter

13. Los Angeles Clippers: Alabama PG/SG Collin Sexton

14. Denver Nuggets: Ohio State SF/PF Keita Bates-Diop

Remaining First-Round NBA Draft Order
15. Washington Wizards: Texas A&M C Robert Williams
16. Phoenix Suns (originally via Miami Heat): Villanova PG Jalen Brunson
17. Milwaukee Bucks: C Mitchell Robinson (Chalmette High School)
18. San Antonio Spurs: Cedevita Zagreb SF Dzanan Musa
19. Atlanta Hawks: Miami SG Lonnie Walker Jr.

20. Minnesota Timberwolves (originally via Oklahoma City Thunder): Michigan State SF/PF Miles Bridges
21. Utah Jazz: Kentucky SF/PF Kevin Knox

22. Chicago Bulls (via New Orleans Pelicans): Boise State SF Chandler Hutchison

23. Indiana Pacers: USC PG/SG DeAndre Melton

24. Portland Trail Blazers: Nevada SF Caleb Martin

25. Los Angeles Lakers (originally via Cleveland Cavaliers): Cincinnati SF Jacob Evans
26. Philadelphia 76ers: Creighton SG Khyri Thomas
27. Boston Celtics: Villanova F/C Omari Spellman

28. Golden State Warriors: UNLV C Brandon McCoy

29. Brooklyn Nets (originally via Toronto Raptors): IMG PG Anfernee Simmons
30. Atlanta Hawks (originally via Houston Rockets): Duke SG Gary Trent Jr.
Lottery Breakdown
1. Phoenix Suns: Arizona C DeAndre Ayton
With Alex Len entering free agency and Tyson Chandler soon to follow after next season, the Phoenix Suns will likely need a big man to patrol the paint.
If they have the first pick, Arizona center DeAndre Ayton seems like the best bet: The seven-foot center averaged 20.1 points and 11.6 rebounds in his one season in school. He's a dynamo down low who could step into the Suns' starting lineup immediately.
Also, the Suns were the least efficient offensive team in the league. Ayton, who made 61.2 percent of his field goals, can certainly improve that ranking. As an added bonus, the 7'1″ center also made 73.3 percent of his free throws.
2. Memphis Grizzlies: Real Madrid PG/SG Luka Doncic
Memphis Grizzlies point guard Mike Conley needs a backcourt mate, and Real Madrid combo guard Luka Doncic is the best fit. He's the highest-rated guard for many sources, including Jonathan Wasserman of Bleacher Report, Aran Smith of NBADraft.net and Sports Illustrated's Jeremy Woo.
Doncic compared himself to Rookie of the Year candidate Ben Simmons in an ESPN the Magazine article from Mina Kimes, and it's not far-fetched to believe that the 19-year-old's ceiling is that high. 
Per Basketball-Reference, he is averaging 15.1 points, 5.2 rebounds and 4.6 assists in 24.9 minutes per game (that combines EuroLeague and Liga ACB play).
3. Dallas Mavericks: Duke F/C Marvin Bagley III

With the Dallas Mavericks struggling on offense (23rd in efficiency) and on the glass (last in rebounding differential) this season, Duke freshman forward Marvin Bagley III could slide into the frontcourt and instantly provide a boost in both areas. The freshman averaged 21.0 points and 11.1 rebounds per game last season while leading the Blue Devils to the Elite Eight.

The Mavs' books are almost entirely clear after the 2018-19 season, as noted by HoopsHype, so they are in position for a complete rebuild and overhaul of their roster. Dennis Smith Jr. looks like a long-term fixture at point guard, but the frontcourt has a ton of question marks, especially with future Hall of Famer Dirk Nowitzki's career likely ending soon. Therefore, Bagley could be the right fit at the right time for the Mavs.
4. Atlanta Hawks: Michigan State F/C Jaren Jackson Jr.

Michael Cunningham of The Atlanta Journal-Constitution noted that multiple mock drafts from various experts are placing Jaren Jackson Jr. with the Atlanta Hawks.
It's easy to see why. Like the Mavericks, the Hawks had trouble on the boards, ranking sixth-worst in the league in rebounding differential. John Collins showed promise in his rookie season, averaging 10.5 points and 7.3 rebounds in 24.1 minutes per game, but the Hawks could use some more young big men.
Enter Jackson, who NBADraft.net compared to Shareef Abdur-Rahim (18.5 points, 7.1 rebounds, 19.0 PER in 12 NBA seasons). Per a DraftExpress profile, the 19-year-old has a 7'4″ wingspan, which helped him block three shots per game. He and Collins could form a young, athletic frontcourt that could make some noise next year.
5. Orlando Magic: Missouri SF/PF Michael Porter Jr.

The Orlando Magic have been in disarray for much of the time between their 2009 NBA Finals appearance and now. They just fired head coach Frank Vogel and will likely engineer another rebuild.
With the team far away from contending, a player like Missouri forward Michael Porter Jr., who missed much of last season with a back injury, makes sense. Porter will have time to develop and make up for the lost court time from last season. In addition, he'd fill a rotation gap that may be left by free-agent forward Mario Hezonja.
Porter, who ranked second on the ESPN 100 list of class of 2017 high school players prior to this season, offers a lot of intriguing potential as a 6'10" small forward. Wasserman compared him to Boston Celtics forward Gordon Hayward in terms of potential.  
NBA News
via Bleacher Report – NBA https://ift.tt/yO6Sgr
April 16, 2018 at 05:11AM