Brighton Marathon 2018 Results: Men's and Women's Top Finishers
Brighton Marathon 2018 Results: Men's and Women's Top Finishers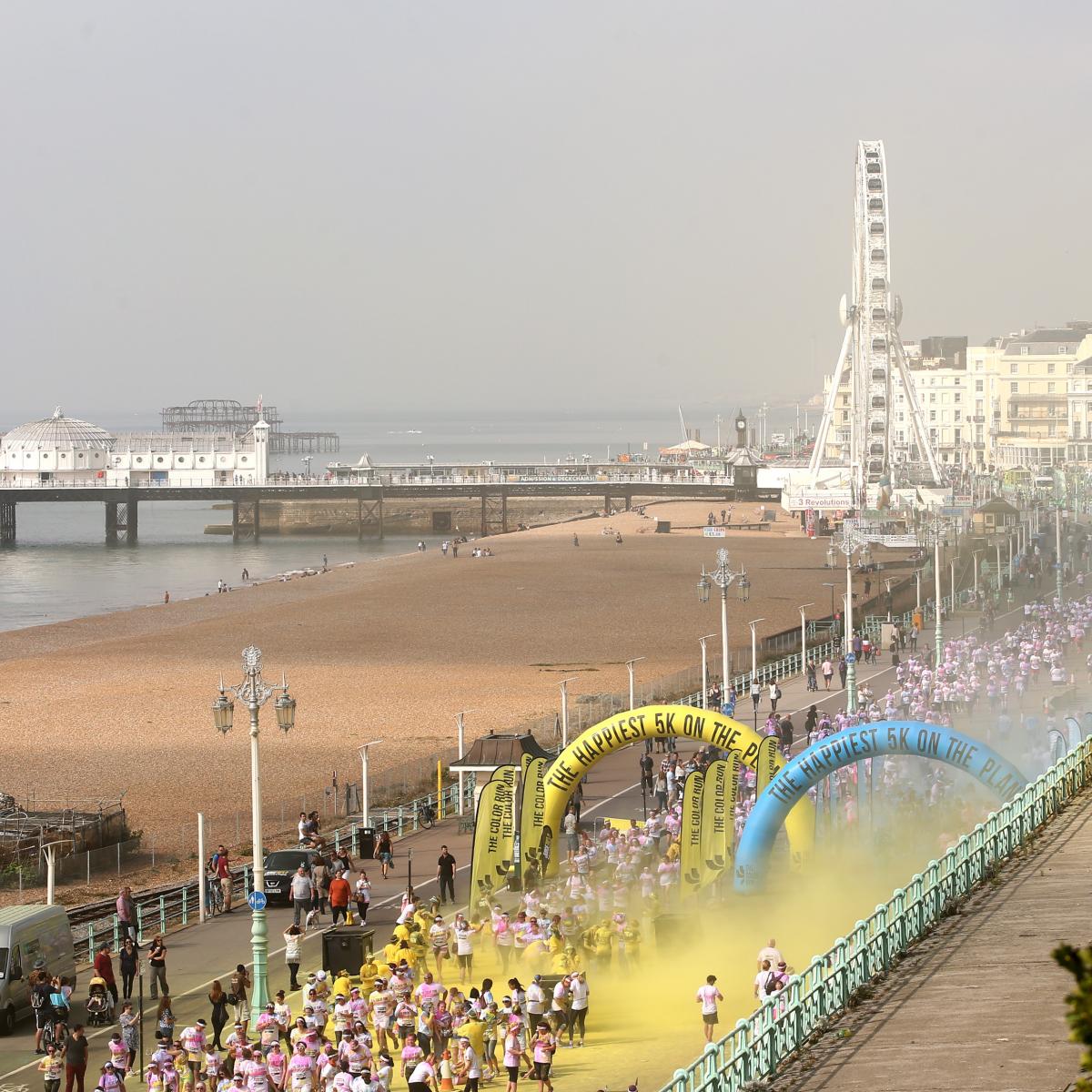 Jordan Mansfield/Getty Images
Stuart Hawkes emerged victorious in the 2018 Brighton Marathon with a time of two hours, 22 minutes and 34 seconds on Sunday, retaining his title and beating last year's winning time by more than five minutes.
Hawkes became the first English runner to win the marathon in 2017 and edged Dan Nash—who had led the race from the first mile—with a personal-best time in the final stretch to make it two victories in as many years.
Per runner biography website Strava.com, Hawkes' best marathon time prior to Sunday's triumph was two hours, 26 minutes and 53 seconds, making this his new best time by a big distance. BBC Sussex's Neil Munday captured his winning moment:
Neil Munday @MCNeilMunday

Stuart Hawkes crosses the finish line at Brighton in first place closely followed after a tight race by Dan Nash. @BBCSussex @BBCSurrey #Brighton https://t.co/QNuDcLRXVx
Helen Davies was the fastest woman to finish and ran across the line in two hours, 38 minutes and 43 seconds, making it two athletes from two to retain their crowns in Brighton on Sunday.
And, like Hawkes, Davies kept her title while beating last year's time by a significant margin of three minutes and 57 seconds, per Athletics Weekly:
Athletics Weekly @AthleticsWeekly

Helen Davies retains Marathon crown in Brighton with clear win #Brightonmarathon2018 https://t.co/u2cHOw7Eg4
More than 12,000 runners turned out on England's south coast for one of the sunnier locales in the country's marathon circuit, and the dry conditions held up well for the 26.2-mile journey, via the BBC's Sara Smith:
Sara Smith @SaraSmithTV

The elite athletes are on their way… #BrightonMarathon @bbcsoutheast https://t.co/9Vl2RRsxOh
Cardiff runner Nash set off from the start at Preston Park as the early leader and maintained an advantage for the overwhelming majority of the race.
Approaching the halfway stage of the race, he held a lead of around one-and-a-half minutes over Hawkes and the rest of the chasing pack, which included locally based runners Jeff Pyrah and Kevin Rojas.
Crisis threatened when nature called for Nash, however, at the 12th mile:
Brighton Marathon Weekend @BrightonMarathn

BREAKING NEWS!!! Lead runner Dan Nash had to dash to the toilet!!! Back racing and is still in the lead! #BrightonMarathon
That was the first of two toilet breaks for Nash in the space of three miles, per the Brighton Marathon Twitter account, although he was able to retain the lead nonetheless.
Hawkes advanced his pursuit and was neck-and-neck with Nash entering the final mile, where in similar tactics to last year, he made a clinically timed press for the win. He had praise for close competitors and second-place finisher Nash post-race:
Neil Munday @MCNeilMunday

@NickyPatrick1 @BBCSurrey @BBCSussex speaks to #Brighton Marathon winner Stuart Hawkes. https://t.co/de2wBRraCH
Davies did what Nash could not and managed to keep her cushion out in front for the closing stages of the race, with Sarah Webster the woman closest on her tail for great portions.
However, Ipswich's Davies didn't fade and held on to blast her 2017 time out of the water, while Webster went on to finish second in a time of two hours, 48 minutes and three seconds, almost 11 minutes slower than the women's victor.
Breaking Sports News
via Bleacher Report – Front Page https://ift.tt/yO6Sgr
April 15, 2018 at 05:09AM