NFL Mock Draft 2018: Predictions, Analysis for Combine Stars and Top Prospects
NFL Mock Draft 2018: Predictions, Analysis for Combine Stars and Top Prospects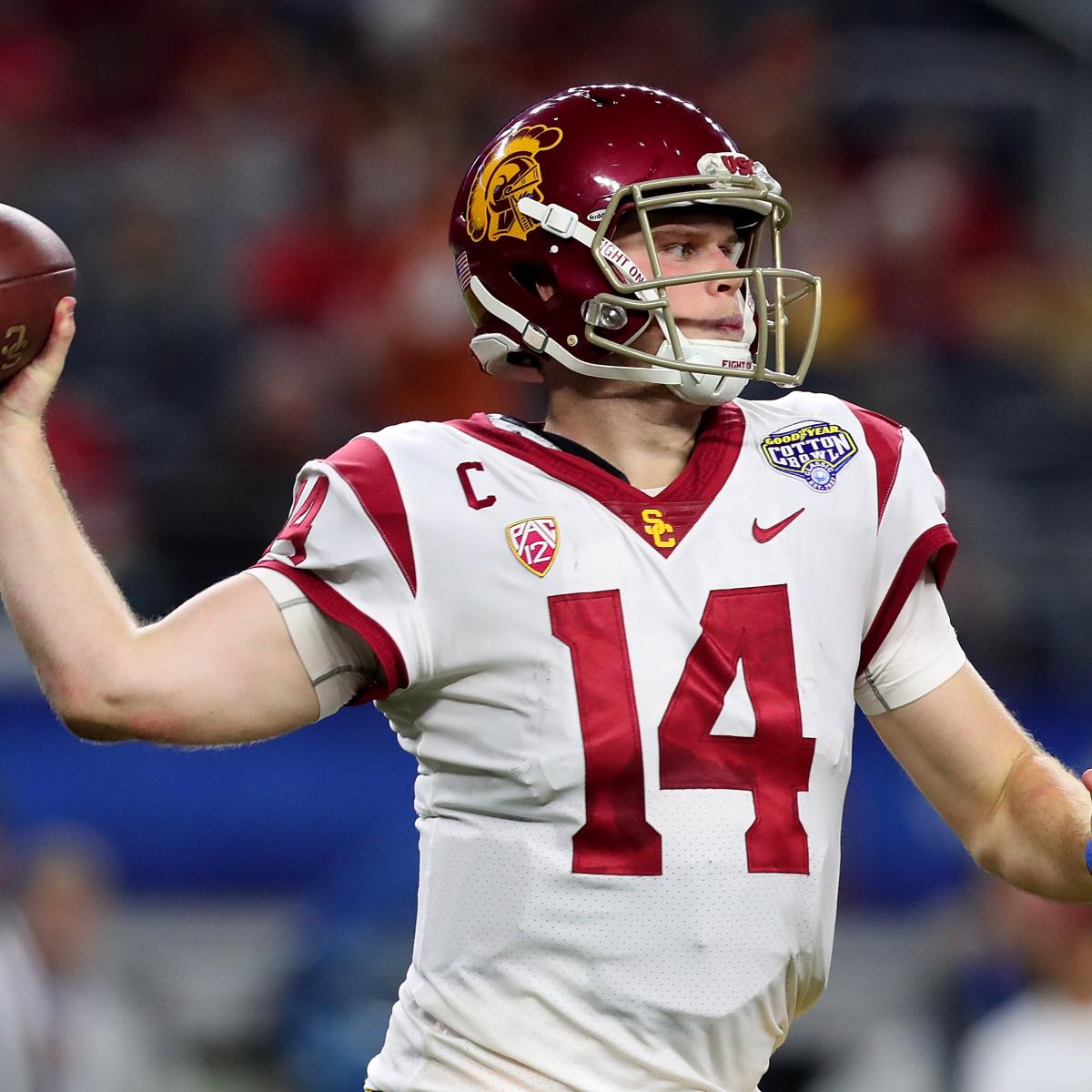 Tom Pennington/Getty Images
The 2018 NFL draft is starting to come into focus with the NFL Scouting Combine now in the rear-view mirror.
The New York Jets made a preemptive strike to move inside the top five in a trade with the Indianpolis Colts, likely targeting one of the class' prized quarterback prospects.
While there could still be more wheeling and dealing before the draft kicks off April 26 at AT&T Stadium in Arlington, Texas, most of the prospects have settled into a range where they will likely fall. Their private workouts and interviews with teams could push them toward the higher or lower ends of that range.
So let's check out an updated mock draft of the first round. That's followed by a closer look at some of the most intriguing fits outside the top 10.
Round 1 Mock Draft
1. Cleveland Browns: Sam Darnold, QB, USC
2. New York Giants: Saquon Barkley, RB, Penn State
3. New York Jets (from IND): Josh Rosen, QB, UCLA
4. Cleveland Browns (from HOU): Bradley Chubb, DE, NC State
5. Denver Broncos: Baker Mayfield, QB, Oklahoma
6. Indianapolis Colts (from NYJ): Quenton Nelson, OG, Notre Dame
7. Tampa Bay Buccaneers: Minkah Fitzpatrick, FS, Alabama
8. Chicago Bears: Denzel Ward, CB, Ohio State
9. San Francisco 49ers: Derwin James, SS, Florida State
10. Oakland Raiders: Josh Jackson, CB, Iowa
11. Miami Dolphins: Maurice Hurst, DT, Michigan
12. Buffalo Bills (from CIN): Josh Allen, QB, Wyoming
13. Washington Redskins: Vita Vea, DT, Washington
14. Green Bay Packers: Courtland Sutton, WR, SMU
15. Arizona Cardinals: Lamar Jackson, QB, Louisville
16. Baltimore Ravens: Roquan Smith, ILB, Georgia
17. Los Angeles Chargers: Tremaine Edmunds, ILB, Virginia Tech
18. Seattle Seahawks: Mike McGlinchey, OT, Notre Dame
19. Dallas Cowboys: Calvin Ridley, WR, Alabama
20. Detroit Lions: Da'Ron Payne, DT, Alabama
21. Cincinnati Bengals (from BUF): Jaire Alexander, CB, Louisville
22. Buffalo Bills (from KC): Marcus Davenport, DE, UTSA
23. Los Angeles Rams: Harold Landry, OLB, Boston College
24. Carolina Panthers: James Washington, WR, Oklahoma State
25. Tennessee Titans: Ogbonnia Okoronkwo, DE, Oklahoma
26. Atlanta Falcons: Taven Bryan, DT, Florida
27. New Orleans Saints: Dallas Goedert, TE, South Dakota State
28. Pittsburgh Steelers: Ronnie Harrison, SS, Alabama
29. Jacksonville Jaguars: Christian Kirk, WR, Texas A&M
30. Minnesota Vikings: Kolton Miller, OT, UCLA
31. New England Patriots: Derrius Guice, RB, LSU
32. Philadelphia Eagles: Brian O'Neill, OT, Pittsburgh
Best Fits Outside Top 10
12. Buffalo Bills: Josh Allen, QB, Wyoming
The Bills started their revamp of the quarterback position by trading Tyrod Taylor to the Cleveland Browns and signing AJ McCarron away from the Cincinnati Bengals as a free agent. They will continue to look for the long-term answer under center, though.
Allen remains a raw talent, so Buffalo would likely take a season to evaluate exactly what they have in McCarron, but he's got a promising skill set. Along with a prototypical 6'5″ frame, he's got a rocket for a right arm and enough speed to make plays with his feet if needed.
In addition, Pro Football Focus' draft feed showcased how the Wyoming standout likes to utilize the middle of the field:
That was a feature of Taylor's game some took issue with, and Allen's big arm will come in handy in the often-windy Buffalo conditions. Not being forced to start Day 1 should increase his chances of success too. The key question is whether the Bills, who already acquired this pick from the Bengals, may look to move up again to target Darnold or Rosen.
16. Baltimore Ravens: Roquan Smith, ILB, Georgia
The Ravens defense was serviceable last season, ranking 12th in the NFL in yards allowed per game, but it's no longer the dominant unit that carried the franchise for so long. Drafting a field general like Smith would go a long way to getting back on that level.
He racked up 137 total tackles, 6.5 sacks and two fumble recoveries for Georgia last season. His ability to make plays from sideline to sideline, whether stepping up against the run or dropping into coverage, makes him an ideal linebacker for today's NFL.
The 2017 Butkus Award winner talked about how he developed into an elite college defender during his combine media session.
"My relentless pursuit," Smith told reporters. "I believe in that. I was always taught, if you start something, finish. And take advantage of every opportunity. And tomorrow is not promised. If it's my last play that I ever play, how do I want to go out? So I feel like every play, I treat like it's my last play. And I bust my tail like I don't have a next play."
That sounds like a quote from Ray Lewis, who led the Baltimore defense with fire and passion for nearly two decades. The Ravens can't place those expectations on Smith, but the talent is there for him to provide a massive boost in the middle for years to come.
19. Dallas Cowboys: Calvin Ridley, WR, Alabama
Dez Bryant hasn't produced like a No. 1 wide receiver since 2014. Although his physical abilities may have slightly diminished because of injuries, don't discount the lack of support in the Dallas receiving corps for the decline in production.
Terrance Williams isn't a fearsome secondary target, and the Cowboys haven't created much depth at the position either. That has given opponents the ability to take Bryant away with coverage schemes. Ridley would make it much tougher for that to happen.
It's worth noting the Alabama product isn't an athletic marvel. Kent Lee Platte of the NFL Scout Hub provided his mundane combine numbers:
Kent Lee Platte @MathBomb

Calvin Ridley stood on his relatively poor combine numbers. Has a lot of fans of his tape, so a poor #RAS may not mean much to opinions, but grain of salt should be had. https://t.co/IU87iVEqIt
That may cause him to slide a bit from after some top-10 buzz. His film shows a player capable of eventually becoming a No. 1 receiver in the NFL, though. He runs crisp routes and has nice small-area quickness to create separation on mid-level routes.
Those skills would not only make Ridley a much-needed second weapon on the outside for Dallas, but they should help Bryant enjoy a bounce-back 2018 campaign.
Breaking Sports News
via Bleacher Report – Front Page https://ift.tt/yO6Sgr
March 24, 2018 at 12:04PM