WWE SmackDown Results: Biggest Winners, Losers and Moments from March 13
WWE SmackDown Results: Biggest Winners, Losers and Moments from March 13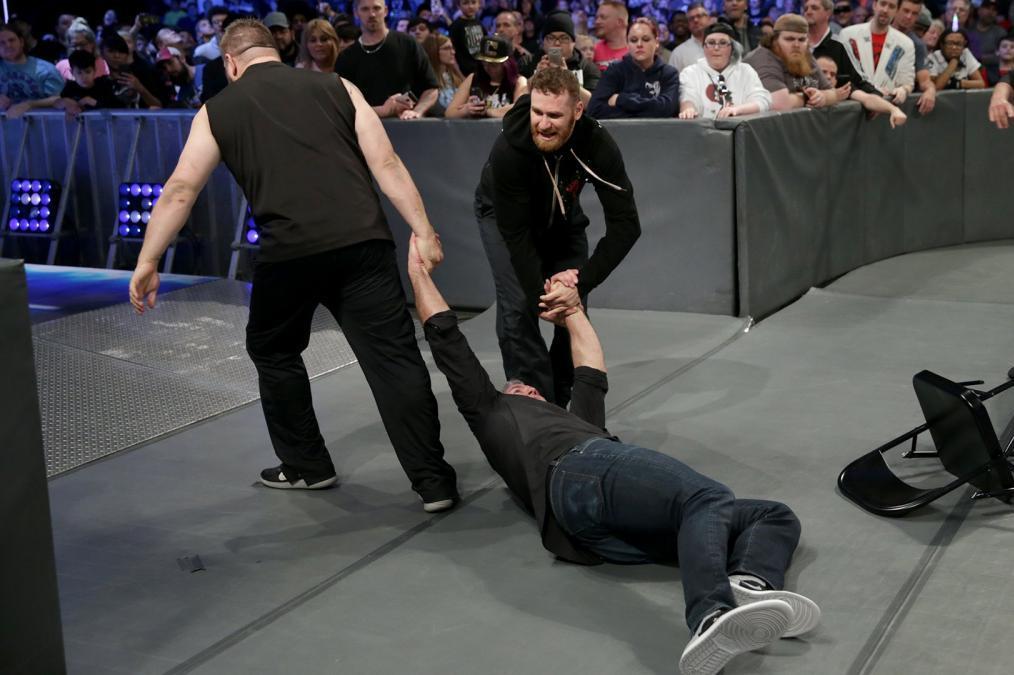 WWE SmackDown Results: Biggest Winners, Losers and Moments from March 13
0 of 4
WWE Fastlane 2018 began to define the Road to WrestleMania for WWE SmackDown, setting matches including AJ Styles vs. Shinsuke Nakamura and Charlotte Flair vs. Asuka while alluding to other likely bouts involving the SmackDown Tag Team Championships and United States Championship.

Spots are filling up which left many stars fighting for any opening available on the March 13 edition of SmackDown Live. Without their matches confirmed, The Bludgeon Brothers and Jinder Mahal continued to dominate their potential title opponents with brute strength and cunning tactics.

On the other hand, Rusev was just one of many who continues to look like he might be running out of avenues for success, booked only to lose another match. Meanwhile, Shane McMahon tried to step out of the way of Kevin Owens and Sami Zayn only to take a beating.

These winners are defining their opportunities for glory at The Showcase of the Immortals while the losers may be running thin on time. Every week counts especially during the most important time in WWE.
Loser: Rusev
1 of 4
This week, Rusev faced WWE champion Styles and lost by disqualification thanks to Aiden English running in to protect him. While no one is hurt by losing to The Phenomenal One, Rusev continues to spin his wheels with WrestleMania approaching.

He is playing heel for Styles and Nakamura to play off while 'Mania spots fill up. What will be left when the two move on from The Bulgarian Brute? It is hard to find a spot for Rusev beyond a potential filler role in the Andre the Giant Memorial Battle Royal.

Rusev Day has become a true movement in the WWE Universe with fans giving the Bulgarian bigger reactions with every appearance. Moreover, he is putting on some of the best matches of his career right now, giving Nakamura his best match on WWE pay-per-view so far.

There is no reason for The Super Athlete to be left out of the action even on a jam-packed card. It is possible fans would even turn on major matches if Rusev missed a meaningful spot on the card at the height of his popularity.

With a second loss on Tuesday in the Mixed Match Challenge, Rusev's status clearly has not risen as much as he deserves for getting over. The biggest hope at this point is he could be pegged to win the battle royal and start a big push post-Mania.
Winners: The Bludgeon Brothers
2 of 4
Jimmy Uso and Big E may have been odd bedfellows, but it does not take away from just how effortlessly Harper and Rowan ran over two top stars on SmackDown Live. The Bludgeon Brothers dominated once again, solidifying their role as title contenders.

The duo have been positioned for a title match for a while, but it was not clear until Fastlane that the match would include New Day as well. The story has evolved quickly and viciously as the two top teams on SmackDown try to overcome a new force coming for them both.

These reborn monsters look completely unstoppable at the moment, and it's great to see them on top again. Both Harper and Rowan are phenomenal big men who have been put through the ringer over the years. Their newest role looks like it could be their best yet.

It could be argued that these guys deserved better with Harper especially in an ideal spot for a single run last year around this time. However, WWE has shown little faith in either man as a singles star while giving them huge spots as a tag team.

The Bludgeon Brothers facing both The New Day and The Usos should be electric. These are the most talented tag teams on SmackDown, and they may only be matched by Sheamus and Cesaro on Raw. It will be a war at 'Mania like no other.
Winner: Jinder Mahal
3 of 4
Mahal continues to dominate the United States Championship scene without being given a match, earning his title of the uncrowned US champion. This week, Bobby Roode was distracted by Sunil Singh and took a Khallas, which gives The Modern Day Maharaja wins over Roode and Randy Orton in recent weeks.

It is hard to imagine this is not building to a triple threat for the US title, which should be a solid match for the undercard on the Grandest Stage of Them All. It is remarkable that, in all his years in WWE, this would be the first time Mahal would ever compete at WrestleMania on the main card.

Orton and Roode are talented top stars that will continue to be a major part of WWE for years to come. Both will likely be competing for the world title in 2018. This coming match might even be the ideal way to shift the title to Mahal, who works best in the midcard title scene.

This story surprisingly did not change much from last week despite Orton taking the title from Roode at Fastlane. Now it will be interesting to see if Mahal's success finally translates to the title shot he has been aiming for.
Loser: Shane McMahon
4 of 4
Shane walked into SmackDown this week as commissioner and left on a stretcher without that title. It was a rough night for the McMahon son, who wanted to step away from action for a while to regain his composure.

His last act as commissioner was to book Kevin Owens vs. Sami Zayn on the Grandest Stage of Them All, but, despite the animosity between the friends, they joined forces to tear down Shane again, beating him brutally to end the show.

It was a tough scene to watch with no one coming to the aid of Shane. This certainly will lead to severe repercussions with general manager Daniel Bryan returning to the brand next week. It is likely Owens and Zayn won't get their promised match at the Show of Shows.

This was a good way to jump-start this feud, which has been growing stale. Owens and Zayn finally made it personal again with an attack that should be a great highlight on the WrestleMania package for the inevitable tag team match that will come out of this angle.

Who will come to Shane's aid in this conflict with Owens and Zayn? That's less certain right now. Best guess would be Dolph Ziggler, who needs a spot on the 'Mania card and is more likely to take Shane's side than other stars not booked such as Baron Corbin.
Breaking Sports News
via Bleacher Report – Front Page http://ift.tt/yO6Sgr
March 14, 2018 at 06:48AM