Stephen Curry, Golden State Warriors Facing Toughest Title Run Yet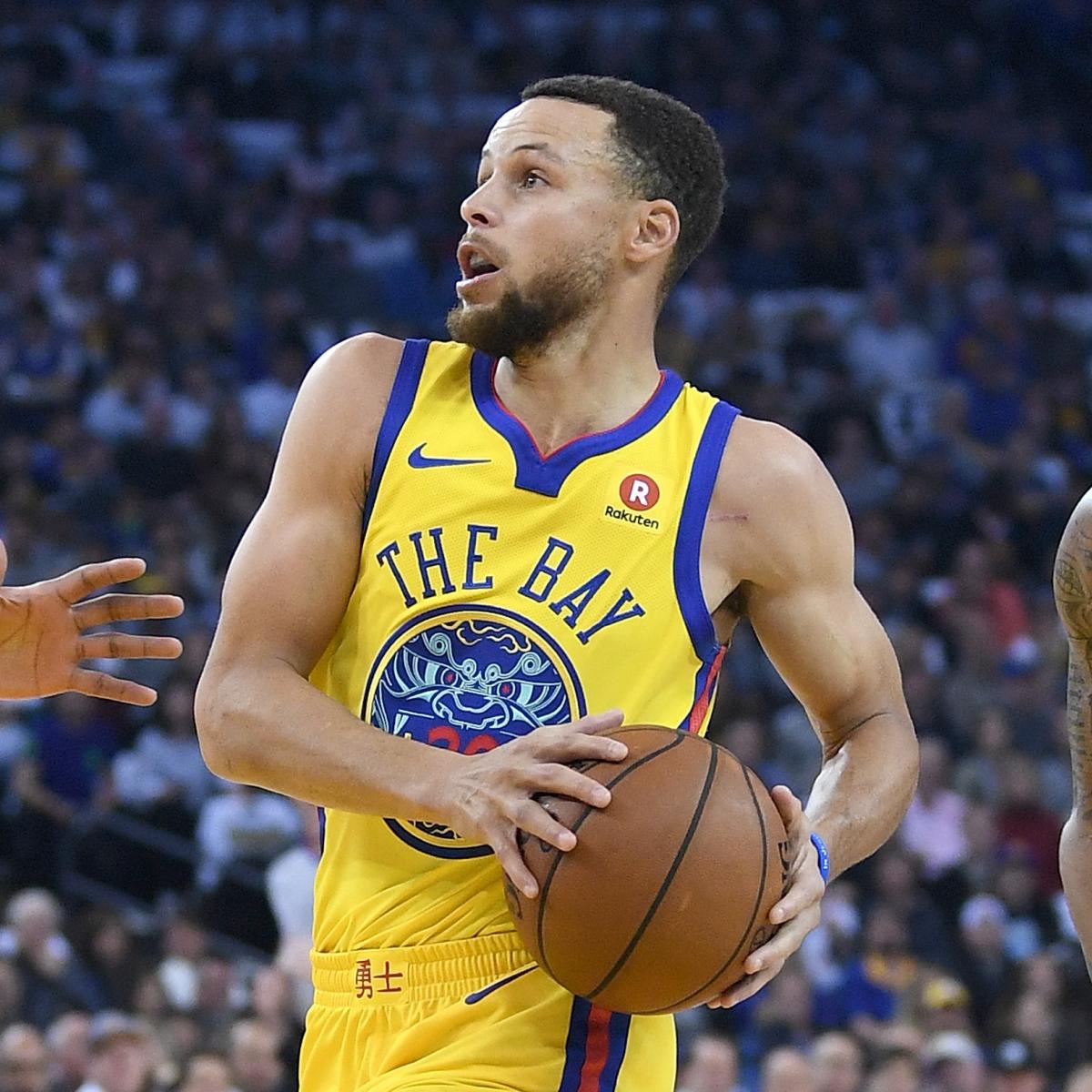 Thearon W. Henderson/Getty Images
If it's almost spring, it must be time to panic about the Golden State Warriors.
That's what we all did last year at this time, when on March 11, 2017, the Dubs dropped their fifth game in seven tries, lost control of the West's top seed and faced a stretch run without Kevin Durant, who'd gone down with a scary knee injury just 11 days earlier.
It was bleak, and that's easy to forget in light of the ensuing postseason sprint that resulted in a title.
This time around, though, the causes for concern are deeper—rooted internally and encroaching from the outside as well. And this time, it's Stephen Curry who's ailing.
That's why the road ahead, perhaps to a third championship in four years, looks rougher than it ever has.
The New Challenger
The Houston Rockets are the best team the Steve Kerr-era Warriors has ever seen.
On the season, Houston's net rating and offensive rating are both better than Golden State's, per Cleaning the Glass, which filters out garbage time and end-of-quarter heaves from its per-possession stats. On defense, the Rockets and Warriors are equals.
Dig a little more and you'll note that in three of the ever-important four factors, Houston also has the edge, per CTG. While the Warriors top the Rockets in both effective field-goal percentage and effective field-goal percentage allowed, Houston wins the other six categories. The Rockets commit fewer turnovers (while causing more), get to the line more often (while fouling opposing shooters less) and perform better on the offensive glass (while besting the Dubs on the defensive boards as well). The statistical advantages are striking, and they've manifested themselves in the much more reductive realm of wins and losses.
Houston, now looking like a lock to hold down the West's top playoff seed, is 2-1 against the Warriors. The Rockets are decidedly not scared.
If it were just these relatively narrow statistical edges that defined the Rockets as Golden State's greatest threat to date, it wouldn't be so concerning. Everyone agrees the Warriors have coasted this season, that they've succumbed to fatigue and overconfidence. All the same, judging by the flashes of sheer brilliance, the utterly dominant quarters that crop up now and again, it remains clear that the Warriors' numbers, which show what they've done, are not indicative of what they can do.
It's the old "extra gear" argument. The Warriors have one, and we don't know if the Rockets do.
But it's not just the stats that make Houston unique as a challenger. Or, at least, it's not those stats.
The ones that really matter—that force us to recalibrate our thinking on Golden State and its chances against Houston—are the outlying ones. The ones that seem like anomalies but are instead indicators that the Rockets have basically hacked basketball.
No team has ever taken a larger percentage of its shots from three-point range than these Rockets.
No team in NBA.com's database, which covers the last three years, has ever isolated more often or more efficiently. Harden and Chris Paul are unfairly adept at the now widely maligned one-on-one game, according to NBA.com's play-tracking data.
Rockets Iso Dominance
Player
Isolation PPP
NBA Rank
James Harden
1.24
1
Chris Paul
1.13
2
NBA Avg.
.85
NBA.com
Houston—equipped with highly specialized personnel, organized by the most innovative offensive mind in modern NBA history and driven by a staunch adherence to the math of smart shot selection—is just different.
And though it's tough to sell the Warriors as vulnerable to anyone other than Houston, it's still true that several of the Dubs' prospective early-round opponents warrant concern. The Oklahoma City Thunder, Utah Jazz, Denver Nuggets, Minnesota Timberwolves, Los Angeles Clippers and Portland Trail Blazers have all beaten Golden State this season.
A series loss before the conference finals is almost impossible, but a fully healthy and fresh Warriors team will have its hands full with the Rockets. Entering battle with energy sapped by a couple of tough matchups earlier in the playoffs could prove fatal.
The Steph Factor
Garrett Ellwood/Getty Images
Thanks to four ankle sprains in three months, Stephen Curry is already assured of missing more games this season than any since 2011-12, when ankle troubles put the continuation of his career in doubt.
His fitness, more than anything the Rockets present as challengers, determines Golden State's fate.
On Tuesday, the Warriors announced Curry will be out at least through March 20.
With Curry on the floor this season, the Dubs' net rating is plus-14.7. When he sits, that figure dips to plus-4.9. The scoring suffers most when Curry isn't out there, as the Warriors' offensive rating drops an incredible 14.1 points per 100 possessions in his absence. He's the difference between a historically efficient attack and one that would rank 13th in the league this season.
"Steph is the system here," Kevin Durant told reporters after the Warriors dropped their second straight game without Curry on Sunday.
Golden State is good without Curry, but good won't cut it against quality playoff competition, let alone the Rockets. Remember, the Warriors couldn't handle a comparatively less threatening Cleveland Cavaliers team in the 2016 Finals when Curry was hobbled by a knee injury. That series proved that Golden State's success doesn't just depend on getting Curry onto the floor; it depends on his playing at full capacity.
Critically, Curry has looked terrific in between ankle tweaks this season. In his first action after missing 11 games with his first ankle sprain, he drilled 10 threes in 26 minutes. He'd go on to win Western Conference Player of the Month in January. When he's suited up, Curry has looked like himself.
It's never been more vital for him to fire on all cylinders, though, because so many of his most important teammates haven't been.
Draymond Green ranks 15th in defensive Real Plus-Minus this season after never finishing lower than third since taking over as a starter in 2014-15. His turnovers are up, his three-point percentage is lower than it's been since his rookie year, and those lightning-quick defensive rotations are a half-beat slower than they were last season.
Andre Iguodala is posting career-low numbers across the board while shooting 25 percent from three. He's been better since the break but looks likelier than ever to get the "dare him to beat us from deep" treatment from savvy playoff opponents.
Poor health and inconsistency have prevented Patrick McCaw and Jordan Bell from picking up the slack laid down by predictably declining vets. The injury bug, perhaps aided by the sheer physical toll of three deep playoff runs in this team's recent history, is biting everyone.
Which is why Curry matters now more than ever. He's everything to Golden State's title chances, and that's a heavy burden to carry with a bum ankle.
The Comfort of a Good Fight
These Warriors collected two titles while amassing more regular-season wins in a three-year span than anyone ever has, but that obscures the fact that adversity has been a constant interloper.
The 2014-15 Dubs trailed the Memphis Grizzlies 2-1 in the conference semifinals and dug a 2-1 hole against Cleveland in the Finals. In 2015-16, they were down 3-1 to the Oklahoma City Thunder and blew that same advantage against the Cavs in the Finals. Last year, there was the Durant injury and the looming, "prove it" specter of that 2016 choke job.
In that sense, Curry's latest injury and the Rockets' ascendancy feel familiar. There's always been something to worry about. For the Warriors, who've had a hard time summoning urgency all season, the difficult road ahead might actually look inviting.
Because what's another championship really worth if you don't have to work for it?
Stats courtesy of Basketball Reference, Cleaning the Glass or NBA.com unless otherwise specified. Accurate through games played Tuesday, March 13.
NBA News
via Bleacher Report – NBA http://ift.tt/yO6Sgr
March 14, 2018 at 04:32AM