Report: Dion Lewis, Titans Agree to 4-Year Contract After 3 Years with Patriots
Report: Dion Lewis, Titans Agree to 4-Year Contract After 3 Years with Patriots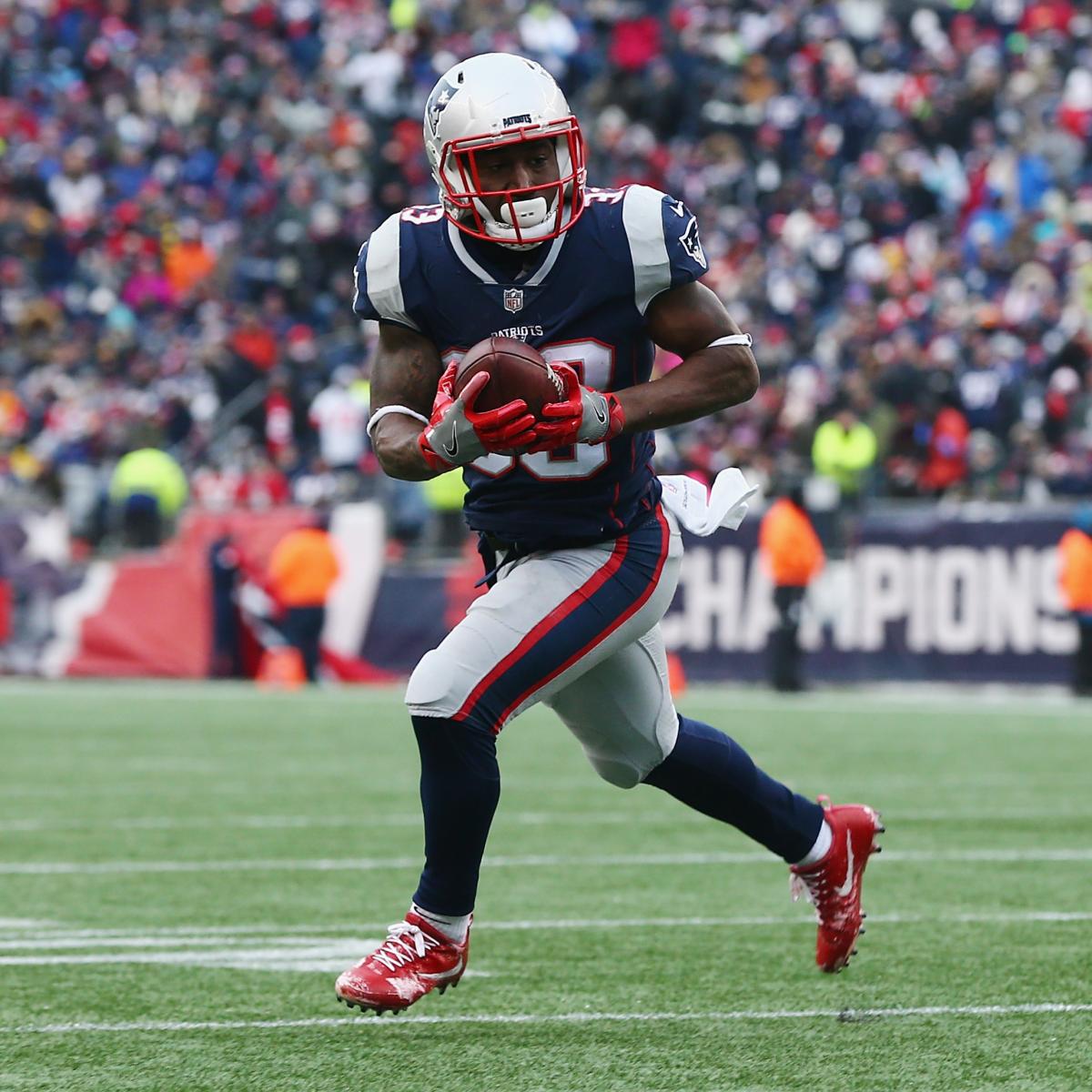 Maddie Meyer/Getty Images
Dion Lewis cashed in after enjoying a career year with the New England Patriots in 2017, agreeing to terms Tuesday on a four-year deal with the Tennessee Titans, Adam Schefter of ESPN reported.
Mike Garafolo of NFL Network reported the contract was worth $20 million, with an additional $3 million in incentives. 
Lewis tore his ACL in November 2015, which not only limited him to seven games that season but also kept him out of the 2016 season until the Patriots' Week 11 victory over the San Francisco 49ers.
In addition to questions about his effectiveness after the ACL injury, Lewis also had to compete early in the season for touches with Mike Gillislee, who had signed a two-year, $6.4 million contract with New England in the offseason.
Over the course of the 2017 campaign, Lewis emerged as the unquestioned top threat out of the Patriots backfield. He ran for 896 yards and six touchdowns, and his five yards per carry were third-best among qualified players. Lewis also caught 32 passes for 214 yards and three touchdowns.
Football Outsiders ranked Lewis first in DYAR (defense-adjusted yards above replacement) at his position.
Julian Edelman suffered a season-ending torn ACL in August, while injuries limited Chris Hogan and Rob Gronkowski at various points as well. In the wake of so many injuries, Lewis absorbed a larger offensive role..
"He's come back from multiple significant injuries at his position, which is always a challenge, but it's also a credit to how hard he's worked to do that," Patriots offensive coordinator Josh McDaniels said in January, per the Enterprise's Glen Farley. "For him to continue to just keep his head down, keep working, keep grinding, battling back from all those things to put himself in position to just help our team in any way that he's been asked to help is such a tribute to the kid."
Lewis' success was somewhat a double-edged sword for New England. The better he played, the more likely he'd price himself out of the team's plans in free agency.
Although the Patriots have managed to re-sign players to below-market deals in the past, Lewis was one of the best running backs available this offseason. He also turns 28 in September, so his value may never be higher.
This was Lewis' best opportunity to get a lucrative long-term deal, and he wasn't about to pass it up.
For as well as Lewis performed in his final year with the team, the Patriots may not be too broken-hearted about his departure. ESPN Stats & Info's Paul Hembekides showed how New England's most successful regular seasons came without much star power in the backfield:
Paul Hembekides @PaulHembo

Patriots leading rushers in seasons resulting in No. 1 seed:

2017 – Dion Lewis
2016 – LeGarrette Blount
2014 – Jonas Gray
2011 – BenJarvus Green-Ellis
2010 – BenJarvus Green-Ellis
2007 – Laurence Maroney
2003 – Antowain Smith

Tom Brady is amazing.
Granted, Tom Brady's age gives the Patriots more reason to think with the short term in mind. Brady will be 41 at the start of the 2018 season.
Getting Lewis back would've been optimal for New England. Now, the team must hope somebody else can replicate his production on the ground—which is risky given what's likely a diminishing Super Bowl window.
The Titans are a somewhat surprising landing spot for Lewis. Tennessee released DeMarco Murray, which seemingly opened the door for Derrick Henry to become the featured back in the offense. Instead, the team added more competition in the form of Lewis, as Evan Silva of Rotoworld highlighted:
Lewis touts a different skill set than Henry and thus will offer the Titans a better pass-catcher out of the backfield. The fact he's likely to make life easier for Marcus Mariota helps justify this deal.
Still, some may rightfully question whether Tennessee should've committed this kind of investment to another running back with Henry already in the fold.
Breaking Sports News
via Bleacher Report – Front Page http://ift.tt/yO6Sgr
March 13, 2018 at 07:20PM