Printable NCAA Bracket 2018: Blank Downloadable Region-by-Region Sheet
Printable NCAA Bracket 2018: Blank Downloadable Region-by-Region Sheet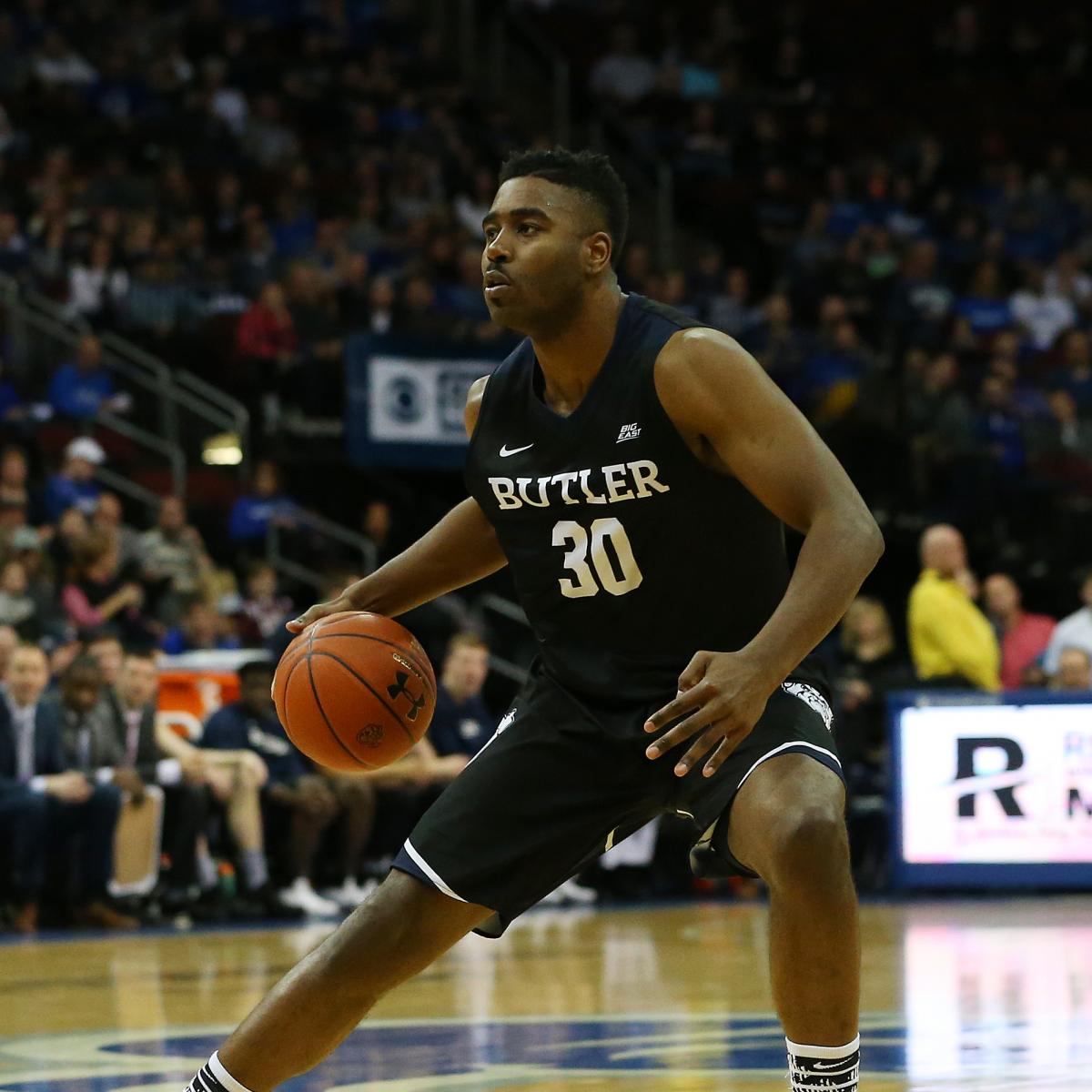 Rich Schultz/Getty Images
The best part of being a fan during the NCAA men's basketball Division I tournament is arguably enjoying the flood of games with your friends and family in the competition's first weekend.
The worst part of being a fan during the NCAA men's basketball Division I tournament is being made fun of for 10 years because you were going to win a huge pool if Memphis won the national championship, only to see that go up in smoke in a matter of minutes as they blew a nine-point lead with under two minutes left.
No, I'm not bitter at all about that one.
Anyway, hope springs eternal every year in bracket pools, and perhaps this is the year you take down your family, friends and co-workers.
You can find a printable bracket here if your pool still does things the old-school way, and you can also find a few pieces of advice below.
Bracket
Bracket Advice
Take a Look at the Pick Distribution Charts, Consider Under-the-Radar National Champion
If you're entering a massive national competition (say the Bleacher Report, ESPN or Yahoo pools), take a look at the picks distribution chart to see how many people are taking certain teams to go deep. Then, you should consider deviating from the norms established by these players in order to find the path of least resistance.
For example, more than 50 percent of brackets have Virginia, Villanova or Duke winning it all in the Yahoo Best Bracket pool. Those schools have great teams this year, and it's certainly possible that one of them takes the national championship.
However, in terms of winning a pool with hundreds of thousands (and sometimes even millions) of brackets, you need to find another way to get to the top. If you pick UVA to win it all like 26.1 percent of the field is, then you're leaving yourself little to no room for error in the rest of your bracket.
Therefore, consider picking your national champion from a pool of teams that are still strong and have plausible shots to win it all.
For example, No. 2 seeds Purdue and Cincinnati are not popular picks whatsoever: Only 2.3 percent of people are taking the Boilermakers, while even less (1.4 percent) favor the Bearcats. Both numbers seem low, especially considering that both rank in the top nine of the latest Ratings Percentage Index.
If you pick a team like Purdue or Cincinnati and they win it all, then your margin for error increases. Everyone else who didn't pick those schools is now out of the running, so that's roughly 98 percent of the field. You'll probably still need to nail the Final Four, which is also a tough task, but your path to glory becomes at least a bit more clear.
Pick Chalk, and Watch the Vegas Line Movement
Everyone wants to be the person that can say they took a No. 14 seed to beat a No. 3 seed or correctly advanced a double-digit seed to the Final Four, but the bottom line is that the chalk wins out more often than not, despite the chaotic reputation of March Madness.
It may behoove you to deviate from the norm in the later rounds, as noted above, but for the first two rounds of the tournament, don't go too crazy. Chances are the upset you pick is going to be wrong, as they are upsets, of course.
When deciding between two first-round teams, consider checking out the lines in Vegas (you can see them here courtesy of OddsShark) and seeing where teams currently stand. If a team is a clear favorite, then give an edge to that team in your bracket.
However, if a game seems too close to call, take things one step further and compare where a line opened and where it is presently, as that could offer a clue as to how the game might go.
For example, the first-round matchup between Butler and Arkansas opened up at even, but the line has moved in the Bulldogs' favor by 1.5 to two points in the sportsbooks. The movement is based off betting from sharp professional bettors who place big wagers on these events, and the books will move the lines based off the plays.
While a 1.5- to two-point edge isn't much, the sharp play here might be to side with Butler given how Vegas has treated the game. Of course, you can delve into the matchup and decide that Arkansas could beat the Bulldogs, but line movement can't be ignored.
Breaking Sports News
via Bleacher Report – Front Page http://ift.tt/yO6Sgr
March 14, 2018 at 07:16AM